Top 10 Best Dress Rental Services of 2024
Shopping for a special occasion is always pretty exciting. Looking around stores and trying on new clothes can be fun, especially when we are looking forward to a big event!
However, when we are shopping for an outfit for a special occasion, we can feel hesitant. It feels wasteful to spend so much money on something you will only wear once…
Fortunately, there is a great alternative to the buy-and-wear-once lifestyle we are used to, and this is the dress rental services.
Now, dress rental services are pretty new to me. But, once I began using these businesses, I never looked back. They are affordable and so much better for the environment. Bye-bye fast fashion, hello dress rental.
Choosing the right dress rental service might be challenging as there are so many businesses out there. So, we have chosen the best dress rental services on the market and assessed them on their size range, styles, availability, and price. So are you ready to dive in?
Best Dress Rental Services
1. Rent the Runway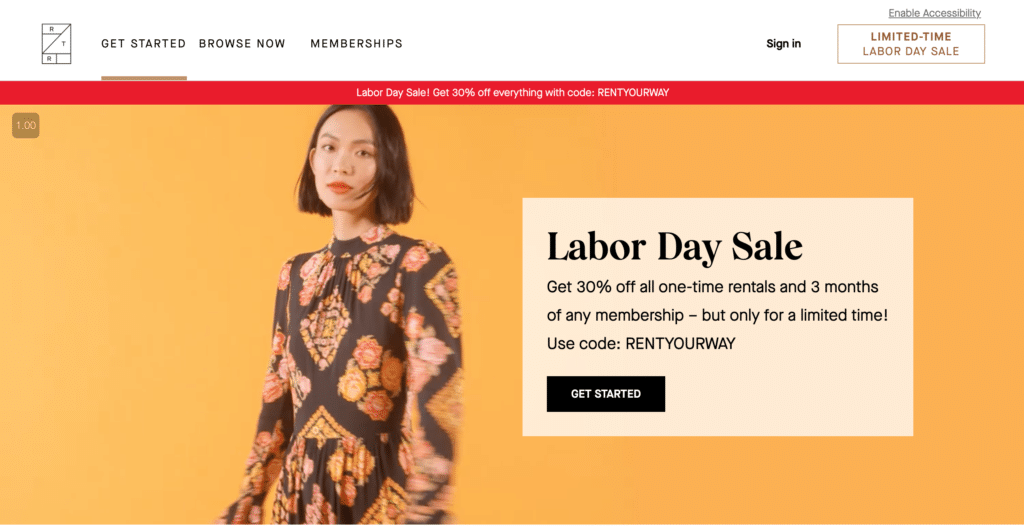 Looking to make a statement at your friend's upcoming wedding when you catch the bouquet? Maybe you want to look your best for a fancy job interview. Or perhaps you need to update your regular clothing.
Designer clothing from companies like Chanel, Balenciaga, Yves Saint Laurent, Burberry, Hermès, Prada, and others can be found at Rent the Runway, along with eye-catching event attire and elegantly upgraded workwear.
Pick one of RTR's plans to get up to 4, 8, or 16 dresses each month. The cheapest package provides one shipment every month and "basic closet access" to more casual clothing, with a value of up to $300.
The two bigger plans cover the whole RTR collection and provide up to three or four monthly shipments, depending on the plan. Nevertheless, all three memberships let users reserve four dresses at once.
Price Range
Rent the Runway comes in 3 monthly subscription plans :
$101/mo – With this plan, you will get up to 8 designer items per month (4 items at a time) of value up to $3000 each. Their website claims that an average member wears on average $2200 per month.
$135/mo – With this plan, you will get up to 12 designer items per month (4 items at a time) of value up to $3000 each. Their website claims that an average member wears on average $3150 per month.
$165/mo – With this plan, you will get up to 12 designer items per month (4 items at a time) of value up to $3000 each. Their website claims that an average member wears on average $4100 per month.
2. Tulerie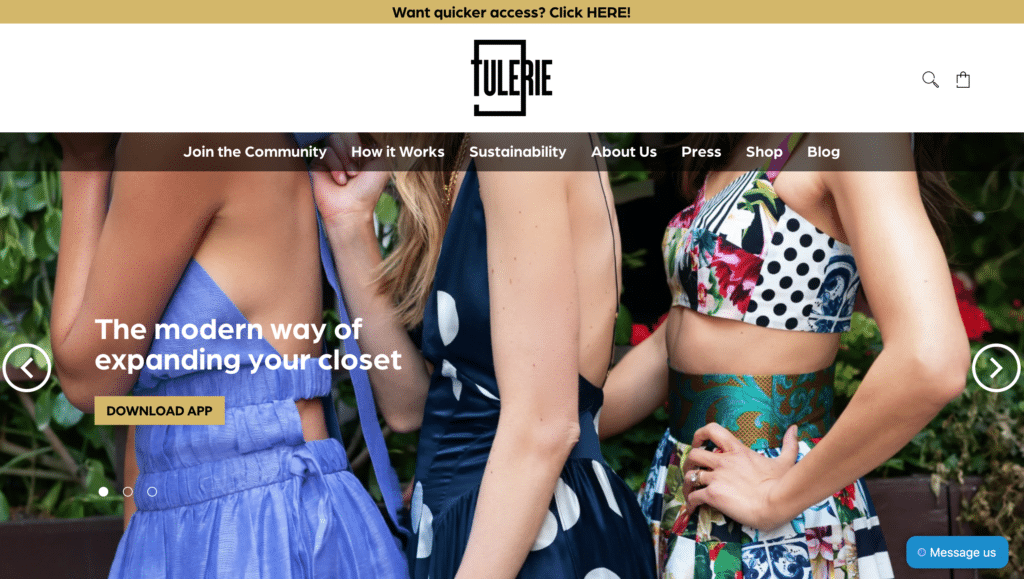 Why limit yourself to borrow clothing from friends? Tulerie, the peer-to-peer clothes rental app service that enables users to rent a dress out of the whole range of their wardrobes from one another, invites you to join in the shared closet.
Rent out your closet and earn money as you rummage through countless others. What's best? Each new member is carefully screened through FaceTime, so you may feel comfortable sharing your favorite items with others.
Use the app to browse and then request rentals. That's how simple it is. Rent out your dresses simply by accepting dress rental requests from others and shipping them out. While returning the rented dresses, the borrower pays a cleaning fee, which you can use to clean your clothes professionally.
Price Range
Tulerie doesn't disclose their price points as they are determined by the lenders. To know more about their prices, join them on a Face Time interview!
3. My Wardrobe HQ
On MWHQ, you may rent dresses from over 500 designers, whether you're seeking accessories, purses, or daily clothing. And guess what, the business also allows for purchases.
For timeless icons and pieces you missed out on from prior seasons, most of their clothes are featured for sale for a fraction of the suggested retail price.
However, My Wardrobe HQ will need to confirm your identity before allowing you to rent. But don't worry; it won't take long! And if you plan to buy?
Checkout is always possible as a guest. Besides, you can keep your rental for up to 14 days. Return it after by using your pre-paid DPD return label, and they will handle all the cleaning and ironing.
Price Range
My Wardrobe HQ has a comprehensive price list starting at $5/day for a casual dress.
4. Cocoon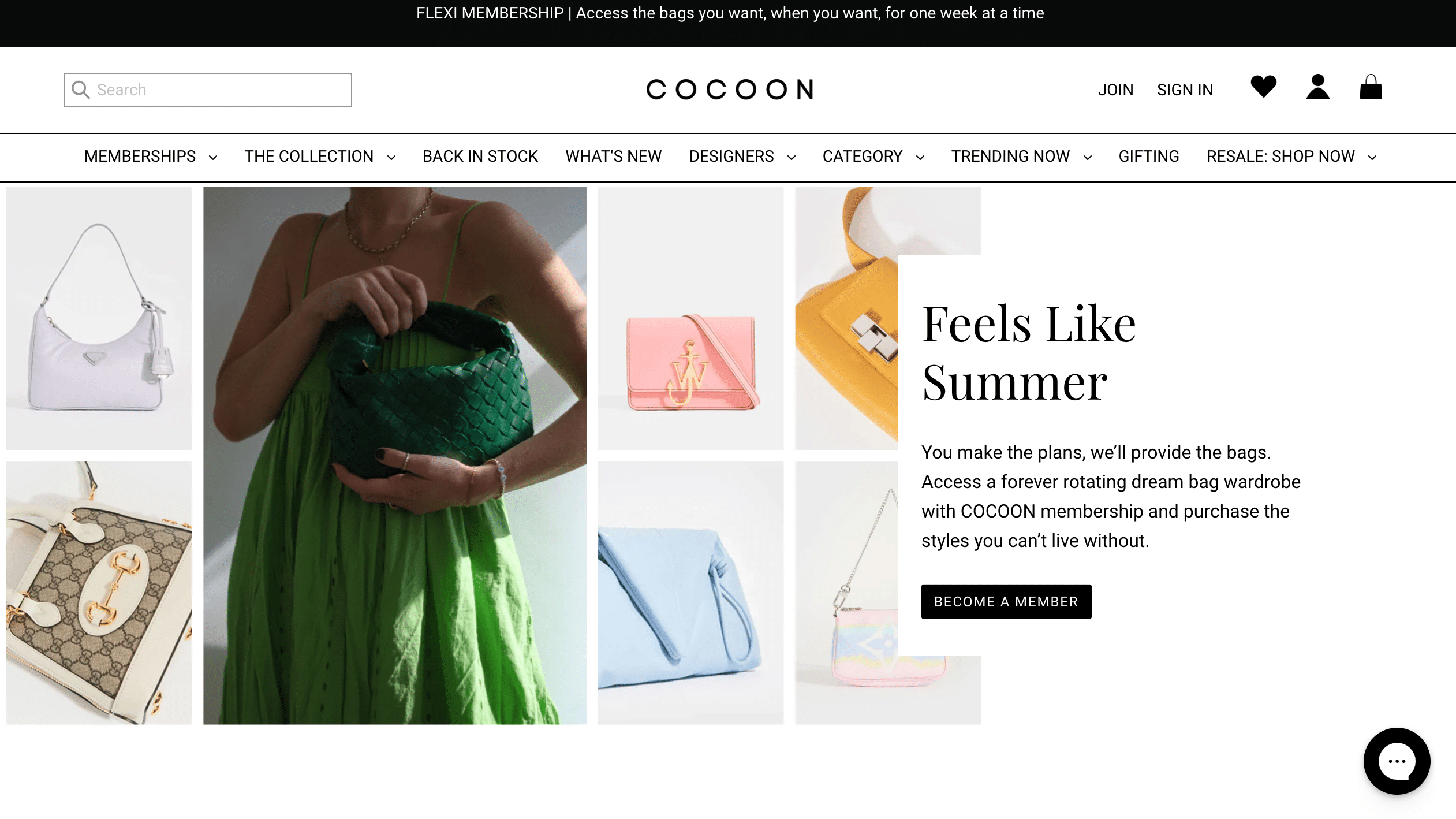 Cocoon is the best bag rental that lets you make regular, irregular, or on-demand payments. Take your time perusing the selection or pay up and collect your first bag. You're good to go after you've finished the ID verification procedure. The company will assess and validate your membership application within one working day!
Your purchase will be sent after your membership has been allowed (for monthly subscribers, this counts as your first swap). This is the perfect time to get new bags if you haven't already! Take advantage of the newest trends, or be daring and try something unfamiliar.
You may swap a previously owned bag with a new one each month via the monthly swaps offered with premium and deluxe subscriptions. For a week at a time, Flexi members may purchase Bag Passes to access any design in the collection anytime they wish.
Price Range
Cocoon has 3 membership options (premium, deluxe and flexi):
The flexi membership is a base rate (£19 /year) to access the selection but doesn't allow complementary swaps.
The premium membership allows 1 complementary bag swap per month for £79/mo or £201/quarter with 3 swaps.
The deluxe membership allows 2 complementary bag swap per month for £99/mo or £238/quarter for 6 swaps.
5. Onloan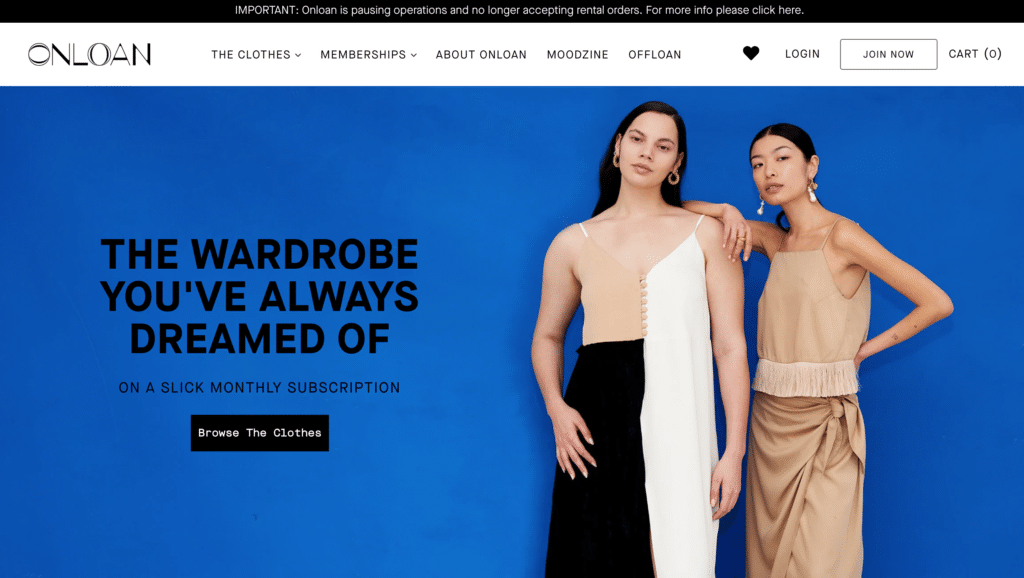 Two friends, Tamsin Chislett and Natalie Hasseck, launched the clothes rental business, Onloan. For a generation of women who are sick of the high street yet can't afford the luxury, it is the go-to place for amazing clothing.
Onloan is reinventing fashion for the current day via a rental membership and resale product, realizing that women want to explore new designers, swap up their outfits, and do so responsibly.
It is the premier location for discovering your unique style thanks to partnerships with 32 of the most desirable modern designers worldwide, including Shrimps, Joseph, Rejina Pyo, Sea New York, and Stine Goya.
However, Onloan has just declared through its website that they are suspending operations and are no longer taking dress rental orders for the moment. No explanation has been given for this unexpected shift, either.
Price Range
Onloan offers two membership plans, the cheaper option at £69/mo with the ability to rent up to 2 items worth around £500 per month. Their premium plan at £99/mo offers up to 4 loaned items per month valued up to £1000 each.
6. Nuw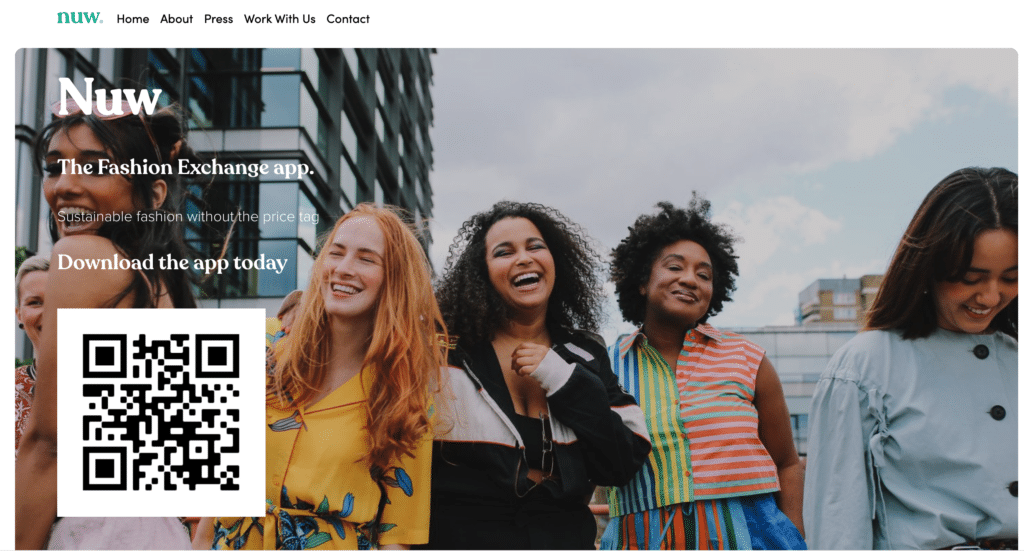 The founders of Nuw (formerly The Nu Wardrobe) created the company because they were passionate about fashion, even though they were aware of the industry's devastating social and environmental impacts.
According to one of its founders, "In 2013, while volunteering in India, I saw this firsthand (the same year as the Rana Plaza disaster). I was upset because I didn't think I could enjoy fashion without contributing to the issue. I was also irate and outraged that I had been so involved in an industry that had done so much damage."
This epiphany inspired them to develop Nuw, a social network that allows users to trade garments with neighbors to prolong the lifespan of their wardrobes. The concept was liberating for the creators.
They would discover a brand-new outfit for each sharing, significantly reducing the quantity of CO2, water, and trash produced. The emphasis is on sharing rather than renting. Once you join, you may borrow garments for free, just as you would when sharing with friends.
Price Range
Nuw is one of those fashion exchange apps without a fixed price tag. In fact, that's their motto: "fashion without the price tag". The app solely depends on the arrangement between the lender and the borrower.
7. Nuuly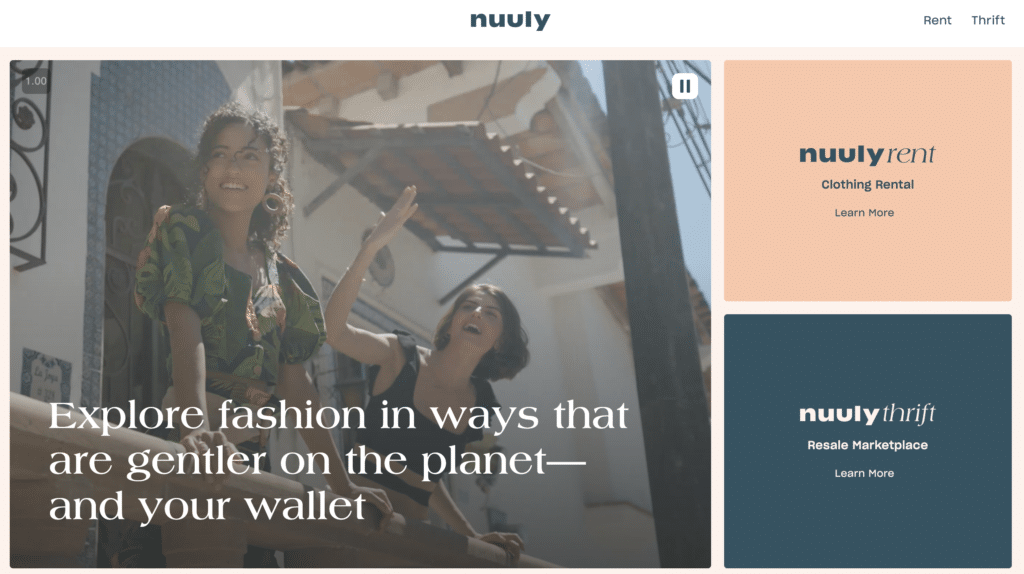 Nuuly was created, so you may have a stunning outfit every day, not simply for special events. It's for going all out, for just hanging out, for business, for vacation, and for everything else that's fantastic. Increasing your selections to the thousands while maintaining more of those $1,000s in your bank account is the goal.
Although you can theoretically keep your six clothes for as long as you wish, two things must occur to unlock your following month's membership and get the most out of the program. All non-purchased products must be returned by the time your subscription renews.
Price Range
Nuuly offers a monthly subscription package. If you subscribe, you can rent 6 styles, every month, for $88.
8. Gwynnie Bee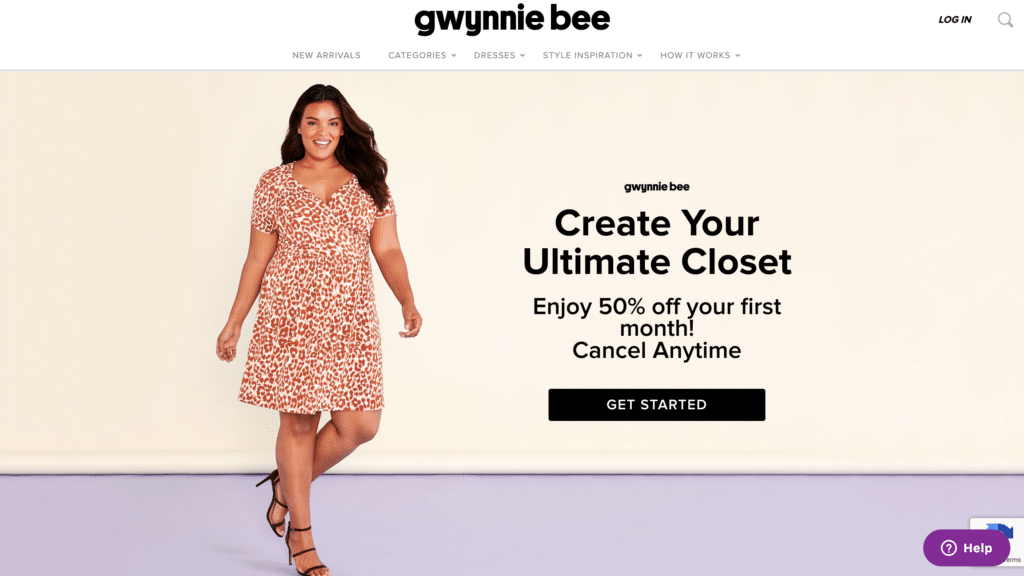 Members may explore apparel for any occasion on the Gwynnie Bee website thanks to sections like official and casual wear that stylists have carefully picked. They offer clothing like Burberry, Hermès, and Prada in sizes 10 to 32 for women only.
Gwynnie Bee provides a free trial that enables clients to rent two products once for one month before committing. The price rises after your trial period expires, depending on how many products you wish to borrow at once. The most expensive box, which costs $199, lets you rent up to 10 pieces.
It is a wonderful service for women in sizes of 10 to 32. It's particularly significant for ladies who must always appear presentable while working in an office setting.
Price Range
Gwynnie Bee has a well-varied price range that fits all purse sizes. As many others, it comes in a subscription model where the cheapest plan allows you to rent out 1 item at a time for $49 while renting 10 items at a time would be priced at $199.
9. By Rotation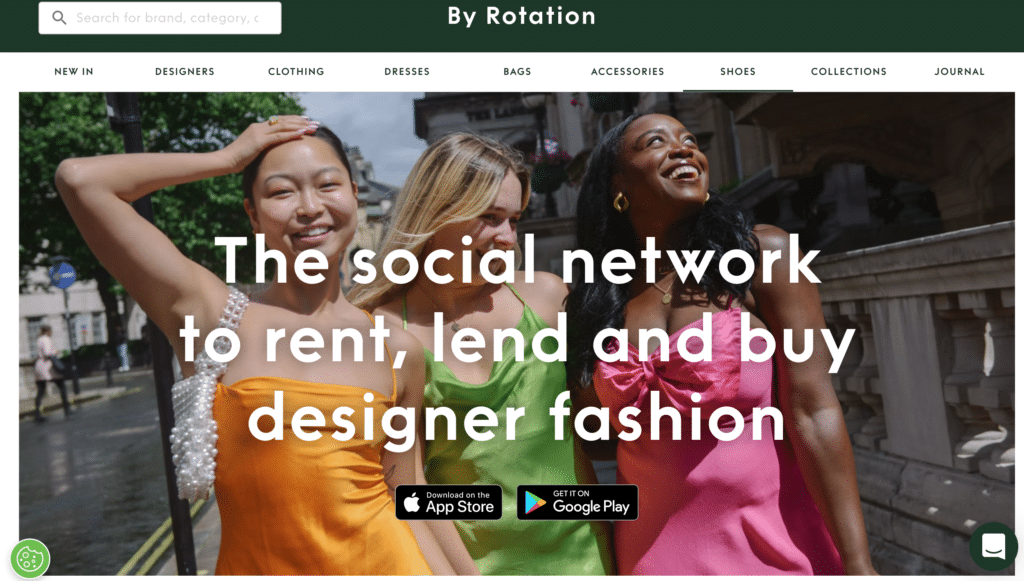 Eshita Kabra-Davies, founder of By Rotation, realized something was wrong with one of her interests in life. She saw the direct results of textile waste while on her honeymoon in Rajasthan, India, her homeland.
Eshita released By Rotation, the first social fashion rental app in the world, in October 2019 to revolutionize how we consume fashion. Users, also known as Rotators, may directly exchange loans and rentals of their luxury clothing with another person in the community. By Rotation is a deliberate and self-sustaining society rather than merely a platform and app for renting out clothing.
Price Range
By rotation is a lender-borrower app. Borrowing usually starts around $35 per week for a descent casual dress, while it is not uncommon to see items going for $200 per week.
10. Front Row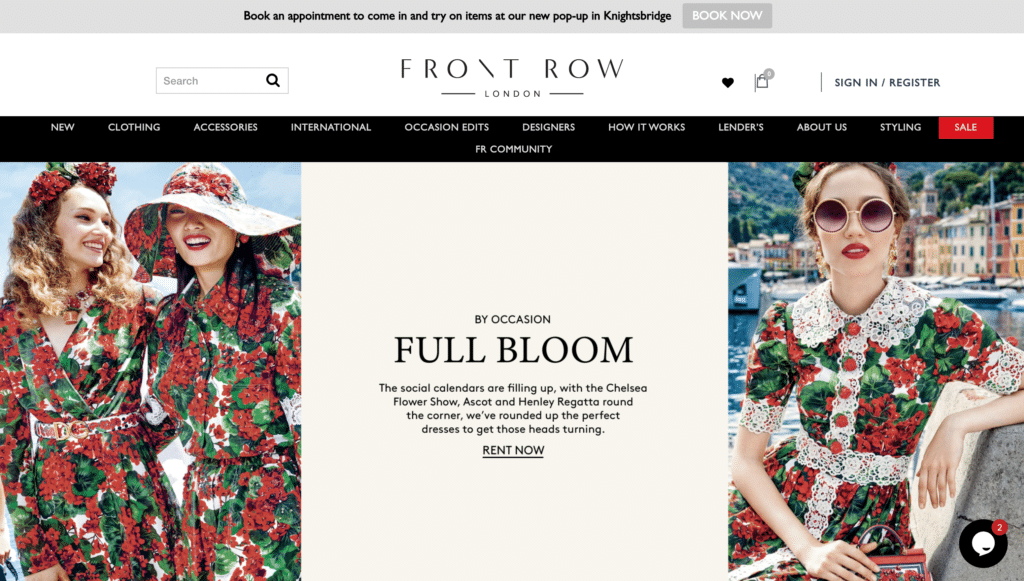 You can follow all the current trends with the top designers thanks to Front Row's online platform. The best advantage is that you can do so without having to make any purchases!
Front Row offers a wide range of lifestyle services, including stylists that can assist you in coming up with the ideal looks for every situation.
Find your ideal attire with Front Row, whether you're searching for that head-turning atelier gown or a vacation capsule outfit. The organization provides 3-day and 5-day rental periods and then delivers your item on the start day you choose.
Besides, you may wear your clothes as much as you wish and style them both day and night. The firm does all the dry cleanings for you. Wrap up your item and attach your pre-paid returns label to it. On the day of your returns, drop it off at a nearby UPS location or call UPS to schedule a pickup.
Price Range
The Front Row bears its name well, as it offers a range of dresses that will not leave you unnoticed. The prices, however, will start around $200 with a median of $500.
How Expensive Are Dress Rental Services?
The price of a dress from dress rental services will depend on several factors. These include:
Dress rental service provider
Brand of the dress
Type of dress
Material of the dress
Where the dress is being shipped from
Since there are all these factors to consider, renting a dress can range from $5-$2000. This wide range of prices also includes designer dresses and monthly fees for some services. A casual dress should be around $50 while a prom queen dress would be closer to $150.
However, when it comes to dressing rental services, it's not the cost but rather the maintenance of the rental item that's a cause for concern for many consumers.
Most dress rentals have a damage policy that the client has to pay if the dress is returned dirty or torn. Some dress rentals even ask their clients to dry clean the dresses before returning them.
These additional costs ensure that clients take good care of the dresses. Therefore, you should read the terms and conditions carefully to know the full price of renting a dress.
Are Dress Rental Services Eco-Friendly?
Using dress rentals is more eco-friendly than buying new clothes and not wearing them afterwards. However, dress rentals are not as eco-friendly as buying second-hand due to the shipping carbon footprint for delivering clothes.
A recent research from ScienceDirect compared the product-service system (PSS) of renting a T-shirt, a coat, and a dress or kimono in Germany and Japan versus traditional clothing consumption. The findings showed that the environmental advantages rely on the type of clothing and the material used.
Renting clothes resulted in a significant decrease in environmental consequences by avoiding manufacturing new garments for an item that is only sometimes used. The added effects are significant if a garment's lifespan is not increased or the PSS prevents no manufacture. The environmental advantage is minimal for frequently used items like t-shirts.
Compared to garment resale and recycling, recent research published in Environmental Research Letters found that dress rental businesses produce more greenhouse gas emissions. This is partly because supporting a garment rental business requires frequent transportation, producing more emissions than regular buying and shipping new dresses.
However, a regular supply of garments from a weekly or monthly subscription service may produce more greenhouse gas emissions than someone who buys fast fashion. Yet, the overall carbon footprint produced from dress rentals is probably lesser when fashion consumers use rentals less regularly (think "onetime wear" clothing for special occasions).
Save Nature To Save The Night
Yes, renting a dress for an occasion is definitely one of your best options, especially if you will not wear it again. With several dress rental services at your disposal, it's easy for you to find one that will fit your unique style.
We hope that this will inspire you to think about what other minor changes you can make to help our environment. If you want to find more inspiration related to sustainable fashion, we recommend you check out our article on sustainable modal fabric.
So, have you used dress rental services before? Let us know in the comment section below! We would love to know about your experience and learn from you.