20 Best Online Thrift Stores List of 2023
We're sharing our top 20 best online thrift stores list, so you know precisely where to nab stunning secondhand pieces that do not harm the planet. According to the UN, the fast fashion industry is the second-biggest consumer of water and is responsible for 8-10 percent of global carbon emissions.
This is greater than all international flights and maritime shipping put together. The industry has recently come under fire surrounding workers' rights issues, too. Therefore, if you strive to be a bit more eco-conscious, wearing what you already own and buying secondhand are better options.
There are so many fantastic online thrift stores worldwide, and supporting them over fast fashion giants will reduce your carbon footprint. You will help clothing stay away from landfills, find a great new home, and minimize chemical pollution and water consumption. Moreover, you will likely save some money in the process, which is always a plus.
Why is Thrifting Better for the Planet?
There are lots of environmental benefits to buying secondhand and from thrift stores. Namely, it helps to keep clothes out of landfills. Essentially, buying from thrift stores means you are reducing, reusing and recycling because they follow the circular economic model.
In this model, products are continuously used rather than thrown away. In addition, a lot of the time, purchasing from online thrift stores means supporting charitable causes. Therefore, you are supporting their cause and helping them do community work that really matters.
Thrifting also reduces your carbon footprint as you are buying clothing that is already made. Additionally, it helps to preserve water and reduces chemical pollution for the same reasons.
Textile manufacturing processes involve harmful dyes, and the process contaminates groundwater, pollutes our air, and much more. Now that you know why thrifting is a more eco-conscious choice let's dive into the best online thrift stores list.
20 Best Online Thrift Stores List
If you want to be stylish without impacting the planet and people, shopping from thrift stores is the best option. Below is our 20 best online thrift stores list to help you be more eco-conscious when shopping for clothes.
1. Thriftify
First, on our best online thrift stores list is Thriftify, the ultimate thrift store marketplace. The Thriftify website allows people to buy secondhand clothing items while supporting various charities. Thriftify sells clothing but also books, films, games, and other miscellaneous items. Their platform is currently used by 98 percent of Ireland's charity retailers and dozens of the UK's top charity retailers.
2. Swap
On Swap, you'll find premium and designer fits for $15 or less. They have a range of secondhand women's, men's, kids', and baby clothing. In addition, Swap has some incredible shoes for affordable prices. Over 2 million items are listed, and thousands of new items are added daily.
3. Beyond Retro
Beyond Retro are an online thrift store based in the UK. You will discover a range of men's and women's boho fits on their website. They have nostalgic pieces from the 60s to the 90s. Moreover, the team add thousands of new pieces each week. Another great thing about Beyond Retro is they have a Reworked Vintage section where they sell upcycled pieces.
4. Depop
Next on our 20 best online thrift stores list is Depop. It is essentially a social media platform and a worldwide thrift online marketplace in one. Users can upload items from their wardrobes to give the pieces a new lease of life.
It is definitely a different approach to the general thrift store, but it has taken the world by storm. In 2021, the platform reached 30 million users, and it seems you can find almost any item you want. It has a search engine, and you can shop looks using various filters like size and color.
5. Poshmark
Poshmark is the US version of Depop but is often a bit more luxurious. Here you will find great secondhand designer pieces for lower prices. It follows a similar model to Depop in that it is an app where anyone can buy and sell. Poshmark has a range of modern pieces, but also some vintage finds. You'll find men's, women's, kid's clothes and much more on the app.
The process of starting to sell pieces from your wardrobe on Poshmark also couldn't be more straightforward. Like Depop, it has a search engine, and you can browse by various filters, including size. Currently, the app is only available in the UK, the US, and Australia, whereas Depop is available worldwide.
6. eBay
When talking about the best online thrift stores list, people rarely think of eBay. However, eBay has been providing a platform for people to sell secondhand items for years. In fact, the eBay model is what inspired a lot of the other stores on this list. On the website, you can browse all sorts of secondhand clothing and accessories from all time periods. Additionally, most eBay items are very affordable, which is a big plus.
7. Rebag
If you are on the hunt for eco-conscious accessories, bags, in particular, Rebag is the place for you. They sell everything from secondhand luxury bags to toes and backpacks. Additionally, Rebag has several vegan handbags designed by Stella McCartney.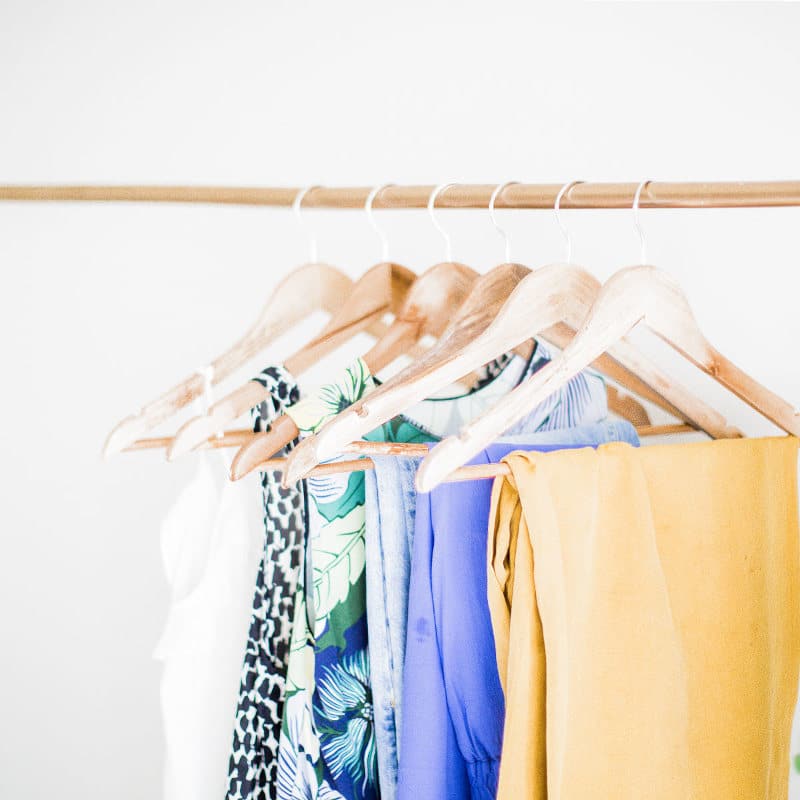 Moreover, they also allow users to sell their bags on the website. It doesn't end there; their Infinity Exchange program enables customers to return bags within 12 months, ensuring they are reused and find their forever home. On the website, you will also discover some other beautiful luxury pieces like jewellery and watches.
8. Goodwill
You've likely heard of Goodwill before if you are living in the states. The good news is that if you are outside of the US, you can still enjoy what this secondhand store offers on its auction-based website. Here you will find great finds for your wardrobe, home goods, toys, art supplies, and much more.
9. Thredup
ThredUp was launched in 2009 and is an online consignment and thrift store. The platform enables users to purchase and sell high-quality secondhand garments. There are thousands of pre-owned clothes on the website.
Thredup has a range of women's, kid's and plus-size clothing pieces. They also have a handy app so you can easily keep clothing in circulation. It is essentially the virtual marketplace for thrifted items and has an excellent reputation in the ethical fashion space.
10. The Real Real
If you love designer and luxury items, The Real Real is a great place to shop, and it has also made it onto our best online thrift stores list.
The online retailer has been around since 2011 and sells countless luxury secondhand items at discounted prices. This thrift store champions diversity, quality, and sustainability.
Moreover, through a rigorous authentication process, they ensure each item sold is authentic and of high quality. The only downside to The Real Real is that it is more expensive than your average thrift store, but that is to be expected when it comes to designer pieces.
11. Tradesy
Continuing on the luxury side of secondhand fashion, Tradesy is a marketplace full of high-fashion items at discounted prices. They are lesser known than The Real Real but still have some stunning designer women's clothing pieces and accessories.
In saying that, Tradesy still has affordable items and a filter to help you find these easily. Whether you want a designer item or a $10 t-shirt, you won't have any trouble finding it on the Tradesy website. Users can sell items from their wardrobes, too, like Poshmark and Depop.
12. ATTIC
ATTIC is the next shop on our best online thrift stores list. If you are hunting for more antique vintage and artisan products, you will find them on ATTIC. The platform is a search and discovery engine for these exact products and has a range of items from small, local businesses. Here you will discover Y2K fashion pieces and ethical items from local shops.
More than 1,300 small businesses are on the platform, and more stores are continuously being added. Currently, ATTIC is available in New York, Chicago, LA, Boston, and parts of Canada. They implement sustainability in a number of ways. For instance, by hand-picking shops and prioritizing local artisan sellers. In addition, they opt for brands that sell natural and organic pieces and have ethical fashion principles.
13. Swap Society
On Swap Society, it's about swapping until you drop, not shopping until you drop. These online thrift stores have an array of clothing at affordable prices. All users have to do is pay a small monthly, and they are granted access to the shop.
All kinds of brands are listed in the store, so you should definitely be able to nab some fantastic finds. Nicole Robertson founded Swap Society in 2009 after she learned the sad truths about the fashion industry.
She started swapping clothes instead by purchasing new ones, which eventually led to the creation of the Swap Society website.
14. Patagonia Worn Wear
If the secondhand outdoor gear is what you want, you'll love Patagonia Worn Wear. Patagonia already has an incredible reputation in the sustainability and ethical fashion niche. Their clothing is high-quality and made of mainly recycled and organic materials.
With Patagonia Worn Wear, they accept your clothing items, granted they are in good condition, and issue you funds toward a new purchase.
In addition, there is a section on their website called Recrafted, where they transform the pieces into other clothing items. In addition, they will repair any items to give them another life.
15. ASOS Marketplace
Next on our best online thrift stores list is ASOS Marketplace. It is connected to the well-loved fashion website ASOS. On the marketplace, designers, consignment shops, and thrift stores sell unique items for users to purchase.
They have more than 800 boutiques selling clothing pieces on their marketplace. You can expect to find stunning vintage items from every decade, as well as other essential secondhand pieces.
16. Refashioner
Refashioner is an online thrift store selling the best designer pieces and exceptional vintage pieces. All of the items they list have stories attached to them, sharing why the people couldn't just throw away the items.
They don't see the items as pre-owned but instead as owned fashion and encourage customers to value what is in their wardrobes. Refashioner has a range of women's and men's clothing as well as shoes, bags, and jewellery.
17. Maeven Vintage
Next on our best online thrift stores list is Maeven Vintage. This thrift store is based in the centre of Brooklyn, but luckily they have an Etsy online store. Here you will find many vintage clothing pieces, unique accessories, and jewellery items. Items range from more expensive to affordable, and there are often sales too. The store lists clothing from the 1970s, 1940s, and 1950s.
18. Luxury Garage Sale
This online thrift store is situated in Chicago and operates online and from a physical location. The best thing about Luxury Garage Sale is that its online selection is more or less the same as its on-premises range.
On their website, you will discover lots of secondhand fashion items from top brands as well as eye-catching jewelry pieces. Moreover, Luxury Garage Sale also has a lot of vintage pieces, including shoes and bags.
19. HEWI
Next on our best online thrift stores list is HEWI or Hardly Ever Worn, as it is known to some people. Based in London, they sell barely won preowned clothing items. The platform has women's, men's, and kid's clothes, and users can also sell pieces from their own wardrobes.
20. Vestiaire Collective
Last but certainly not least is Vestiaire Collective, a Parisian thrift store. They have grown from a small thrift shop to now operating in more than 50 countries. Vestiaire Collective offers more than 3,500 secondhand clothing items and accessories to shoppers each week.
Summary
There you have it, the 20 best online thrift stores list, which will help you build a more eco-conscious wardrobe. Naturally, you should always wear what you already have first. However, if you are looking for a specific item or an upgrade, secondhand is always a better choice.
Shopping secondhand reduces your carbon footprint and saves water and energy. Not to mention, it curbs chemical pollution, and you know the items you buy are not harming people.
The above stores will have everything you are looking for, whether it's designer bags, a $10 t-shirt, or an outdoor jacket. You'll rest knowing your supporting small businesses and environmental charitable causes.