10 Best Organic Pads For Every Kind of Flow
Switching to organic pads means using period products that are kinder to the skin and less damaging to the planet. While menstruation is a healthy part of life, the products we use to manage our flow can harm the Earth.
Most people's time of the month will not extend past seven days per month. It may seem like a small number of pads and tampons are used, but this adds up over time. Organizations like Voice Ireland have reported that individuals use somewhere between 12,000 and 16,000-period products during their lifetime.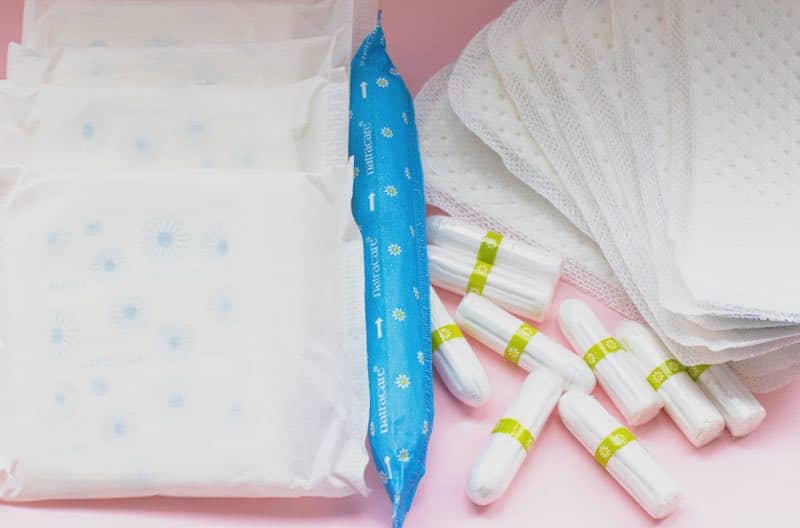 Menstrual pads, in particular, are composed of 90 percent of plastic. A pack of fourteen general pads has the same amount of plastic as five plastic bags. With so many sustainable options nowadays, you can easily switch without sacrificing your needs.
Best Natural and Organic Pads
Whether you have a heavy or lighter flow or prefer a pad or a liner, there are many great options on the market. Below are the 11 best organic pads that are sure to be kinder to your skin and the planet.
1. Sustain
First on our list of great organic pads is Sustain. The brand is a certified B Corporation and sells a range of eco-conscious period wear. From period underwear to cups, liners, tampons, and pads. Sustain also sells eco-friendly, natural condoms, lubes, massage oil, and body wash.
Their pads and liners are both made from 100 percent organic cotton. The pads are suitable for people with heavier flows and can be worn through the day and at nighttime. Their panty liners are ultra-thin and designed for maximum comfort and fit.
They are best suited for people with lighter flows or for wearing at the end of your cycle. Sustain's pads are also ultra-thin but don't let that fool you, as they are designed for comfort and are still suitable for medium and heavy flows. Both their pads and liners are free from dyes, fragrances, pesticides, rayon, chlorine, and superabsorbents.
Sustain's pads and liners are entirely breathable and hypoallergenic, too. They are also dermatologically tested, and one percent of each purchase goes to their 1%4Women fund. This fund supports women's health organisations in the US.
2. Rael
Another great brand selling organic pads that do not pose any threats to our planet is Rael. The business sells a wide range of period products, from pads to liners and underwear. Rael also has several vulva care products, skincare, and acne treatments to empower individuals to care for their menstrual health.
The brand believes women's care should be holistic, which is why they stock so many other products. Their entire line is cruelty-free and free from harsh chemicals such as phthalates, artificial fragrances, parabens, and chlorine.
Additionally, the products are created by women for women and backed by science through clinical and consumer testing.
The products are created using organic, natural, eco-friendly materials that leave behind minimal waste. All of their pads are made of comfortable, plush organic cotton and are super absorbent.
They have regular, overnight, and even reusable pads that you can wash. The pads are breathable and alleviate irritation and unpleasant odors while giving wearers maximum protection and comfort.
3. Cora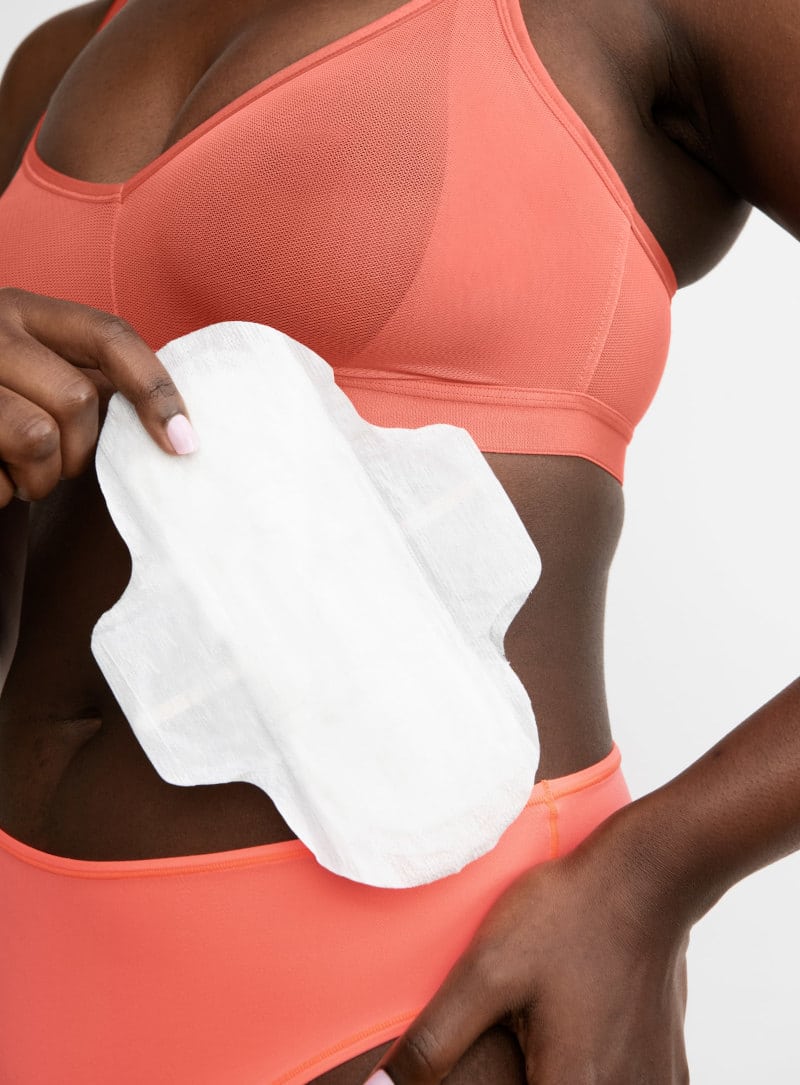 Cora is another B Corporation fighting for everyone on the planet to have access to period products. They sell tampons, pads, liners, and reusable period products. With each order or purchase, they send period products and body literacy resources to people who would otherwise go without.
By the end of this year (2022), they are set to provide 22,000,000 period products to people in need. Whether you have a heavy flow or a lighter one, Cora has several options for you.
They sell regular pads, super pads, nighttime pads, and ultra-thin panty liners. All of their pads are made from 100 percent organic cotton and give users 8 hours of leak protection.
As a result, the pads are incredibly soft, flexible, thin, and comfortable. They are free from dyes, fragrances, GMOs, and chlorine. Customers can purchase items as a once-off from Cora or subscribe and save money over time.
The brand's fantastic products have been featured in Women's Health Magazine and Cosmopolitan.
4. Organyc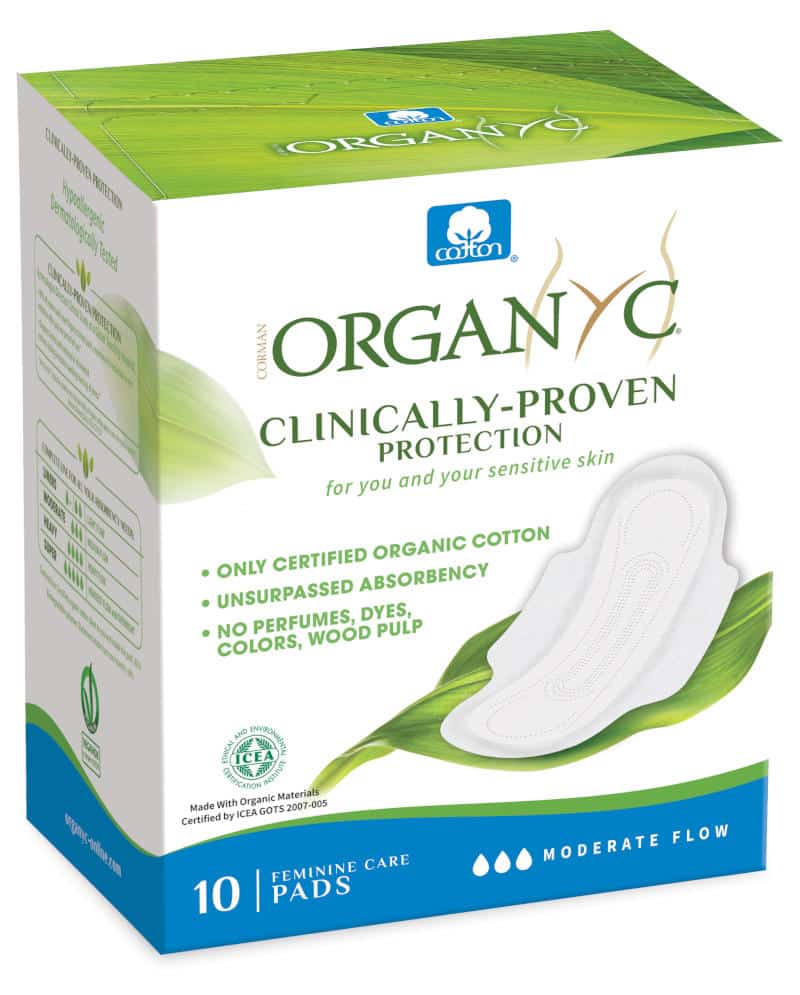 We couldn't do a top 11 best organic pads article without mentioning the award-winning pads from Organyc. The brand is global and was the first to sell clinically-proven organic period products to reduce the impact on the planet and skin irritations. Their products are all made from 100 percent organic cotton, inside and out.
Additionally, their pads have impressive absorbency and are free from dyes, added perfumes, and other harmful chemicals. The pads are entirely breathable, comfortable, and, most importantly, natural. They have various types to suit different flows, from moderate to heavy and light.
5. The Honey Pot
The Honey Pot is the first complete feminine care system powered by herbs. Founded by Bea Dixon, she started the business after suffering from bacterial vaginosis for months. An ancestor gifted her a vision to heal herself, and she decided to help other women who were suffering. All products are backed by science, clinically tested, and gynecologist-approved.
In addition, they are created by women for women and are only made from good materials. Their pads are free from SLS, phthalates, SLES, artificial fragrances, and added parabens. They are cruelty-free and hypoallergenic. Despite your flow, they have pads to suit your needs. The Honey Pot has pads for regular, super, and heavy flows. They also stock nighttime pads and everyday panty liners.
6. OI
OI is another brand selling organic pads that prioritize the health of the planet and people. They offer an alternative to traditional period products that are free from plastics, synthetics, and harmful chemicals.
Their certified organic cotton period pads and other menstrual products are free from GMOs and are plant-based.
The materials they select make their pads biodegradable and help customers reduce their waste and environmental footprint.
Additionally, they do not use any dioxin or chlorine bleach during the manufacturing or processing of any of their products. Their products are made in Europe and Israel also, and they adhere to fair labour laws and working conditions.
7. My Box Shop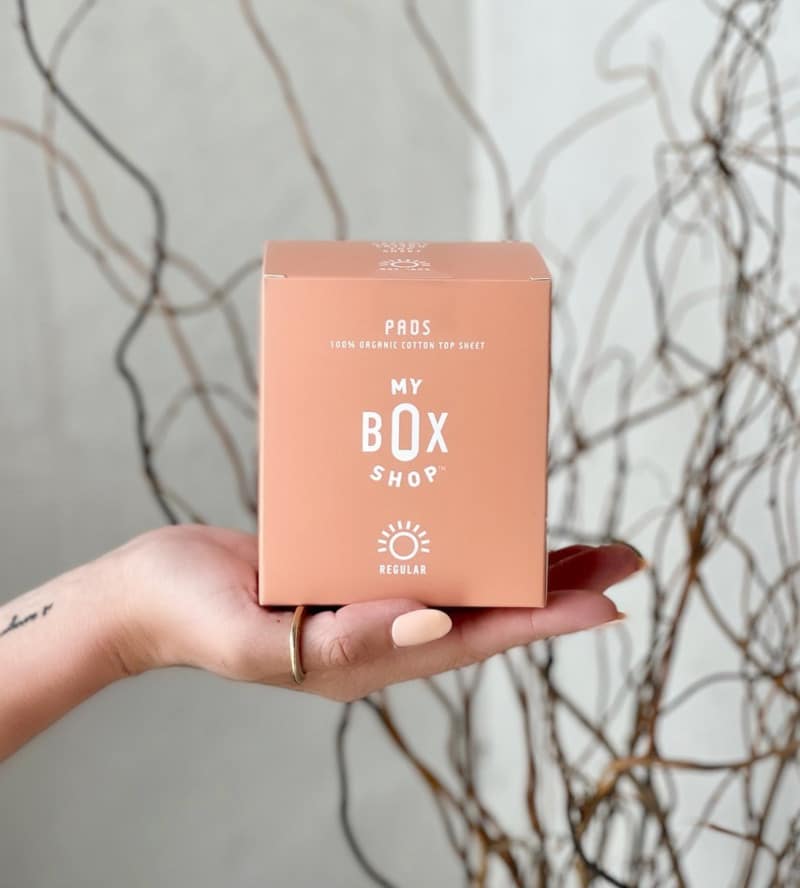 My Box Shop is a business started by two mothers who did not want their teenage daughters putting non-organic products with unsafe chemicals and dioxins in the most sensitive parts of their bodies. They also wanted their daughters to feel empowered and not embarrassed about having a period.
Ultimately, they are working to remove the stigma attached to having periods while providing toxin-free period wear. My Box Shop has a range of products, from pads to tampons, liners, and reusable menstrual products.
Their organic pads are made using advanced technology, which makes them two times more absorbent than leading brands and brilliant for everyday wear.
The pads are great for sensitive skin because they are free from fragrance, dyes, and chlorine bleach. They are also hypoallergenic and breathable. Customers can purchase the pads as a once-off or subscribe and save money over time.
8. TOTM
TOTM is on a mission to improve periods and empower women to care for their reproductive health. They sell products like tampons, liners, menstrual cups, and pads. Their products do not use any unnecessary plastic and are free from dyes, chemicals, and fragrances.
TOTM's period pads are made using 100 percent organic cotton and are incredibly soft, comfortable, and absorbent as a result. The outer packaging of their pads is composable, and they have three different levels of absorbency to choose from – light, medium, and super.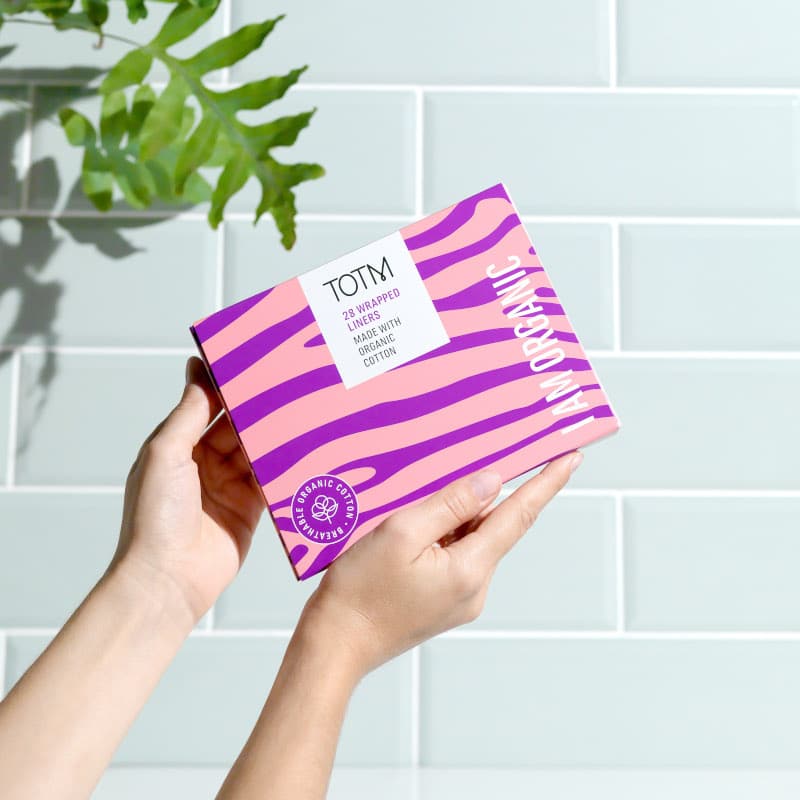 Their pads and other products are cruelty-free and vegan, wood pulp free, and hypoallergenic. TOTM are committed to providing high-quality period care products you can depend on each cycle. They strive to improve access to period care and remove the stigma attached to periods.
Their products have been featured in Grazia, Vice, Elle, Vogue, and Glamour. TOTM is also a certified B Corporation and has won several awards for its fantastic menstrual products.
9. Lola
Lola is another brand selling high-quality feminine care products, including organic pads. They are reinventing feminine care, starting with great natural ingredients you can trust.
The business was founded by women who envisioned a brand with products made with their customers in mind that had no mystery ingredients. Their line includes period products like tampons, pads, liners, underwear, and menstrual cups.
Additionally, they have a number of vagina health products, sex products, and pregnancy and fertility items. Their pads are made of certified organic cotton and plant-based bioplastic. They are available in regular and heavy absorbency levels and are created in the USA.
Lola also supports organizations such as I Support the Girls and Period Equity to help make feminine hygiene and menstrual health products more accessible.
10. Natracare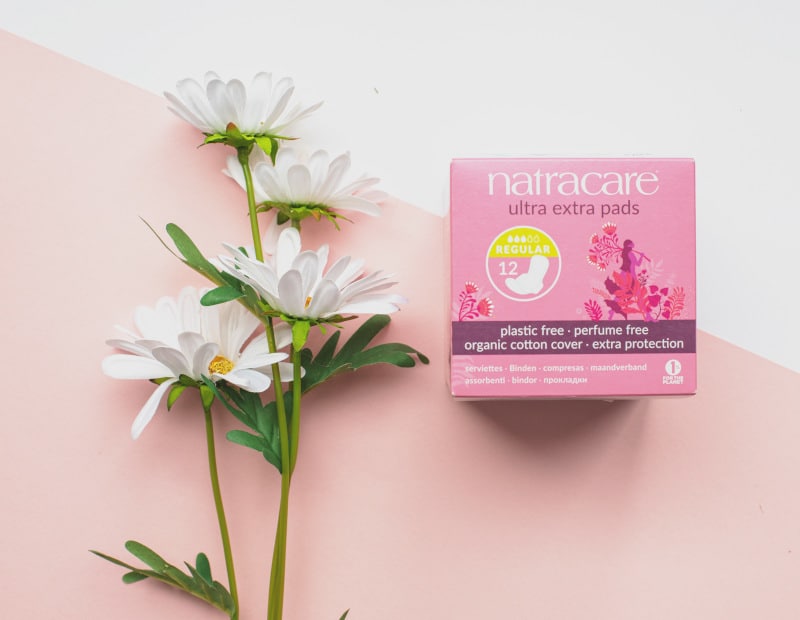 Natracare sells period products that are better for you, workers, and the planet. They provide tampons, pads, liners, and much more to ensure you look after your reproductive health.
All their products are plastic free and free from harmful chemicals and synthetic ingredients. The brand only uses naturally hypoallergenic materials that help relieve skin irritation.
Their certified organic cotton pads are free from toxic pesticides and chemicals. They provide reliable, effective protection and are entirely chlorine and fragrance-free.
In addition, all their products, including the pads, are vegan and cruelty-free. Their pads come in a range of absorbency levels, including regular, super, and super plus.
The Benefits of Using Organic Pads
There are many reasons you should consider making the switch to natural, organic pads. For one thing, they are much better for your body.
Traditional menstrual pads often have a lot of harsh chemicals in them. These chemicals are created during the bleaching process, and some research has classed them as carcinogenic.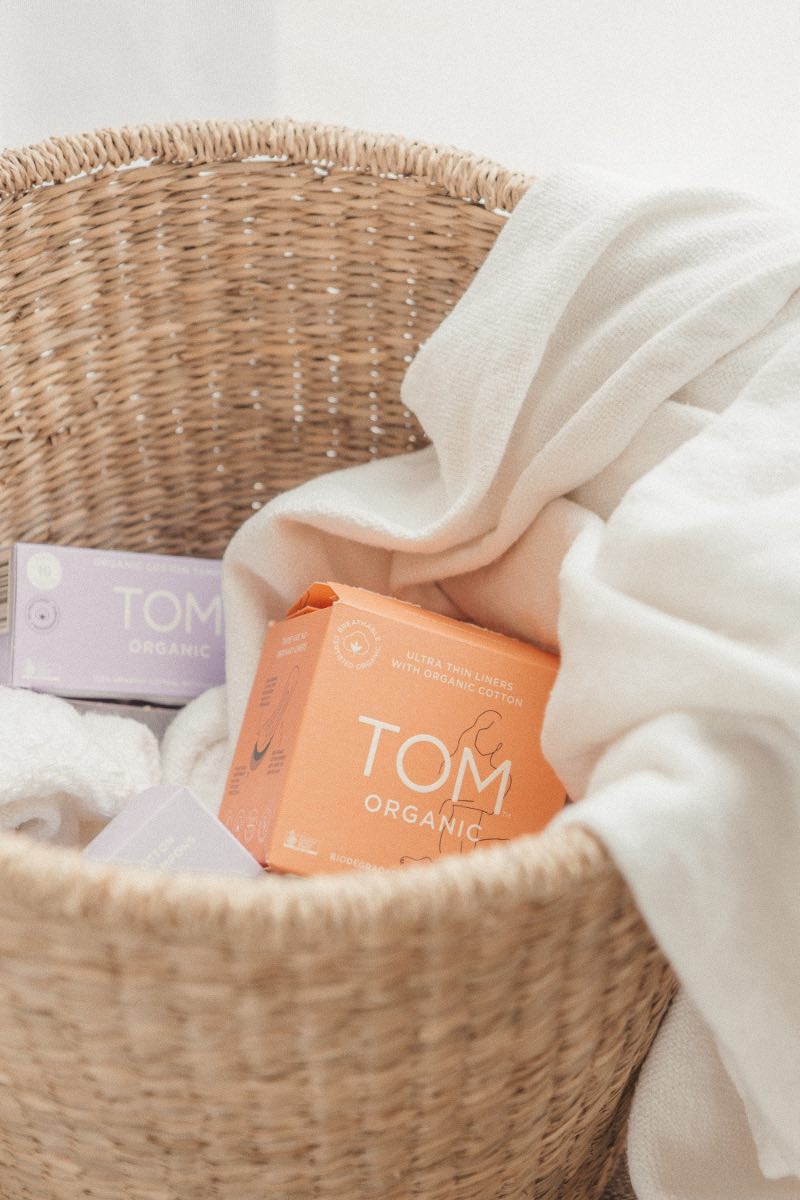 They are known as dioxins, and the World Health Organization (WHO) has also reported they could cause hormone issues and reproductive problems like endometriosis or impact your immune system.
Organic pads are free from these harmful chemicals and do not disrupt your hormones or cause any irritation to your skin.
Organic pads are also safer for wildlife. Cotton farming requires a significant amount of pesticides, whereas organic cotton farming does not.
This means wildlife such as insects, birds, and bees, which are so crucial to our ecosystem, are not affected. These pads also use much less water and energy and are often zero waste or create much less waste than traditional period products.
Since they are made from organic cotton, sustainable period products such as organic pads are also more breathable and softer on the skin. Moreover, they stay this way for the entire day, which is essential during your time of the month when you may experience some discomfort.
As mentioned previously, they are also a better choice for the environment since they are a plastic-free alternative, and we are already battling a plastic crisis.
Will You Be Making the Switch to Organic Pads?
Traditional period wear poses significant threats to the planet, wildlife, and our health. By contrast, organic pads are much kinder to our skin, protect biodiversity, and help us tackle our waste crisis. There are so many options available on the market that suit every kind of flow.
Moreover, there are plenty of affordable choices to select from. So, will you be making the switch to plastic-free, natural, organic pads? If pads are not your thing, we also previously compiled a list of the top period panties!