The Best Sustainable Period Panties of 2023
Sustainable period panties feel and look like regular underwear and are a true game-changer for people looking for an eco-conscious solution to manage their flow. According to DW, roughly 800 million people menstruate, and over their lifetime, each person uses between 5,000 and 15,000 menstrual products.
The majority of these products are single-use and plastic. Reports have confirmed that a typical pad can take between 500 and 800 years to decompose.
Luckily a comfortable, stylish, and environmentally sound alternative exists, namely period panties. Continue reading for your complete guide on all things sustainable and environmental-friendly period panties!
The 11 Best Period Panties
There are so many different period panties on the market, and it can be somewhat daunting to determine which to buy. Not to worry, though; we've put together a list of the 11 best period panties that will help you manage your flow without harming the planet.
1. Best Overall – Aisle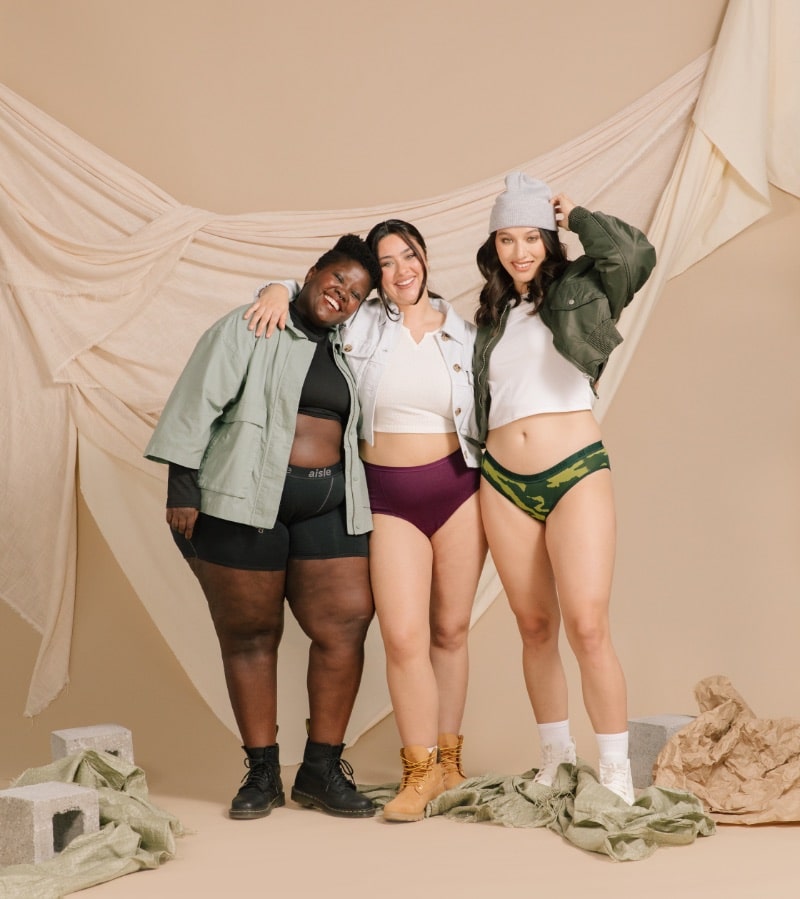 Aisle provides lots of different period panties in a range of styles, from briefs to boxers and thongs. Their underwear is functional while also looking stylish. Most importantly, it is future-friendly and built to last. Some of their styles can hold up to 8 times the amount of tampons.
This makes them an excellent choice for light, medium, and heavy periods. All of their period panties are ethically made using organic cotton. Aisle is also a certified B-Corp and considered a feminist period product brand.
The brand is for people and the planet, working tirelessly to conserve energy, avoid emissions, and divert waste. What's more, they are transparent about this and share the exact numbers online to showcase their impact! Their period panties are so loved they have been featured in top publications such as Glamour, Vogue, and more.
2. Best Period Panties For Heavy Days – Joyja
Joyja is on a mission to make periods better for everybody! Their underwear has four layers of fabric that absorbs moisture and neutralizes odors while ensuring comfort. They use organic cotton to create their underwear and leak-proof technology.
Similar to Aisle, they have a range of styles and stunning designs to choose from. Joyja uses state-of-the-art technology to create comfortable period panties that are stylish and affordable. They understand the environmental issues that arise from period product waste.
It is because of this that they have made the planet a top priority. The brand strongly believes periods shouldn't drain the Earth's resources. In addition, everyone on this planet should have access to sanitary products. By buying from Joyja, customers have an environmental and social impact.
3. Best Moderate-Absorbency – June
June's environmentally-friendly period panties are created with natural materials which are free from azo dyes and harsh chemicals. They only have one style of period panties, but they cater to various flows.
The panties can be worn for up to 12 hours and are best suited to light and medium flows. Their underwear is a full brief providing good coverage and lasts a long time so you can be worry-free.
Similar to Joyja, the brand also believes in making sanitary products accessible to all. They donate their other plastic-free period products to homeless shelters and indigenous communities.
4. Best Period Panties For Light Days – Sustain
Sustain is a certified B Corp that uses organic materials to create its soft, comfortable period panties. Their period underwear is made in the US with GOTS-certified organic cotton.
Inclusivity is highly important to the brand, which is why they offer sizes from XS to XL. Their period panties are not bulky but instead super-thin so women can feel more comfortable. They donate one percent of each order to support women's health organisations also. Overall they are a great choice, particularly for those with light flows.
However, people with heavier flows would be best choosing other period panties from this list. These panties are best suited to people with light periods or for the final days of your period when there is less blood. Other customers like to use them as a backup with a menstrual cup or in bed.
5. Best Fit – Modibodi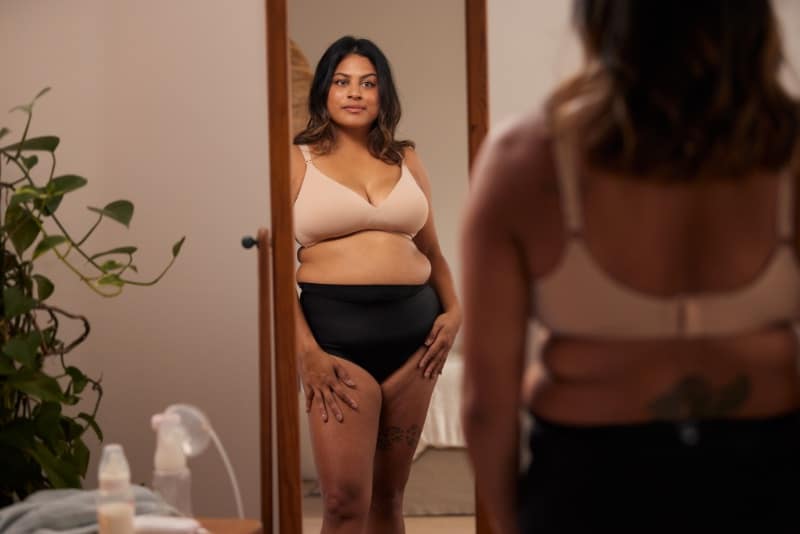 Modibodi's period panties are planet-sustaining, money-saving, and ultimately, life-changing. They come in various styles and designs. What's more, you can choose from light to heavy to ensure you are well protected from leaks.
They created their period panties so everybody can go with a different flow! Some of their briefs hold the equivalent of 10 tampons. They use sustainable bamboo to create their period underwear which is incredibly kind to the skin. Modibodi is committed to providing comfortable period underwear that does not leak.
They include their patent-pending Maxi technology in the absorbent lining of their period underwear which runs from the front to the back waistband. This style is essential for heavy bleeders or people who do not have access to toilets constantly to change their period underwear.
6. Best Thong – Proof
Proof sells several different styles of eco-conscious leak-proof underwear made with periods in mind. They have sustainable thongs, hipsters, lace, and traditional briefs. Their underwear has different absorbency levels to suit your flow perfectly.
Generally, they hold up to 5 tampons and pull moisture away with their multi-layer Leak-Loc system. Made of soft cotton, the period panties feel and look incredible. They are so confident customers will love them that they even offer a 60-day leak-free guarantee!
7. Best Period Panties For Swimming -Wuka
WUKA is another brand offering fantastic eco-conscious period panties. Based in the UK, the brand name stands for 'Wake Up Kick Ass' because they believe nothing should hold women back during their periods. They are committed to accelerating a sustainable world and use only responsibly sourced materials to make their products.
WUKA sells a range of period panties depending on your flow, with the most popular styles being their midi briefs and hipsters. They also sell thongs, boxers, bikini-style period underwear, and school sets. Their period pants can save up to 200 single-use plastic disposable tampons from our oceans or from entering landfills.
They are created with GOTS-certified organic cotton and Tencel Modal fabric from sustainable beech trees and Econyl from plastic waste from our oceans. The Tencel Modal fibers are biodegradable and compostable, too, which means they can return to nature after they have been used.
All their products are animal-friendly and free from any harsh chemicals. They also sell period sustainable swimwear panties which is a huge plus! Their period swimwear is stylish but created to protect you at all costs during your water activities.
8. Best Period Panties For Working Out – Pure Rosy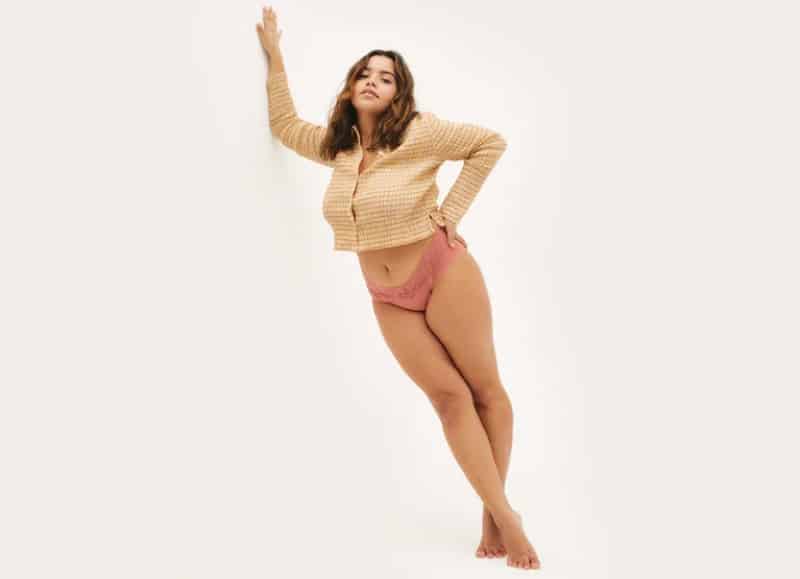 Pure Rosy offers leak-proof period panties that are ultra-thin, highly absorbent, and stylish. They are beautifully stylish and made of recycled and sustainable fabrics.
The brand is committed to inclusion and has sizes ranging from X2 to 1X. Their period panties are created using pro-planet sustainable fashion technology. Pure Rosy has a range of styles from briefs to hipsters and bikini lacy period underwear.
Beyond its sustainability efforts, the brand also has a significant social impact. They have partnered with D.A.R.E Women's Foundation to create The Maggie Fund.
This fund enables Pure Rosy to supply young girls in Tanzania with underwear so they can continue their schooling while on their period. Ultimately, their mission is to make period products more accessible and less harmful to the planet.
9. Best Antimicrobial Period Panties – Nat'v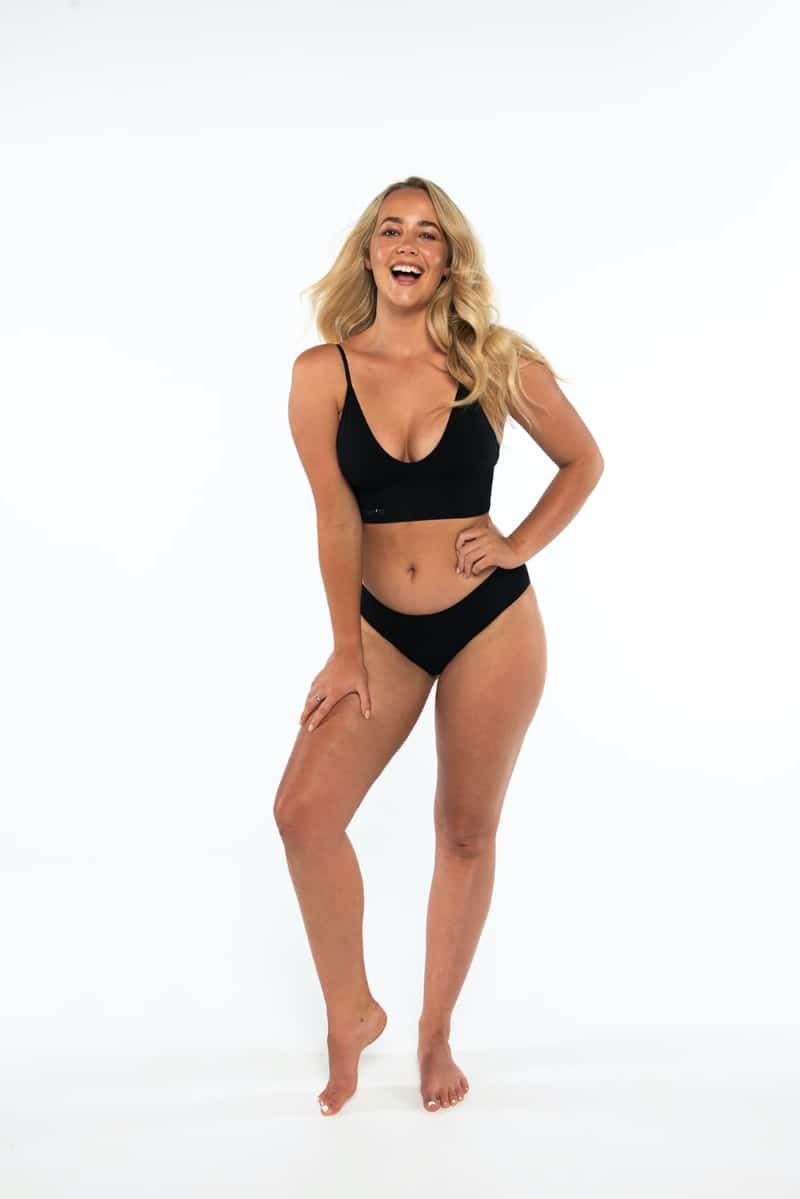 Nat'v basics stocks period underwear that is better for the body and the planet. Their period panties are super soft, having been made with eco-soft technology for all-day comfort. Their signature fabrics are produced from renewable and organically grown sources.
The brand uses GOTS-certified organic cotton to create its period panties which means no chemicals are used throughout the production process. All their products are toxin-free, antibacterial, and breathable. They are a brand with a purpose, and each product they design and create must meet its high standards to protect people and the planet.
These standards include human rights, environmental practices, working towards a sustainable supply chain, animal welfare, and producing a natural, safe, toxin-free product. The Nat'v Basics period panties have been featured in media publications such as InStyle and Mama Disrupt.
10. Best Period Panties For Nights – Saalt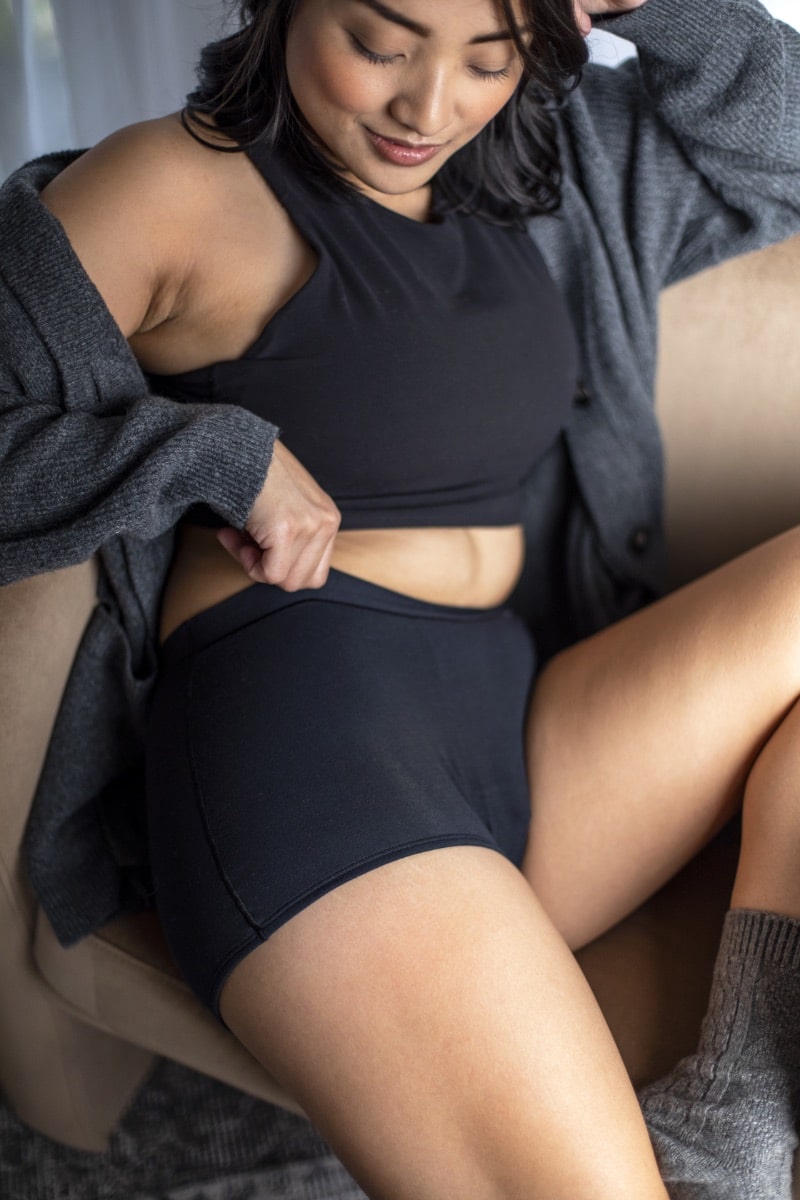 Saalt is committed to providing leak-proof period underwear that absorbs blood, bladder leaks, and much more! Their panties are silky soft and made of stretchy body fabric. Their thin period underwear has four layers for ultimate protection.
They have various styles, including boyshorts, briefs, bikini-style underwear, thongs, high-waisted underwear, hipsters, and more. The underwear has different absorbency levels from light, regular, and high, so you can select the right pair for your flow.
They are made of soft TENCEL Modal, so you will feel like you are sitting on clouds. TENCEL is a soft fabric derived from sustainably regenerated cellulose fiber that comes from renewable beech wood.
Their period panties are FDA-registered and compliant, and no harsh chemicals are used in the production process. They strive to provide a premium design with a comfortable fit. Saalt is also a certified B-Corp and gives 2% of its sales back to help girls and women in need.
11. Best Style – Flo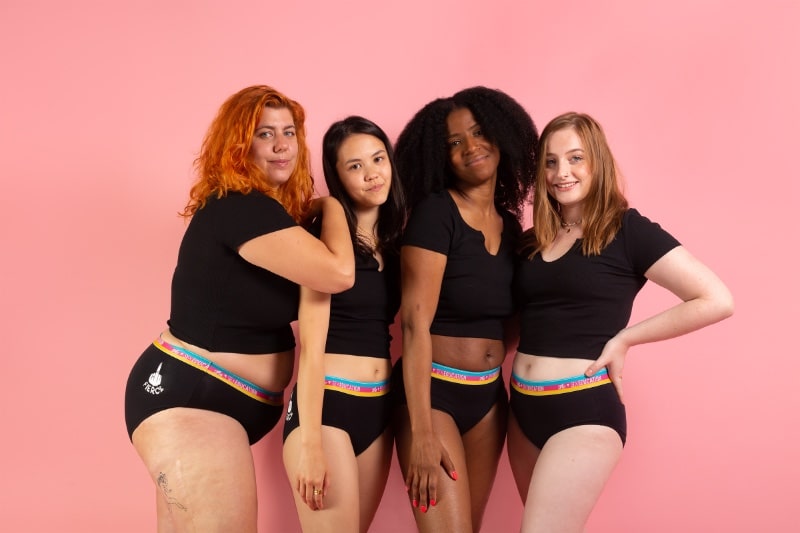 FLO are a UK-based business selling various plastic-free period products. They teamed up with Netflix's Sex Education to launch reusable period panties that can hold five tampons' worth of flow.
The pants are made with sustainably-sourced cotton from the Better Cotton Initiative and have a triple-layer for high absorbency. The material is super soft and kind to the skin.
Their period underwear is a certified climate-neutral product, PETA-approved vegan and cruelty-free. In addition, their eco-conscious period briefs are created in a carbon-zero facility. The panties are free of all harmful chemicals, dyes, and nasties. While they only sell two styles of period panties, their beautiful design makes up for it!
Why Switch To Period Panties?
There are a number of reasons you should consider switching to period panties. The main one is they are a better choice for the environment. Single-use menstrual products such as tampons and pads cause a lot of waste.
By contrast, period pants are a reusable option that lasts longer. When your cycle is over, you simply pop them in the wash and put them away for your next period. Period panties can also hold several tampons or pads' worth of blood.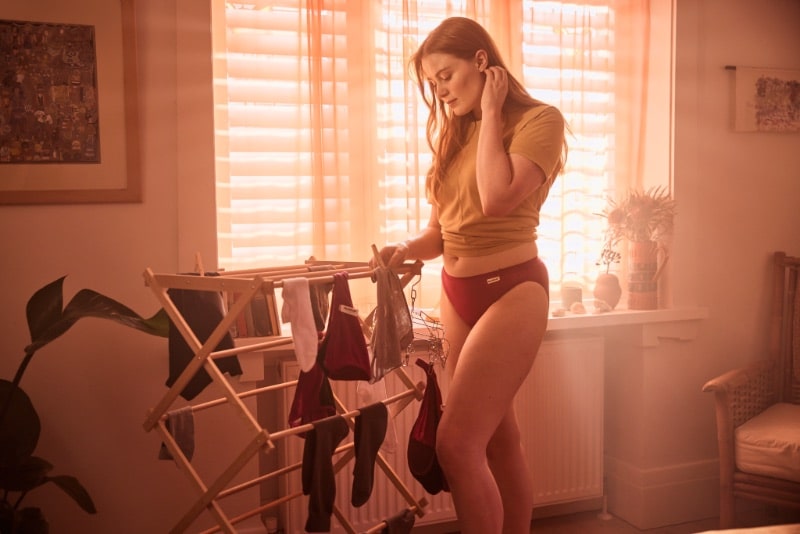 The pants last all day, and in the long run, they are a cheaper option than buying single-use period organic pads and tampons. One of the top reasons many people seem to make the switch, though, is actually down to comfort.
Sustainable period panties are generally made of bamboo and organic cotton. These materials are kind to the skin and cause zero irritation. They are also usually free from harmful chemicals and entirely animal-friendly.
The brands that create and sell these period panties are also usually working towards broader issues. For example, many on our list are working hard to ensure everyone on the planet has menstrual products available to them.
What To Look For In Period Panties?
When shopping for eco-conscious period panties, there are several things you should look for. For one thing, you should check the materials to see what the panties are made of. You want to ensure you are choosing a breathable and comfortable fabric.
The next thing you want to look for is that they are environmentally sound. You can find this out by using resources such as the Good On You website. In addition, you can research the company to identify their impact and if sustainability is a top priority for them.
Whether you have a light or heavy flow, it is a good idea to select period panties that have good absorbency. You should also ensure the panties are anti-leak. Some brands have extra protection in the form of added layers of fabric.
Another thing to look for is a brand that offers numerous styles for during the day, sleep, and lighter days. This will help you live your best period panty life during your time of the month!
How Do Period Panties Work?
Period panties look and work just like regular underwear. The main difference is that they are designed to soak up blood and keep moisture away from the skin. To achieve this, brands use moisture-wicking fabric that traps liquid.
The period panties often hold a few tampons or pads' worths of blood. Essentially, they replace the need for tampons and pads and can be worn on their own or as added protection with a menstrual cup.
Can Period Panties Be Worn All Day?
Just like regular underwear, you can wear one pair for the entire day and change them each day. Then, simply throw them into your washing machine, and they will be ready to go for your next cycle.
How To Wash Period Panties?
Washing your period panties couldn't be easier. It is best to soak them first in cold water or rinse them to remove as much blood as possible. Then, pop them into the washing machine on a delicate or gentle cycle.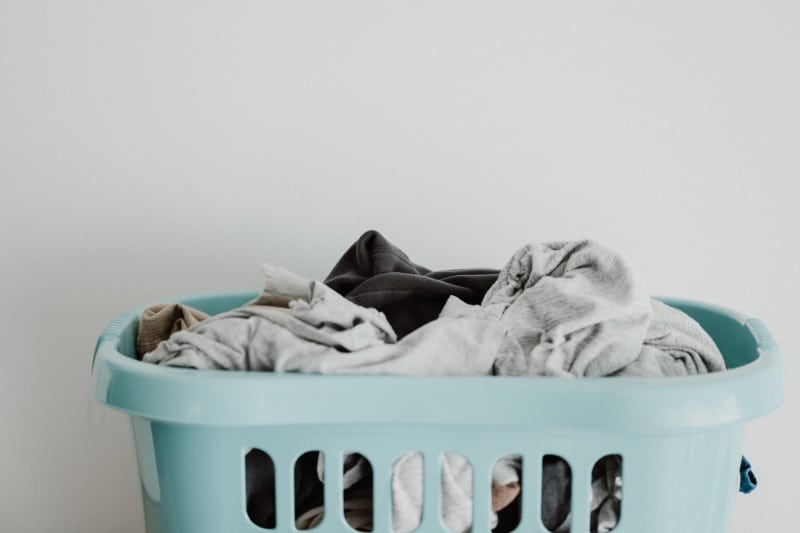 Use a natural or mild detergent to increase longevity. You can also use laundry detergent sheets to be even more eco-friendly. Allow the underwear to dry naturally once the cycle is finished. For stronger stains, you can use the likes of vinegar mixed with water to remove them.
Are You Ready To Make The Switch?
There you have it, the 11 best sustainable period panties of 2023
so you can make the switch. Period panties are a great way to reduce your carbon footprint by curbing your use of one-time period products.
Period pants are yet another easy swap many women can make. Beyond the environmental benefits, period underwear is comfortable, convenient, and can help you save your coin.