10 Best Reusable Cotton Pads of 2023
Cotton pads are an everyday essential for many, which is why we are bringing you this compiled list of the best reusable cotton pads. It is well known that we are creating far too much waste, and we need to address our waste-heavy lifestyles. This is where reusable products that create no waste are key.
Reusable cotton pads can do anything disposable cotton pads can do; the big difference is they can be washed and continuously used again. Moreover, they are even better for your skin. They are usually made of cotton or bamboo and come in a range of sizes, shapes, and colors.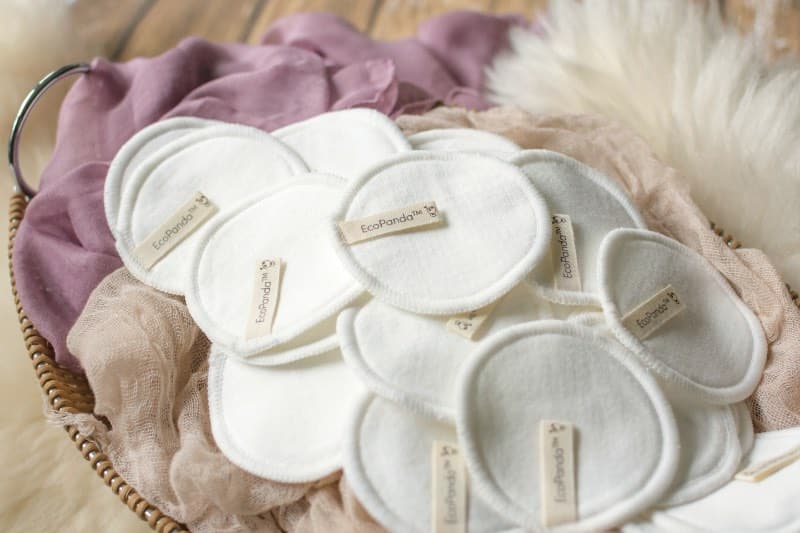 One thing is for sure; these reusable cotton pads act as a great sustainable bathroom swap. They cost a little bit more upfront, but you get up to 1000 uses out of them. Continue reading for the best reusable cotton pads to remove your makeup and more on how to incorporate them into your daily routine.
The Best Reusable Cotton Pads
As promised, this article will share the best reusable cotton pads so you can make this planet-positive switch! Below are the 10 best reusable cotton pads on the market.
1. Bambaw Reusable Makeup Remover Pads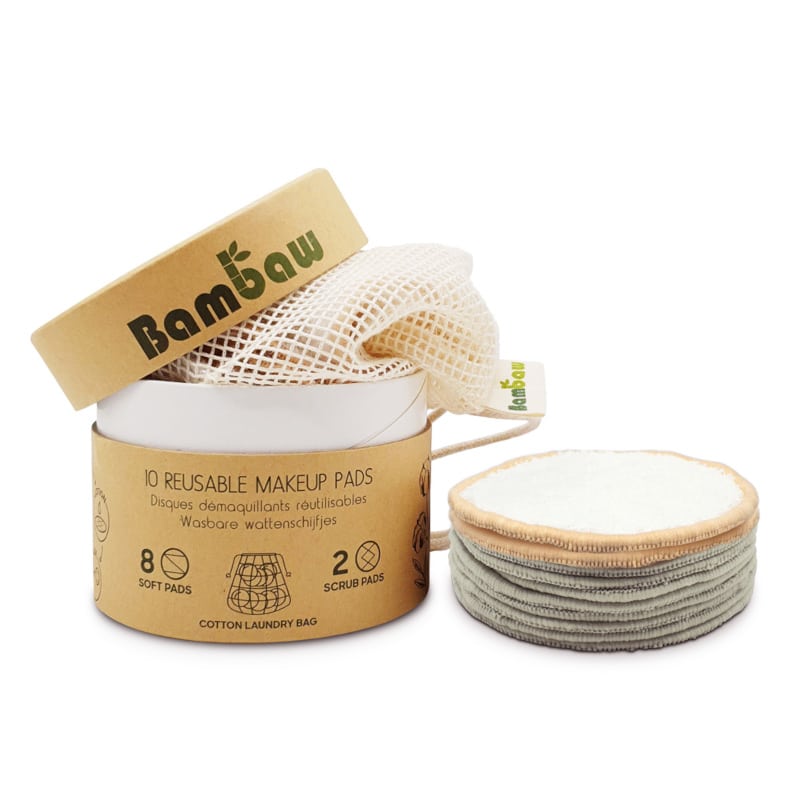 First on our list of the best reusable cotton pads is the Bambaw reusable makeup remover pads. They come in a set of either 10 or 16. The set of 16 includes 12 soft bamboo velvet pads and 4 scrub bamboo terry pads. Bambaw's 10 makeup pad set includes 8 soft velvet pads and 2 scrub terry pads.
The soft pads are more suitable for removing everyday makeup and for cleaning around sensitive areas. Meanwhile, the scrub pads can be used to exfoliate the skin and remove more tenacious products. The pads come with a cotton bag to keep them all together, too. To reuse the pads, you simply wash them in your normal laundry load at 40 degrees Celsius.
2. Aurelia Reusable Bamboo Cotton Pads
The Aurelia Reusable Bamboo Cotton Pads come as a set of 10 and are made of bamboo and cotton. Their large, circular shapes make it easy to remove all makeup, and the materials are also gentle for more sensitive areas. Additionally, the delicate fibres are perfect for use around sensitive areas and will not drag or pull the skin.
The pads are incredibly soft and have a tab where you can place your finger to avoid spreading any bacteria. They remove makeup with just water. However, the brand does still recommend you use a cleanser or micellar water to ensure a thorough makeup removal. These pads must be washed at a temperature of 30 degrees Celcius.
3. Tabitha Eve Organic Makeup Rounds
The Tabitha Eve makeup rounds are made of naturally antibacterial bamboo and organic cotton. Having a similar design to disposable pads, they are incredibly effective at removing makeup. They also have a textured material that helps exfoliate the skin while cleansing it.
The pads are soft and thin and come in a pack of 5. They can remove makeup with just water. These pads should be rinsed with cold water and soap. Then, place in the wash with a normal load on cool and allow to dry naturally. The pads are cruelty-free and vegan, and handmade ethically in the UK.
4. Facetheory Reusable 100% Organic Cotton Pads
Next on our list of the best reusable cotton pads is the Facetheory 100% organic cotton pads. The pads are large and double-sided to allow for both toning and removing makeup. They are completely biodegradable and unbleached. When purchased, you receive a pack of eight in a drawstring bag.
The pads are super-soft and think. Facetheory advises customers the pads will last for one year if cared for properly. They can be washed in the machine in the drawstring bag to avoid losing them. In addition, once they reach the end of their life, they can be placed in the compost bin to decompose.
5. Kitsch Eco-Friendly Mini Facial Rounds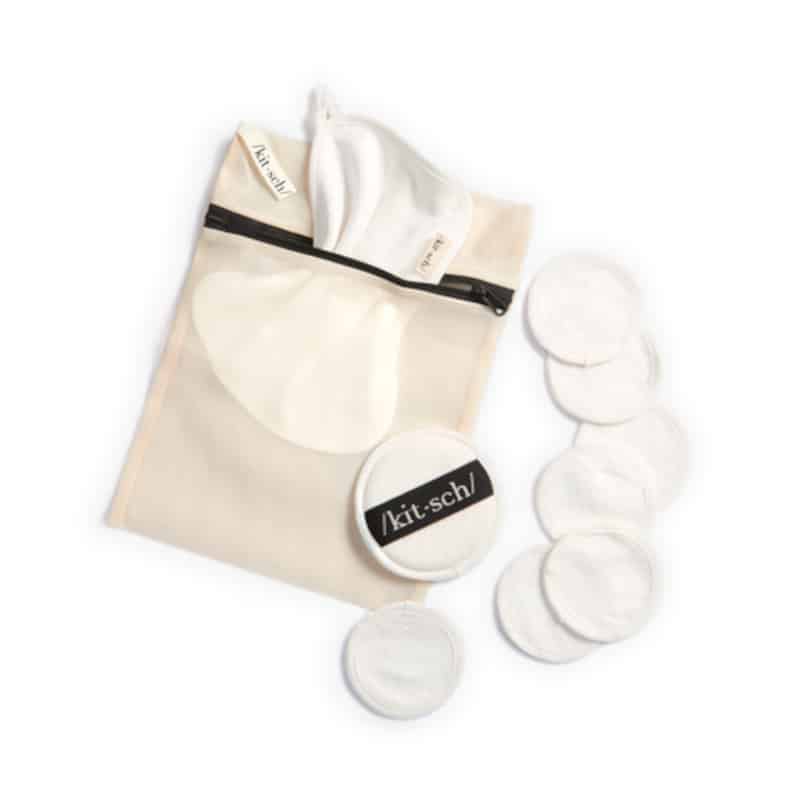 The Kitsch Eco-Friendly Mini Facial Rounds are an excellent choice if you are looking for the best reusable cotton pads. They are consciously created and made from sustainably sourced bamboo and organic cotton. The pads are perfect for removing makeup and cleansing the skin. Additionally, for toning the skin or applying various essences.
The materials make the pads very soft and gentle. They are round in shape and come in a set of 7 (one for every day of the week!). The pads can then be rinsed or washed in the machine with your regular laundry load. The brand that sells the pads, Kitsch, is also self-financed and woman-owned. All products are designed in California, too.
6. Botanics Reusable Cleansing Pads
The Botanics cleansing pads are next up on in our compilation of the best reusable cotton pads. These pads can be purchased from Boots and are a great choice for everyday skin cleansing. The set includes 10 velvet pads for everyday makeup and 4 scrub pads for deeper cleansing and exfoliating.
They work with water and cleanser and glide across the skin. The pads are made of bamboo and cotton, which makes them very soft and gentle, too.
They can be machine washed at 40 degrees Celsius in your regular laundry load. It should also be noted that the Botanics Reusable Cleansing Pads are one of the most affordable options on the market.
7. Marley's Monsters Reusable Facial Rounds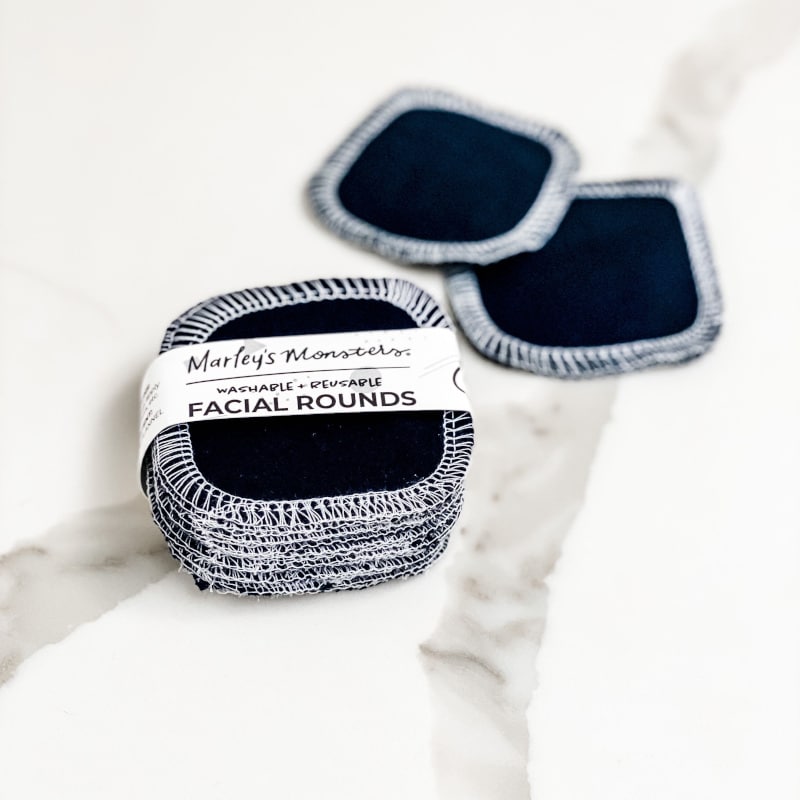 These reusable facial rounds from Marley's Monsters are made of 100% organic cotton flannel. They are smooth and silky with great absorbency levels. You can purchase these pads in various shapes and sizes to suit your needs. They also come in lots of different prints and colours to make your makeup removal routine a bit more exciting.
The pads are handmade in Eugene, Oregon and come with a mesh laundry bag. Each of the pads is 3" in diameter, making them a perfect size for cleaning harder-to-reach places.
The edges of the pads are also sewn to prevent any fraying. They come in sets of 20 and can be easily cleaned in a washing machine at 20 degrees Celcius.
8. Paula's Choice Reusable Cotton Rounds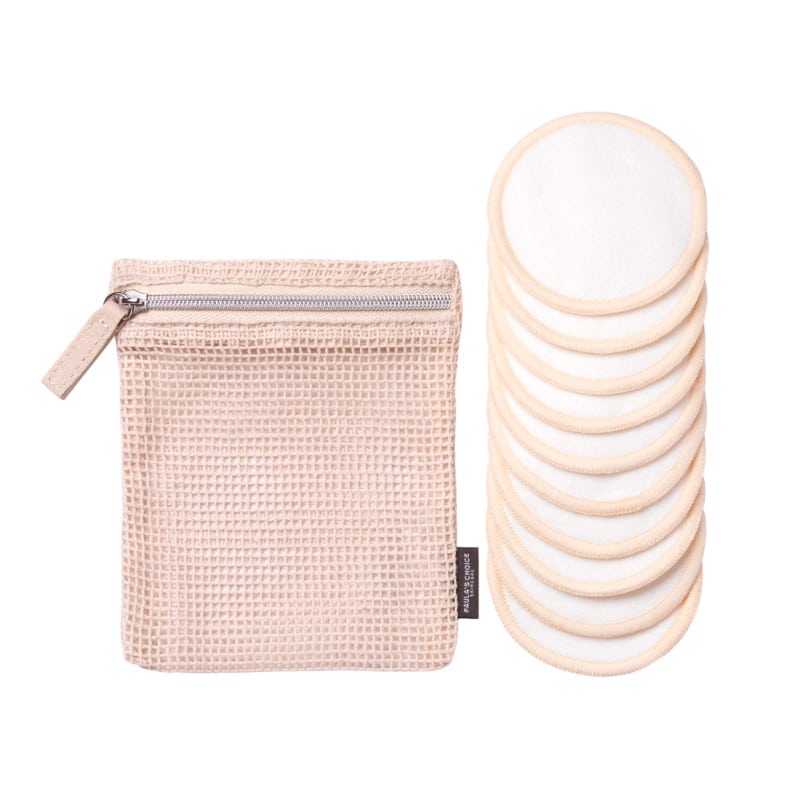 Next on our list of the best reusable cotton pads is Paula's Choice reusable cotton rounds. They are made of cotton and bamboo and have a soft texture that is suitable for use on all different skin types. The pads are brilliant at removing everyday makeup and harder-to-remove products like lipstick and eye makeup.
They are incredibly durable and can be used with makeup-removing products as well as exfoliants and facial toners. The pads are 3 inches and come in a cotton zipper laundry bag. They are also fragrance-free and cruelty-free. The pads can be washed in the machine up to 100 times.
9. Greenzla Organic Bamboo Cotton Makeup Remover Pads
The Greenzla organic bamboo cotton makeup remover pads are an excellent choice for those with sensitive skin types. These pads are super gentle on the skin and are made of organic cotton and responsibly sourced bamboo. They are also completely biodegradable and natural for easy disposal when the pads reach the end of their life.
The pads are incredibly easy to clean and just need to be placed into the washing machine along with your regular laundry load. They are also very durable and great value for money. The pads come with an organic cotton laundry bag and storage container, too.
10. Face Halo The Modern Makeup Remover Pads
Finally, on our list of the best reusable cotton pads is the Face Halo, the modern makeup remover pads. These pads have won numerous awards and remove makeup effortlessly. They are incredibly soft and remove makeup with just water. The pads are 3.5 inches and come in a set of three.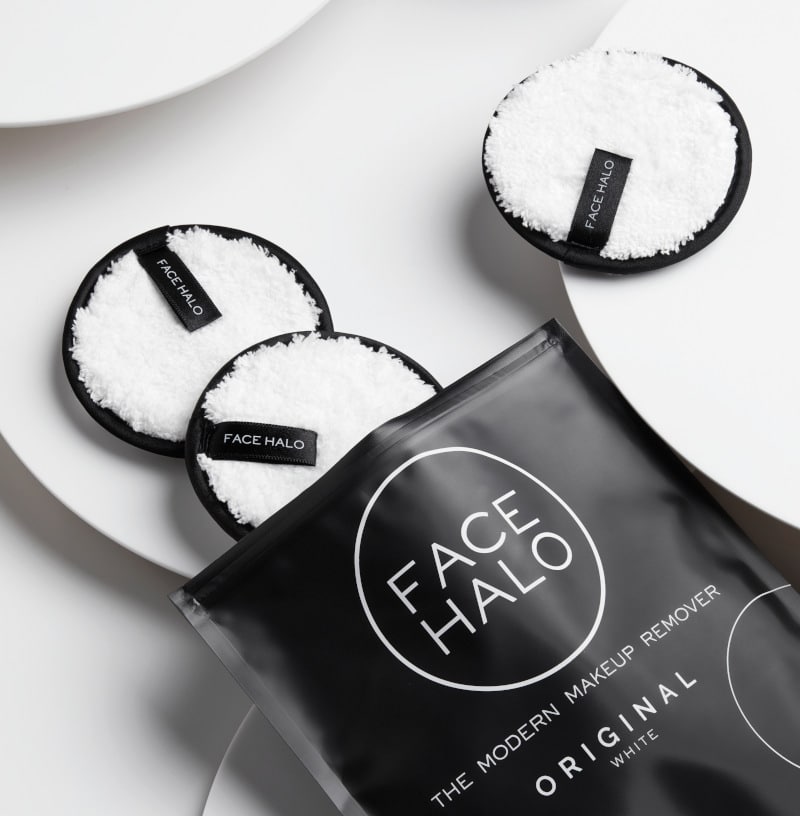 They are double-sided, with one having black fibres, which are perfect for removing foundation and makeup. These pads are also non-toxic and approved by PETA, which makes them safe for your skin and the planet. They are also great value for money as the 3 pads are equal to 500 regular disposable cotton pads.
Why Are Disposable Cotton Pads Bad?
Disposable cotton pads, makeup wipes, and other single-use makeup removal products contribute massively to our waste issue. The reality is that they generally end up in landfills where they never entirely decompose.
Unfortunately, this presents a risk where parts of them can enter our oceans and impact sea life. Additionally, a majority of single-use cotton pads are bleached polyester fibres which include a range of chemicals. These chemicals are not good for your skin and can cause irritations and other skin-related problems.
Similarly, if you have sensitive or troublesome skin, you will likely notice positive differences from using gentle reusable cotton pads. This is because they are bacteria, preservative and chemical free.
Another important thing to note about producing cotton products is that cotton requires a significant amount of water. The WWF has estimated by 2025, two-thirds of the worldwide population will face water shortages if we continue to use water the way we currently do.
With that in mind, the production of conventional cotton products greatly contributes to this. The water footprint of cotton products is considerable, and this is something to think about when it comes to single-use cotton items especially.
Most disposable cotton pads also come contained in plastic packing, and we are already battling a major plastic crisis. Therefore, switching to reusable cotton pads means you reduce your carbon and water footprint. Moreover, you end up with a product that is better for your skin and will not threaten any of our wildlife.
How Do You Use Reusable Cotton Pads?
Reusable cotton pads are very easy to use. The process is very similar to using traditional disposable cotton pads. Some require just water, while others may need you to add some makeup remover or cleanser directly on the pad.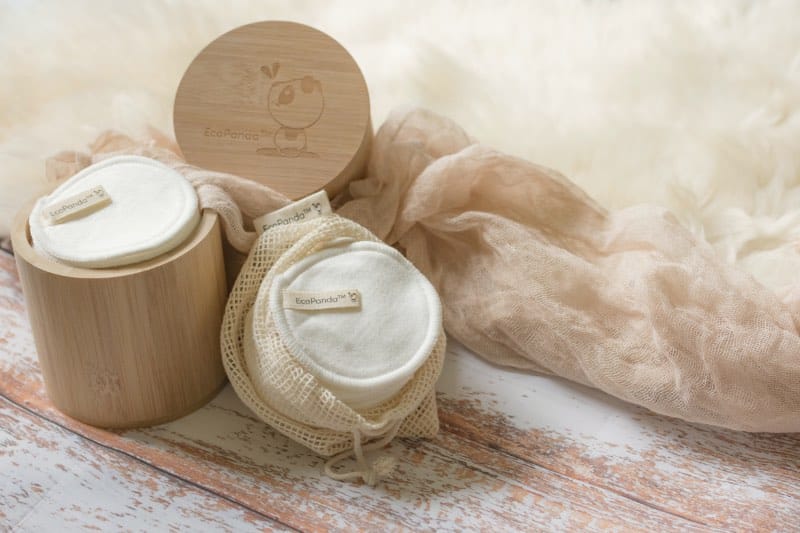 Once you have done that, you can simply wipe away your makeup. After you have wiped off all your makeup, you should always do a second cleanse with a facial wash or cleanser.
Your reusable pad will be dirty after removing your makeup, so you can then rinse it to help remove any stains. Then, pop it into the washing machine along with your load of laundry.
Once washed, allow your cotton pads to air dry, and then you can place them back into your storage bag. You can also use your reusable cotton pads to cleanse your face, apply your toner, exfoliate your skin, and remove face masks.
How Many Times Can You Use a Reusable Cotton Pad?
Generally, a reusable cotton pad will last for up to 1000 uses if you care for them correctly. Likewise, they can last even longer if you look after them. It should be noted, however, that you should rinse or wash the pads after each use to prevent the spread of bacteria. Using a pad multiple times when it is dirty could result in skin concerns such as blemishes.
What Fabric Is Best For Reusable Face Pads?
Regarding the best fabric for reusable face pads, you should consider where you are using them. The skin on your face is much more sensitive and delicate than the remainder of your body.
For that reason, it is vital to select reusable pads that are made of soft and gentle materials. In that case, reusable face pads made of bamboo, fleece, microfibre, or brushed cotton are most ideal.
Summary
Reusable cotton pads are a great way to reduce waste further. They are also often made of materials that are better and kinder to the delicate skin on your face. The pads are just as easy to use as generic disposable pads and are simply thrown in the wash to reuse.
Then you just have to allow them to dry, and you can use them again and again. They can also be used for a wide range of purposes within your daily skincare regime. Moreover, you can get up to 1000 uses out of them, and then they can be placed in your compost to decompose.