The 10 Best Sustainable Swimwear Brands To Dive Into
Did you know that most of your swimsuits are made of polyester? Unfortunately, like plastic, polyester is not biodegradable and will eventually end up in our oceans.
Therefore, we encourage you to use new, sustainable swimwear with eco-friendly fabrics, such as hemp and repreve. They have similar properties to polyester but have a lesser impact on our environment.
Besides, sustainable swimwear brands are also using more ethical approaches than their fast fashion counterpart. This ensures that employees get a respectable pay and that natural resources are being used responsibly.
To help you feel good and look good in your sustainable swimwear, we gathered the 10 best sustainable swimwear brands based on our own use, reviews, and forums. Check them out below.
Best Brands For Sustainable Swimwear
1. Natasha Tonic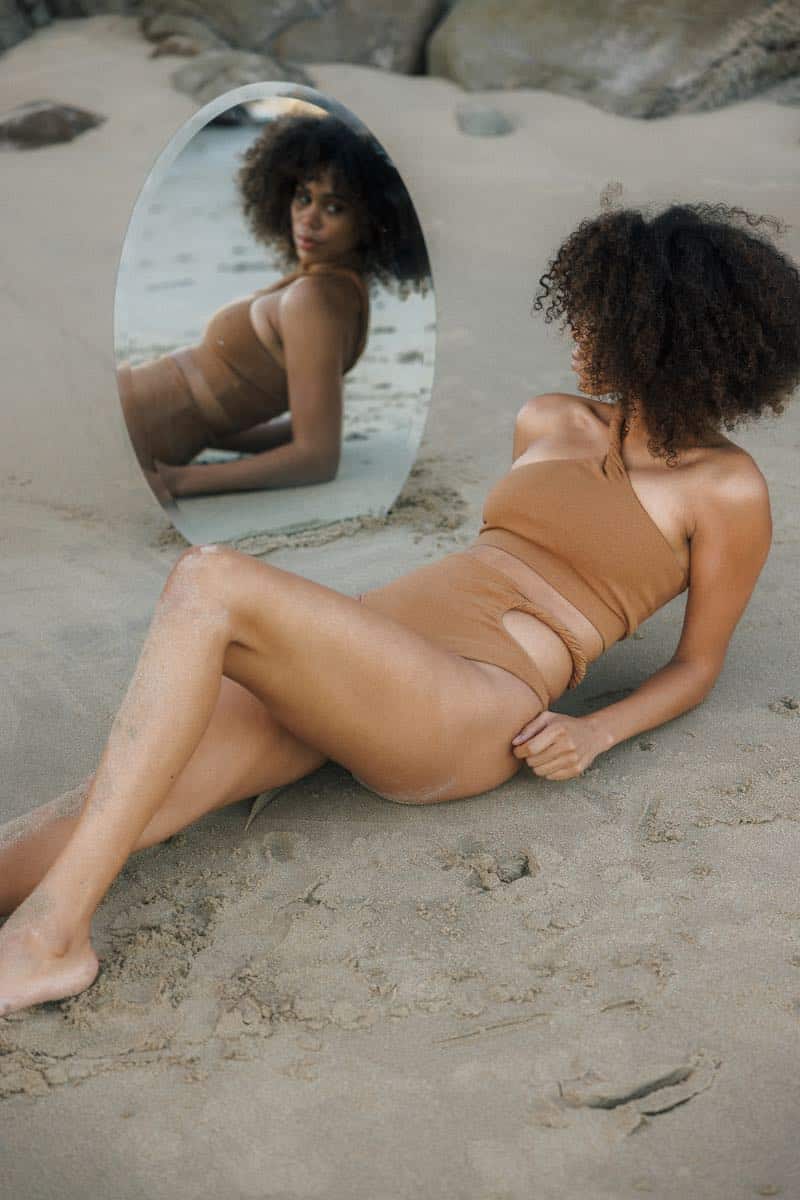 Price range: $50 to $250
Size range: XS to 2XL
Natasha Tonic was founded with the goal of improving women's sustainable swimwear. Polyester, which is non-biodegradable and harmful to the skin, has been used to make swimsuits for many years. Natasha, the designer, and woman behind Natasha Tonic, wanted to find a more sustainable and comfortable fabric for her brand.
So, she used the hemp swimsuit fabric. She made it from a special, natural hemp fiber that is antimicrobial, UV resistant, long-lasting, and better for your skin and the ocean since it doesn't pollute it with microfibers.
The innovative hemp also enables the swimsuits to be versatile. You can use them as lingerie, bodysuits, or sportswear. Made for all seasons, it cuts down on waste and gives you more cost per wear.
Natasha Tonic also makes made-to-order swimsuits to eliminate unnecessary waste. Everything is produced locally in Los Angeles and part of the profits is being donated to different charities that protect children and women. We also donate to environmental nonprofit organizations that focus on planting trees and cleaning the ocean from plastic waste.
2. OCIN
Price range: $55 to $200
Size range: XXS to XL
OCIN is a lifestyle brand and eco-swim label based in Vancouver that was founded in 2018. It aims to be a platform that encourages people to be their most open and boundless selves and inspires them to do kind and helpful activities for their communities, the environment, and the seas.
The founders of OCIN aim to create a community that focuses on saving the environment while remaining fashionable. They use 100% recycled polyester, such as ECONYL, which is a recycled nylon fabric.
OCIN also uses its platform to promote awareness for non-profit charities that share goals and values. Their magazine is well-received among its community of not only consumers but who are ocean-protectors at heart. This builds a community of people striving for the same objective: to protect our oceans.
3. Loop Swim
Price range: $48 to $170
Size range: XS to XL
Itee Soni and Heather Kaye, the co-founders of Loop Swim, had become tired of the excessive trash the fashion industry was producing by the time they met in Shanghai in 2008.
The two women discovered an opportunity to produce sustainable swimwear exclusively from recycled plastic when recycled PET (plastic bottles) fabric first became accessible in 2012 as a substitute for virgin polyester.
Together with Repreve rPET yarn manufacturer Unifi, they started creating their patented UPF50+ sun-protecting swimsuit fabric.
They started Loop Swim with the key concepts of timeless, sustainable luxury paired with social and environmental responsibility. They have a combined 25 years of expertise in garment design and production. Loop swim caters to everyone – women, men, and kids, making sustainable swimwear accessible for all.
Today, Loop Swim will recycle your swimsuit at the end of its useful life besides being constructed from post-consumer plastic bottles that would otherwise end up in landfills or our seas.
4. Mara Hoffman
Price range: $75 to $400
Size range: XS to 3XL
Following her graduation from the Parsons School of Design in New York City in 2000, Mara Hoffman launched her own brand. She is pursuing a more ethical and responsible business model while continuing to provide vibrant designs that were inspired by and celebrated by women.
The company maintains an open dialogue about its philosophy and urges customers to reconsider how society views clothes to promote conscious consumption practices.
The brand is a loud and active champion for racial and social justice in the interest of a more fair society and continues to work on sustainable materials, techniques, and manufacturing in order to enhance and lengthen the life of each garment.
5. Summersalt
Price range: $34 to $50
Size range: XS to 2XL
Businesses are about making money. This is no secret, but Summersalt has a heart for sustainability and equity. Summersalt swimwear always follows what they call " earth-friendly practices", and they strive to produce their products with 100% recycled materials.
Summersalt provides travel necessities that are both elegant and comfortable enough for the trip and the destination. The brand holds the view that comfortable doesn't have to equate to underdressed, that fashion and function should always work well together, and that traveling shouldn't cause worry while packing.
Since there is no intermediary involved, you receive the highest designer quality at the lowest cost. For the Summersalt fit, they collected almost 1.5 million body measurements from 10,000 women. This ensures that they cater to all body shapes and sizes, enabling you to feel comfortable at the beach.
6. Vitamin A
Prize range: $64 to $128
Size range: Custom sizes according to your cup size and under-bust.
Vitamin A is an environmentally friendly option for everything from design to manufacturing, distribution, and philanthropic relationships. Their collection is fully plant-based and repurposed materials, making all their swimwear environmentally friendly.
Besides, Vitamin A is meticulous about fit and style considerations to guarantee that your sustainable swimwear is reliable and supportive in all the finest ways. They use four different sustainable fabrics made from plant or recycled polyester, namely BioSculpt, EcoLux, EcoRib, and EcoTex. Besides, Vitamin A donates a percentage of each transaction to organizations that safeguard our seas.
7. Girlfriend Collective
Price range: $38 to $78
Size range: XXS to 6XL
Do you want to be in ethical and recyclable swimwear this summer? The Girlfriend collective has got your back. They have designed swimwear in various sizes that are recyclable and don't contaminate the seas.
Girlfriend Collective is also transparent, caring for the workers who manufacture your garments, and never putting profits ahead of the welfare of the environment.
Their recycled fabrics are all certified "Standard 100" by Oeko-Tex. Oeko-Tex is the leading expert in fabric testing and regulating harmful substances.
Besides, the company also values representation. They know that health and wellbeing exist in a variety of forms and sizes, which explains their wide variety of sizes!
8. Boden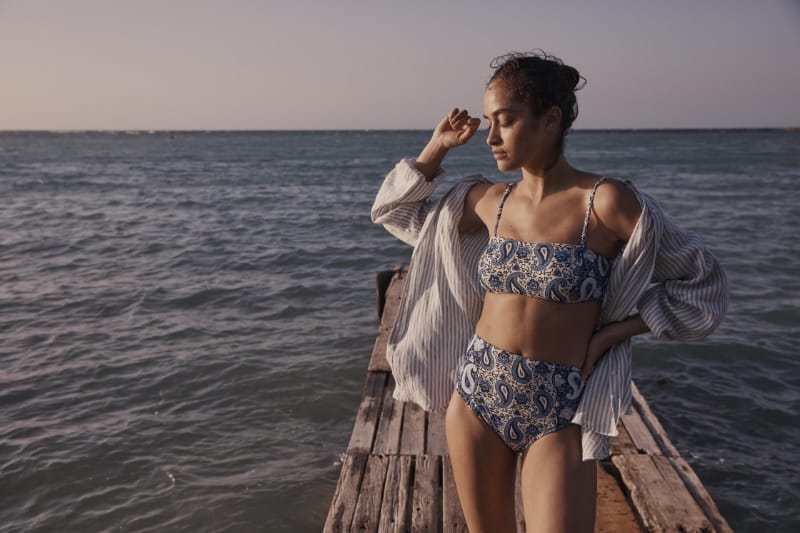 Price range: $21 to $85
Size range: 6 to 20
The idea of Boden was to introduce swimwear that preserves the environment. So, to do this, they made their swimwear polyester free and with sustainable cotton fabric.
If you are planning on a vacation and need swimwear that is sustainable, super stylish, and comes in a wide variety of sizes to suit all bodies, then this is the swimwear for you.
The founders created Boden in 1991. Boden emerged at a time in Britain when fashionable clothing was not exactly a thing. 30 years later, Boden is now a worldwide business using recyclable materials to make its products.
Boden swimwear is completely ecologically friendly. The swimwear fabric uses Mipan, a recycled nylon fabric. The Mipan is made from 100% waste materials such as yarn scraps melted down in a chemical-free method.
Besides being sustainable, Boden swimwear is stylish and comes in a wide variety of colors, prints and sizes you would love to choose from.
9. Patagonia
Price range: $29 to $107
Size range: XXS to XXL
Patagonia has promised to donate 1% of sales to the protection and rehabilitation of the environment since 1985. It has given more than $140 million in cash and is kind to domestic and foreign grassroots environmental organizations that make a difference in their local areas.
To inspire other companies to follow suit, the creator of Patagonia, Yvon Chouinard, and the owner of Blue Ribbon Flies, Craig Mathews, established a non-profit company in 2002.
A partnership of companies known as 1 percent for the Planet recognizes the importance of preserving the environment. They are worried about the effects of industry on society and the environment and recognize that profit and loss are closely related to the state of the economy.
10. Youswim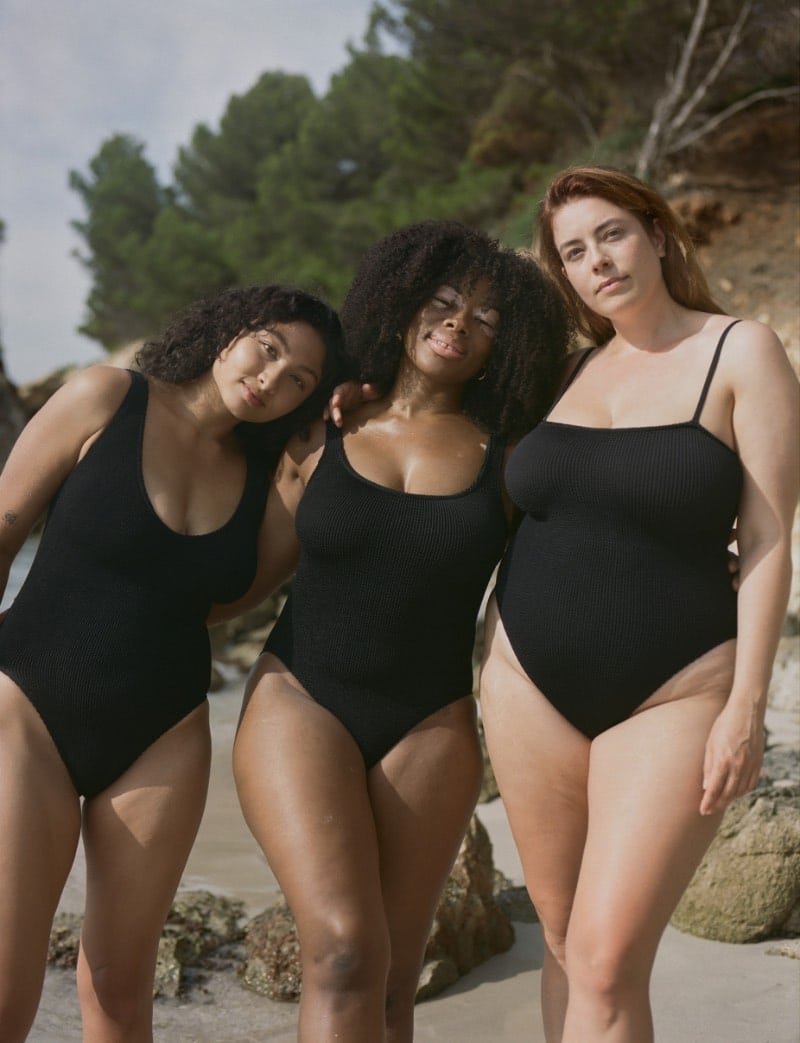 Price range: $139
Size range: 2 to 14
The mission of Youswim is to design sustainable swimwear that takes care of you by altering it to suit your changing body, but it's critical that this doesn't come at the expense of the environment.
It already employs completely plastic-free packaging to lessen its environmental impact, but its sustainable swimwear still calls for the usage of materials like nylon.
The founders knew they needed to reduce their usage of plastic by eliminating as much of it from the environment as they do from their swimsuits, but they went farther by joining up with rePurpose Global to become plastic negative.
Because of its accreditation, Youswim gathers twice as much plastic trash from the natural world for every ounce of plastic used in their swimsuits. It supports Project Anant Pranay, a woman-owned NGO that works to collect plastic garbage that might have otherwise ended up in the environment, via rePurpose Global.
What Is Sustainable Swimwear?
Most traditional swimwear is made of plastic in some shape or form, and we've all had that awful bikini that wears out after just one summer and ends up in the trash. Fortunately, there is a growing number of brands that produce sustainable swimwear.
Unlike traditional swimwear, sustainable swimwear is produced in a safe environment by workers who are paid fairly. Many eco-friendly swimwear manufacturers not only work hard but also donate to charity and local communities. Besides, it is often made from recycled fibers and uses circular or zero waste procedures.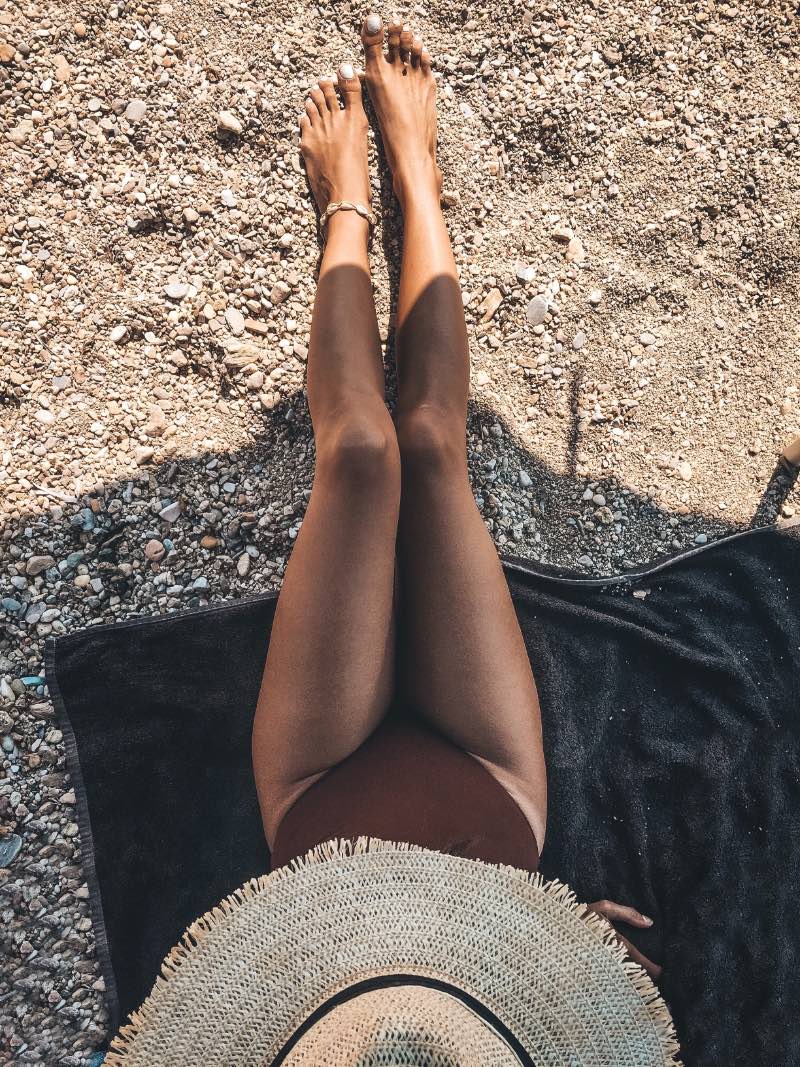 The majority of environmentally friendly swimwear is made from recycled yarns got from fishing nets, pre- and post-consumer leftovers, or leftovers from plastic bottles.
Research the brands as well. Many collections that are environmentally conscious use fewer dyes and less water during production, producing less inventory and reducing waste.
Even if the cost of the technology and creativity required to make eco-friendly materials ethically is considerable, there are still some companies that provide swimsuits at reasonable prices.
However, if you decide to spend your money on it, you may feel and look good knowing that what you are wearing helps to reduce environmental impact and keeps waste out of landfills.
When looking for sustainable swimwear, take your time to research the brand's credentials, including the materials they use, any potential environmental effects, and if they give back to the community or charitable organizations.
If it's difficult to trace the information, it's likely that the company isn't as environmentally friendly as it appears to be.
Materials Used For Sustainable Swimwear
Sustainable swimwear firms are attempting to use ethical manufacturing practices and sustainable resources like hemp, repreve, Econyl, and recycled polyester.
Hemp
Hemp is one of the toughest fabrics available for sustainable swimwear and offers good UV protection, making it ideal for long sunbathing sessions.
Although it uses just a quarter of the water needed to cultivate cotton, the hemp plant itself yields 250 percent more fiber. You can be confident that you won't be wearing anything hazardous or that the product won't discharge harmful chemicals into the water because of its natural resistance to pests.
Besides not releasing chemical pollutants, hemp-made clothing doesn't shed microplastics as polyester does.
While clothes and other products derived from hemp fiber may be more expensive, the cost will undoubtedly go down as more countries are recommitting to the growth and processing of industrial hemp.
Econyl
Econyl is made from nylon trash that has been salvaged from landfills and the ocean. The quality of the upcycled nylon is identical to that of brand-new nylon, and it may be continually recycled and manufactured to make new fabrics.
Repreve
Repreve is completely constructed of recycled plastic, mostly from post-consumer plastic bottles. Over 15 billion have been recycled so far! By needing less petroleum, energy, and water to manufacture, Repreve – now a major force on the world stage – aids in the preservation of natural resources. The very best? Despite recycling, quality is not sacrificed.
Recycled Polyester
Manufacturing polyester is hazardous to water, the air, and human health since it uses enormous quantities of water, chemicals, and fossil fuels. Recycled polyester is considerably better for the environment, creating 75% less CO₂ emissions than virgin polyester.
Look Good Feel Good
Investing in ethical swimwear may be the best thing you will ever do for your body and the environment.
Throughout this article, we showed you that eco-friendly swimwear can be stylish, and comfortable. The fabrics used are safe for your body, and most sustainable materials recycle at the end of their usage.
If you loved our suggestions, we would be delighted to hear about your swimwear shopping experience! Drop a comment down below and we will reply!
If you would like to gain some more knowledge in sustainable fashion, we would recommend that you check out our latest articles on modal fabric.