Best Biodegradable Soap for Personal Use of 2024
If you're looking for a more eco-conscious soap, you'll find it in this guide of the 5 best biodegradable soaps. Everything has an impact on the planet. This is especially the case with our lifestyle choices. Everything from the car you decide to drive to what you choose to use to wash your hands affects the planet.
When people think of becoming more sustainable, the type of soap they use is not what usually comes to mind. It's important to know how your suds perform on the sustainability scale.
Ultimately, biodegradable soap is the best choice for the planet. It is natural, comprised of great ingredients for the skin that pose zero threats, and it gradually decomposes over time.
What is a Biodegradable Soap?
Biodegradable soap is not so different from normal soap. You can use it to wash and cleanse your body. The main difference is biodegradable soap is made up of natural ingredients rather than chemicals. Traditional soaps that are not biodegradable often contain ingredients like parabens and alcohol that have adverse effects on the planet.
Since biodegradable soap is made up of natural ingredients, you can rest knowing it is a lot better for your skin and the Earth.
It's called biodegradable because it decomposes naturally, and when it does, it does not cause any kind of environmental harm.
Biodegradable soap is a great choice for everyday washing and for festivals and camping when you need an eco-friendly wash. It will decompose naturally, and you do not need to worry about leaving any harmful ingredients behind.
The Best Biodegradable Soaps
Traditional soap is usually made of chemicals that are harmful to the environment. These chemical compounds are designed to decompose long before entering the planet.
Soap also often comes in plastic packaging, which contributes to our plastic problem. With all this in mind, opting for a sustainable, biodegradable soap will help you lessen your impact.
Additionally, your skin will thank you, too, thanks to the glorious natural ingredients these soaps are made of. Humans use millions of tonnes of soap per year to clean themselves. Therefore, swapping for an eco-friendly substitute can make a real difference.
Let's get into the best biodegradable soaps for cleaning your body, dishes, and more, so you can make the switch!
1. For Just About Everything – Dr. Bronner's Pure-Castile Liquid Soap
One of the best biodegradable soaps on the market is Dr. Bronner's Pure Castile Liquid Soap. As the name suggests, it is a liquid soap rather than your traditional bar. What's most impressive about this soap is not just its sustainability status. It has a total of 18 different uses.
That's right; you can use it to wash your face, body, hands, clothes, dishes, and much more. If you were in a bind, you could even use it as shaving cream or shampoo. The soap is also quite affordable. It comes in a 473 ml bottle, so you get good bang for your buck.
The soap is available in a number of different scents like lavender, citrus orange, peppermint, and more. There is even a baby unscented version which is perfect for babies and people with more sensitive skin. It is one of the strongest liquid soaps on the market and is 100% biodegradable.
The soap contains no detergents, preservatives, or foaming agents. If that wasn't it, it is also cruelty-free, and the brand is a Certified B Corporation. A number of the ingredients used in their products are also certified fair trade. They have a fantastic line of products, including bar soap versions, if that is your preference. 
2. For Soft And Moisturised Hands – Mrs. Meyer's Hand Soap
If you want a specific biodegradable hand soap, Mrs. Meyer's Hand Soap is an excellent choice. It is marketed for busy hands and is incredibly moisturizing. The soap is packed with quality natural ingredients.
Some of these include aloe vera, essential oils, and olive oil, as well as other plant-derived ingredients. All of which have their own wellness benefits. Each of the scents is garden-inspired! They come in three different scents – rainwater, apple, and rhubarb.
The hand soap is free from any phthalates, parabens, and artificial colors. Similar to Dr. Bronner's soap products, Mrs. Meyer's Hand Soap is entirely cruelty-free, and Leaping Bunny certified. Of course, this soap is also 100% biodegradable, so you can rest knowing it will gradually decompose once it has been used.
The Mrs. Meyers brand is committed to protecting the planet and has made a commitment to improving the Earth through its partnerships, campaigns, donations, and volunteering efforts. 
Sale
3. For Tackling Grease On Dishes – Grab Green Liquid Dish Soap
Yes, another liquid soap, but this one is a really great eco-conscious choice for dishes. The Grab Green Liquid Dish Soap is fragrance-free and 100% biodegradable. It is naturally effective at removing grease from dishes while keeping hands soft and moisturized.
The dish soap is hypoallergenic, too, and free from any dyes. This makes it perfect for people with sensitive skin. It is similarly free from all harsh chemicals and instead made up of plants and minerals.
This means the soap has no chlorine, toxins, dyes, phosphates, masking agents, or phthalates. It is made with responsibly sourced, quality ingredients that are cruelty-free. This soap will clean your biggest methods in the most natural way possible thanks to its non-toxic formula!
You can also get versions that are fragranced. Some of these fragrances include thyme with fig leaf, tangerine with lemongrass, and red pear with magnolia. Moreover, it's not just for dirty dishes; the soap makes for the perfect bubble bath too. 
Sale
4. For Camping and Festivals – Sea To Summit Wilderness Wash
The Sea To Summit Wilderness Wash is a great choice for campers and festival-goers alike. It is incredibly versatile, which comes in handy when doing either of these activities. The product can be used as a shampoo, to wash clothes, or even to clean dishes.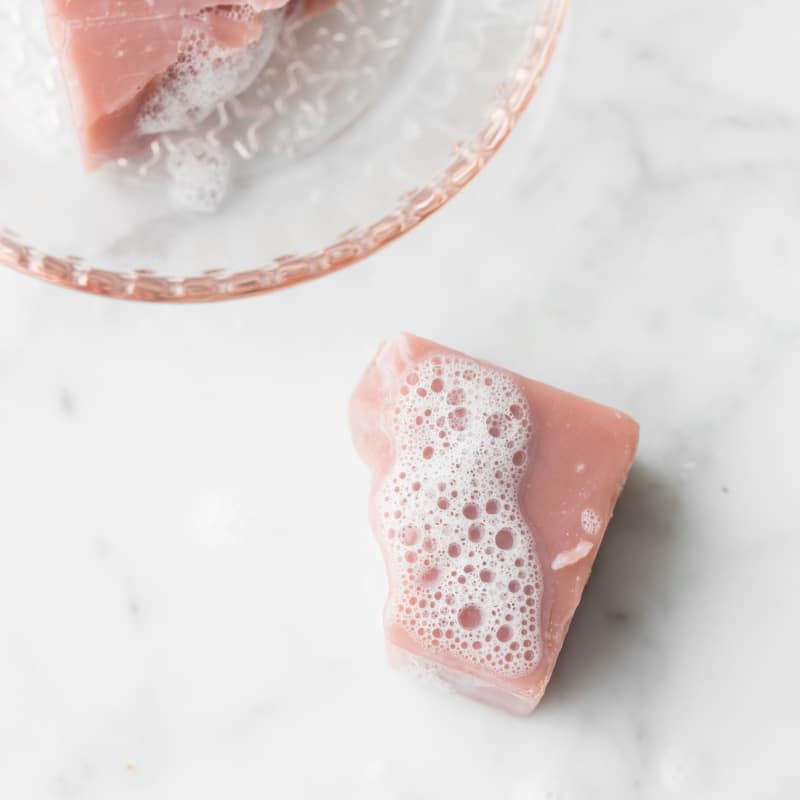 This soap is 100% biodegradable and travel-sized, which means it will easily fit in your bag. The soap formula is thick and concentrated, which means a little really does go a long way. The soap is gentle on the skin and will not impact the environment. It is incredibly affordable and available in larger sizes if you want it for use in your home. 
5. For Those Who Want A Bar – Morning Mojo Bar Soap
Another excellent choice for biodegradable soap is the Morning Mojo Bar Soap. It is an energizing natural bar soap that is soothing and hydrating on the skin. The soap not only cleanses but exfoliates the skin to leave you feeling fresh and rejuvenated.
It is composed of clean and healthy ingredients. These naturally-derived ingredients include cleansing coconut, refreshing peppermint, exfoliating volcanic rock, and hydrating shea.
The soap bar is created using sustainable palm oil (RSPO) and contains zero harsh chemicals. This soap is free from fragrances, parabens, petrochemicals, synthetic fragrances and colors, silicones, PEGsm glycols, and sulfates.
It is 100% biodegradable and cruelty-free. The bar is a beautiful blend of rosemary, grapefruit, eucalyptus, and peppermint. Morning Mojo is also a certified B Corporation and certified plastic negative. What does that mean? They remove two plastic bottles from nature for every bar they sell. 
What Are The Benefits Of Using Biodegradable Soaps?
Biodegradable soaps are the way forward. They are environmentally friendly and affordable. These soaps are created from natural ingredients using easy production techniques.
As a result, these soaps have lots of advantages. For one thing, they are sure to enhance the quality of your skin and hair. They are composed of phytonutrients, proteins, bioactive ingredients, and vitamins that nourish the hair and skin.
Traditional soaps usually contain a lot of harmful chemicals which can contaminate the water. The risk of this is gone when it comes to biodegradable soaps because they only contain natural ingredients. So by using biodegradable soap, you improve your water quality and reduce your exposure to toxic chemicals.
These products are also often rich in antioxidants. These are a much better choice for your health than harmful chemicals that are usually found in traditional soap. By using biodegradable soap, you are also helping to minimize environmental pollution. The production process of making biodegradable soaps is also much more sustainable.
Types Of Biodegradable Soaps
There are lots of different types of biodegradable soaps on the market. They all strive to do the same thing – provide a product that is good for you and the planet that naturally decomposes over time. You can find biodegradable soap in both liquid and bar form.
It comes down to personal preference, which you would prefer to use. They can be used for cleansing your skin, cleaning clothing, and even washing your dishes, and cleaning your home.
What To Look For When Buying A Biodegradable Soap
If you want to make the switch to a more eco-conscious soap, there are some things you should look out for when purchasing a biodegradable soap. For instance, it should be SLS and SLES-free. These surfactants reduce the surface tension of the water. However, they can be quite damaging to aquatic life.
You should also ensure the soap is free from any parabens. Research has found these preservatives and their byproducts disrupt hormones in the body and affect fertility and reproductive organs. It is said they can also impact birth outcomes and increase the risk of cancer. This is the case for both humans and animals.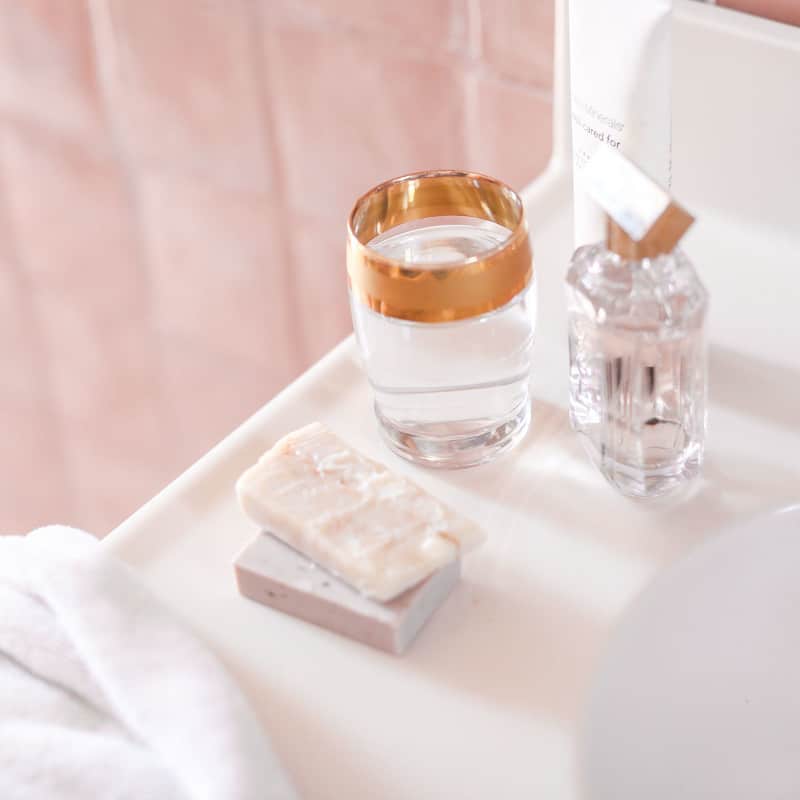 Besides this, they can also cause extreme screen irritation. This is more of a personal preference characteristic, but we would recommend you select products that are free from artificial fragrances and dyes.
These are unnecessary chemicals that can negatively impact the surrounding environment and irritate your skin. It is important to make sure the product is made of natural ingredients.
Leave No Trace has some excellent guidelines on how to select soaps that are free from toxic chemicals. A company's transparency is also important.
You should choose companies to buy from that share their ingredients and what they are doing to help the planet. It is also vital to think about the packaging the product comes in. We are already facing a plastic crisis that is contributing massively to climate change and pollution.
DIY Biodegradable Soap Recipe
Biodegradable soaps are created from a range of ingredients that can be found in beautiful nature. There are lots of great options available on the market, but you can also create your very own biodegradable soap.
Here's how you can make an Earth-friendly, biodegradable soap at home. This is perfect for at-home use or for camping trips, festivals, and much more.
You will need:
400 ml of water – boiled or distilled
100 ml of unscented concentrated liquid Castile soap
Ten drops of lavender essential oil
Two tablespoons of olive oil
All you need to do is whisk your olive oil, water, and castile soap together. Then, add in your drops of lavender oil and mix. Finally, pour the mixture into a container of your choice. We recommend using a glass container with a pump. Before you start using the soap, make sure to give the bottle a good shake. Once the soap is made, it is good to use for three months.
The Take Aways
Unfortunately, most commercial soaps are packed with harmful chemicals that negatively affect our surrounding environment. Biodegradable soaps solve this issue.
They are packed with natural ingredients and free from chemicals. Moreover, they naturally decompose over time. These soaps are not only a better choice for the planet but also for your health and the health of your skin.
You can use biodegradable soaps to clean your clothing, hair, body, house, and much more. However, there are a number of things to look out for when purchasing a biodegradable soap. You need to ensure the business is not greenwashing and is taking climate action.
Similarly, they are using naturally derived ingredients that pose zero threats. Making the switch couldn't be easier, and we hope this list of the five best biodegradable soaps helped you!