10 Stunning Cottagecore Outfit Ideas For Your Capsule Wardrobe
Have you been sucked in by the beautiful homes and dreamy photos of Cottagecore enthusiasts over the last three years and now you're wondering how to create your own Cottagecore core outfit? Welcome, here we love cottagecore.
There's something so wonderfully simple and joyful about this 19th-century-inspired fashion movement that really forces us to live in the moment.
The deeper you fall down the Cottagecore rabbit hole, the more you realize it's so much more than the clothes you wear but fashion is a great place to start.
Simple, natural, and effortless, the Cottagecore outfit is a radical rejection of modern minimalism and, in this article, we will explore everything you need to know about creating your classic Cottagecore wardrobe.
What Is A Cottagecore Outfit?
Consisting of floaty florals, natural materials, and cozy vintage knits, the Cottagecore outfit is an ode to the simple rural life in the English and French countryside.
Think Bridgerton, the outfits may not be historically correct (there's definitely a lot more chest going on), but that fresh and bright vibe is the embodiment of Cottagecore.
The beauty of this fashion trend is that perfection is permitted entrance. There's really no crime you can commit with your Cottagecore outfit.
The Cottagecore aesthetic is created around a romanticized idea of rural, country life. Your Cottagecore outfit should embody what that means to you. Envision yourself walking through a garden of wildflowers, picking your homegrown vegetables, and feeding your ducks. What clothes would not only be practical but also create an aura of fantasy?
All I'm going to say is you will need lots of pockets but what woman doesn't love pockets.
Your Cottagecore Outfit Checklist
If you want to dress more Cottagecore, take a look at what you already own. Sustainability is at the core of the Cottagecore movement and this includes changing your spending habits.
If you want to live and breathe Cottagecore, you'll notice that vintage, second-hand, and handmade items feature heavily. You may be surprised to find a lot of what you already own can become the foundations of a really beautiful Cottagecore outfit.
If your wardrobe is coming up empty, thrift stores, clothes swaps, and vintage items will naturally have more of the style you are looking for.
Seek out items that feature lace accents, ruffled hems, puffed sleeves, and natural materials to create that romantic, Jane Eyre-esque aesthetic you are searching for.
Here is a checklist to help guide you as you start building your Cottagecore wardrobe.
Dainty florals
Vintage items
Floaty silhouettes
Practical lace-up boots
Natural materials
Fantasy Accessories
Earthy pastels
Practical pockets
Garden-friendly straw hat
Lace details
One of the best pieces I ever received when I was first introducing Cottagecore outfits into my wardrobe was to be bold.
Remove the idea of matching items by color or pattern. Clashing prints work wonderfully with the Cottagecore outfit. If anything, it creates a look that feels less polished and more naturally vintage.
10 Cottagecore Outfit Essentials For Your Whimsical Wardrobe
Peasant Blouse
If there's only one piece you want to start with to dip your toes into Cottagecore fashion, go with a peasant blouse.
Light and airy, they will instantly give your outfit a romantic lift. With so many different variations to choose from you can opt for a more modern version with a v-neck cut or go with the more popular cropped peasant blouse that usually features a gathered, rounded neck.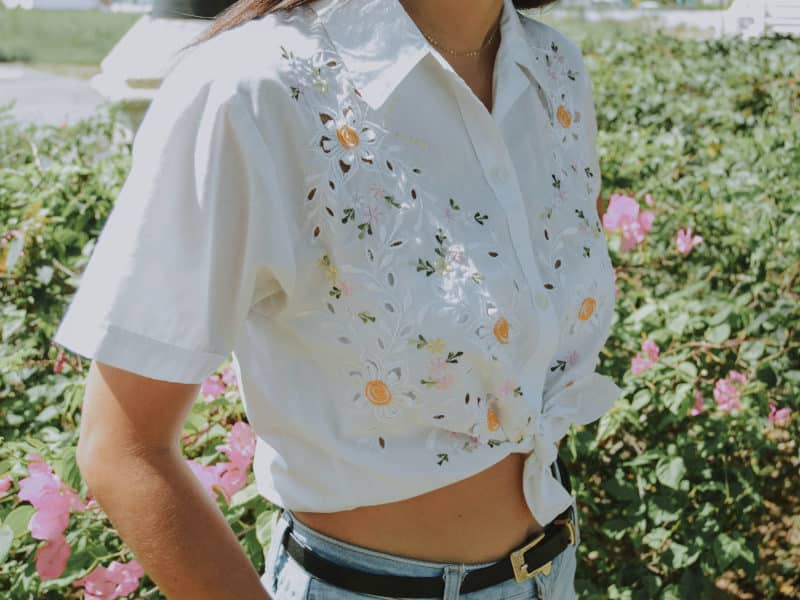 Opt for pastel shades or natural earthy tones for a soft finish and choose pieces with balloon sleeves and cotton-tie details for a vintage aesthetic.
Peasant blouses are also perfect if dresses aren't your thing and they pair beautifully with earth-toned pants.
Pinafore Dress
When you're trying to create that 'just stepped into my rose garden' type of vibe, the pinafore dress is a quick and simple solution. Plus, they can be worn over a peasant blouse to give an instant cottagecore effect with very little effort.
Choose a longer skirt version, opting for mid-length and maxi-style cuts. Shorter skirts are far too modern if you are trying to emulate the romance of the 19th century.
Whether you choose a block-colored pinafore dress or a more embellished, floral design, this item is a statement piece that requires very little accessorizing to achieve the Cottagecore aesthetic.
Crochet Vest
Handmade clothing is the epitome of Cottagecore styling but, if you're not a dab hand with a crochet needle yourself, you can find crochet shirts all over the Internet.
Once again, choose pastel or earth colors to create that hazy tone palette Cottagecore is so well known for. However, I prefer natural colors for handmade items. They just lend a more subtle handmade tone to an otherwise dramatic outfit choice.
Full vests are great for a more androgynous cottagecore outfit and can be paired with pants or a long flowing maxi skirt. Whereas, button-up vests look great slung over your shoulders with a floral maxi dress.
Maxi Dresses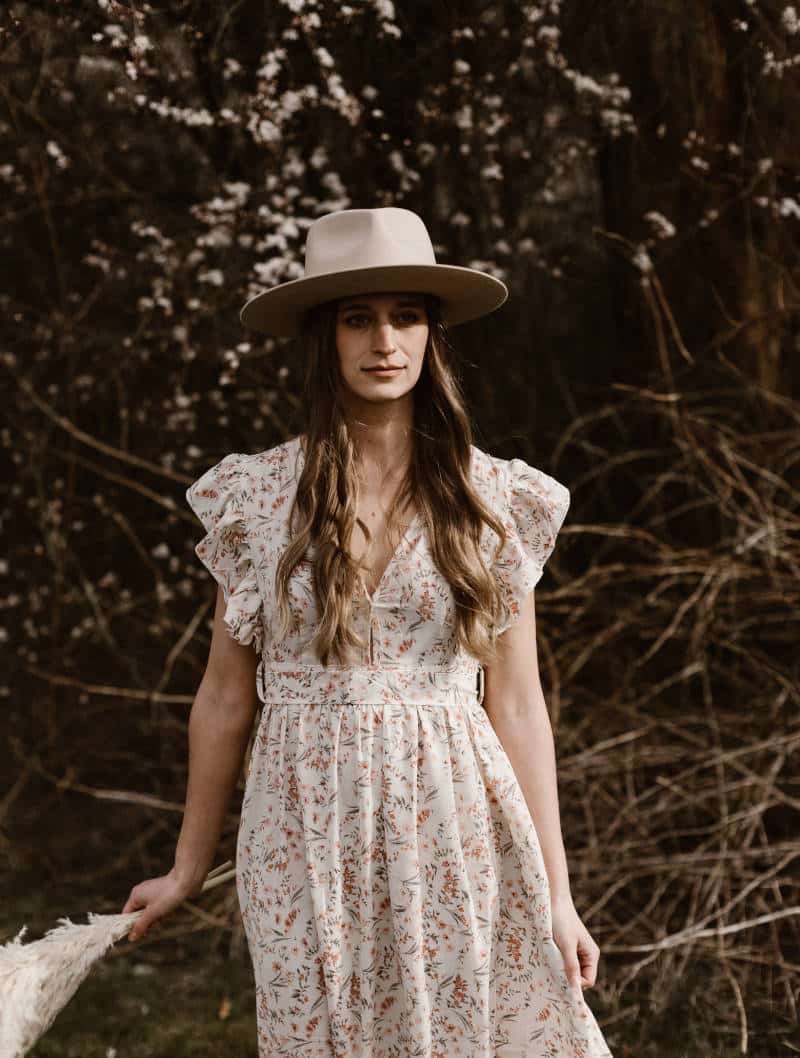 The maxi dress has become synonymous with Cottagecore. Images of women running through wildflower fields as their maxi-dress skirt floats through the air are everywhere on Instagram and TikTok. So, you're Cottagecore wardrobe really isn't complete without one or two.
Choosing a delicate floral print is the perfect way to create a romantic feel to your cottagecore outfit. A gathered, rounded neck can give you an instantly romantic feel and many of these styles of dresses can also be worn off-shoulder.
If you want a block-colored maxi dress, shy away from bright or jewel tones and stick to more classic cuts that give a vintage feel that wouldn't be out of place in the English countryside.
Linen/Organic Cotton Apron
Transporting you straight into a farmhouse kitchen with images of home-baked bread and the smell of fresh cakes floating through the air, an apron is not only practical but a bit of a statement piece.
Stick to natural materials like linen or organic cotton. Not only are they designed to last (linen gets even better with age) but they are materials that are kinder to our planet.
They may be a piece that you are less likely to wear outside of the home but an apron is a non-negotiable item in the countryside and it should be a part of your cottagecore wardrobe.
Vintage Knits
Your Cottagecore outfit shouldn't just be for Spring and Summer. Vintage knits made with natural materials like sheep's wool and 100% cotton can keep you cozy on those cooler nights while giving you the Cottagecore outfit you crave.
Stick to vintage knitted patterns with a looser style. Think wider set arms and snug cuffs around your sleeves. Looser fits give a more subtle look but choose knits that have a more fitted waist band to avoid being swamped by your vintage knit.
Depending on the kind of Cottagecore aesthetic you're aiming for chunkier knits lend more of a Farmcore vibe. Whereas, daintier knits mixed with crochet details are perfect for Fairycore with their innocent and delicate aesthetic.
Lace-up Boots
When you imagine your Cottagecore outfit, you may think of dainty ballet flats or even just running barefoot through the fields but at the heart of the Cottagecore movement is countryside practicality.
Lace-up boots are the perfect finishing item for your Cottagecore outfit. Choose soft brown tones to compliment the pastel and earth tones of your clothes and keep the heels mid to low in height. Stick to high-quality materials like sustainably sourced leather or vegan-leather alternatives for that 'just left the vegetable garden' vibe.
If you want something a little more feminine, Mary-Janes can be both practical and give your look a little bit more Alice in Wonderland fantasy.
Maxi Skirt With Pockets
I know what you're thinking, if you have a maxi dress why on earth would you need a maxi-skirt and one with pockets no less?
A maxi skirt with pockets is not only great for less dressed up days where you just want to throw together a comfy Cottagecore outfit. They can also be paired with many other items on this list, like a cozy knit, a crisp white peasant shirt, or a crochet vest.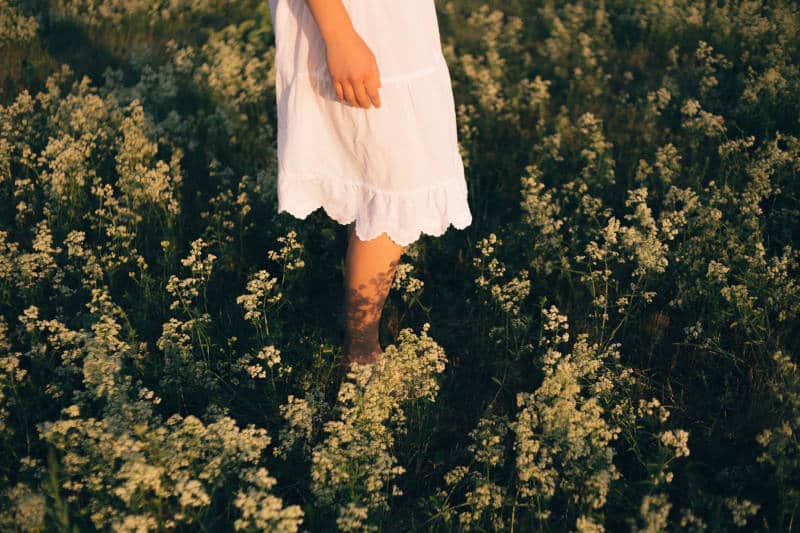 Plus, the pockets will always come in handy, especially if you have to go out and collect eggs from the chickens (imaginary or otherwise). Earthy browns and greens are great colors because of how versatile they are but go all out with dainty florals for an instant Cottagecore twist.
Corduroy/Linen Pants
Your Cottagecore outfit doesn't have to be all floaty dresses and feminine lace. If you're looking for a little androgynous twist to your Cottagecore outfit, a pair of linen or corduroy pants is always a good fit.
Stick to more classic, loose cuts instead of skinny or straight-leg pants. Choose styles where you can roll up the cuffs to look like you've just stepped out into your cottage garden.
Rust oranges, slate grays, and warm browns are stunning tones if you want to look Cottagecore but pastel pinks and purples have you running a mile.
Is Cottagecore Still Trendy In 2023?
Cottagecore saw its five minutes of fame during the 2021 lockdowns, providing a gentle escape from the madness of that time.
Yet, still in 2023, Cottagecore isn't going anywhere. It may have splintered off into more niche cores, like Fairycore, Grandmacore, and Goblincore, but the romance and fairytale charm of this popular fashion trend is here to stay.
What do you think? Is Cottagecore already a dated trend, or would you still join the movement? If so, make sure to check out our cottagecore beginners guide to learn all about this lifestyle and our article on how to create a cottagecore home.