Cottagecore 101 – A Magical Beginners Guide
The time for overstated luxury is over. If you've spent any time on social media in the last couple of years, I can hazard a guess that you've stumbled across the dreamy and romantic cottagecore aesthetic.
Could this laid-back, relaxing trend be a sign of changing lifestyle tastes? For decades, we have flooded those high-rise cities with all their concrete and possibilities but maybe now we just want a simple life.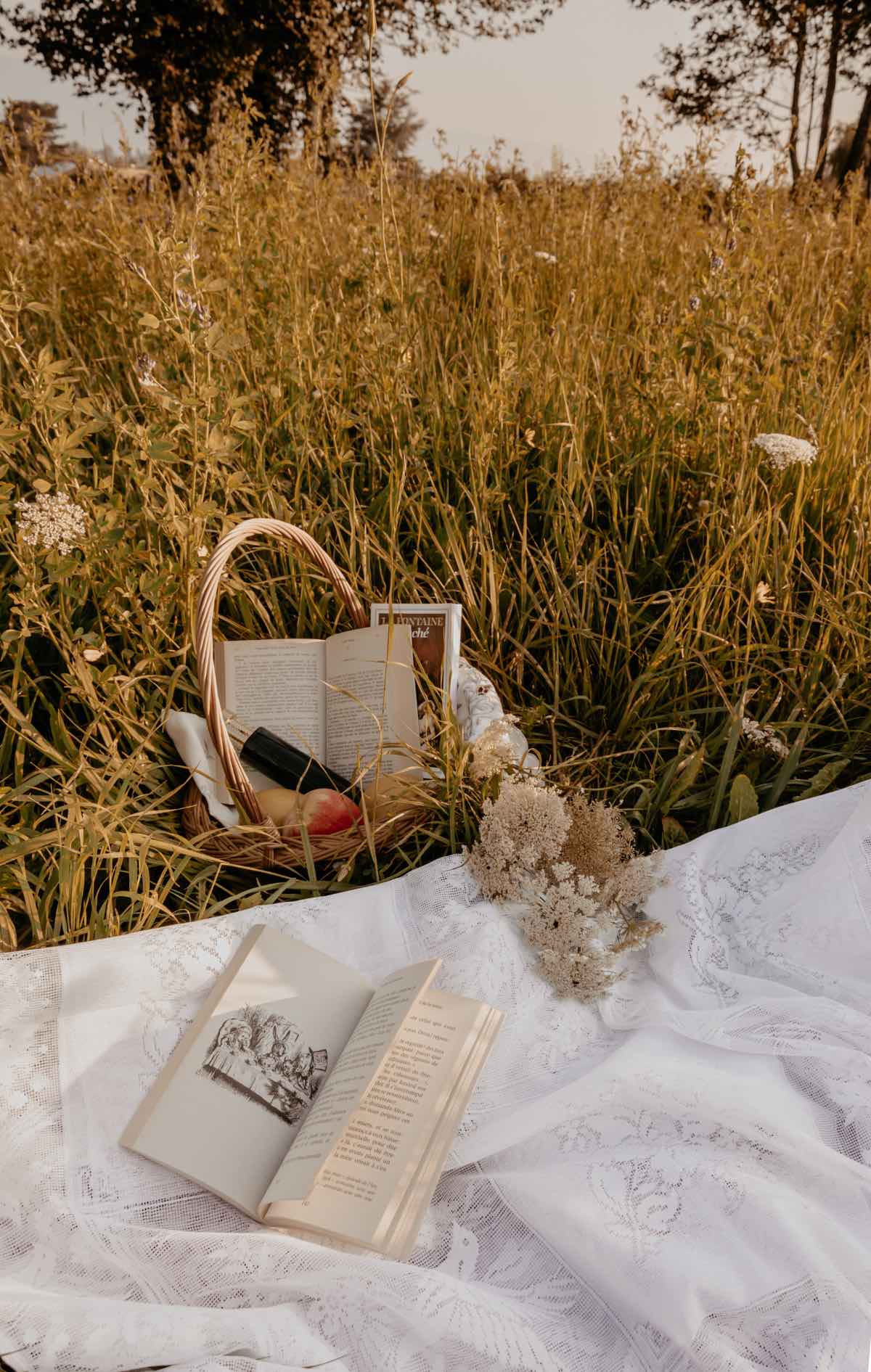 This is the space that I think Cottagecore is filling.
It's the green light we were all desperate for. Cottagecore has made it okay to run wild in the fields with our shoes off, to celebrate feeling like the main character every single day, and to find joy in the little things.
What Is Cottagecore?
Cottagecore isn't new, it started gaining momentum in 2017 and hit mainstream media in 2021. Perhaps the chaos and uncertainty of the pandemic pushed us to yearn for a quieter life. TikTok, Instagram, and Pinterest are awash with cottagecore aesthetic inspiration, proving its popularity.
It champions the quiet life with a focus on simple activities bringing joy. Such as baking bread, sewing clothes, or just spending the afternoon in your rose-filled garden with your ducks.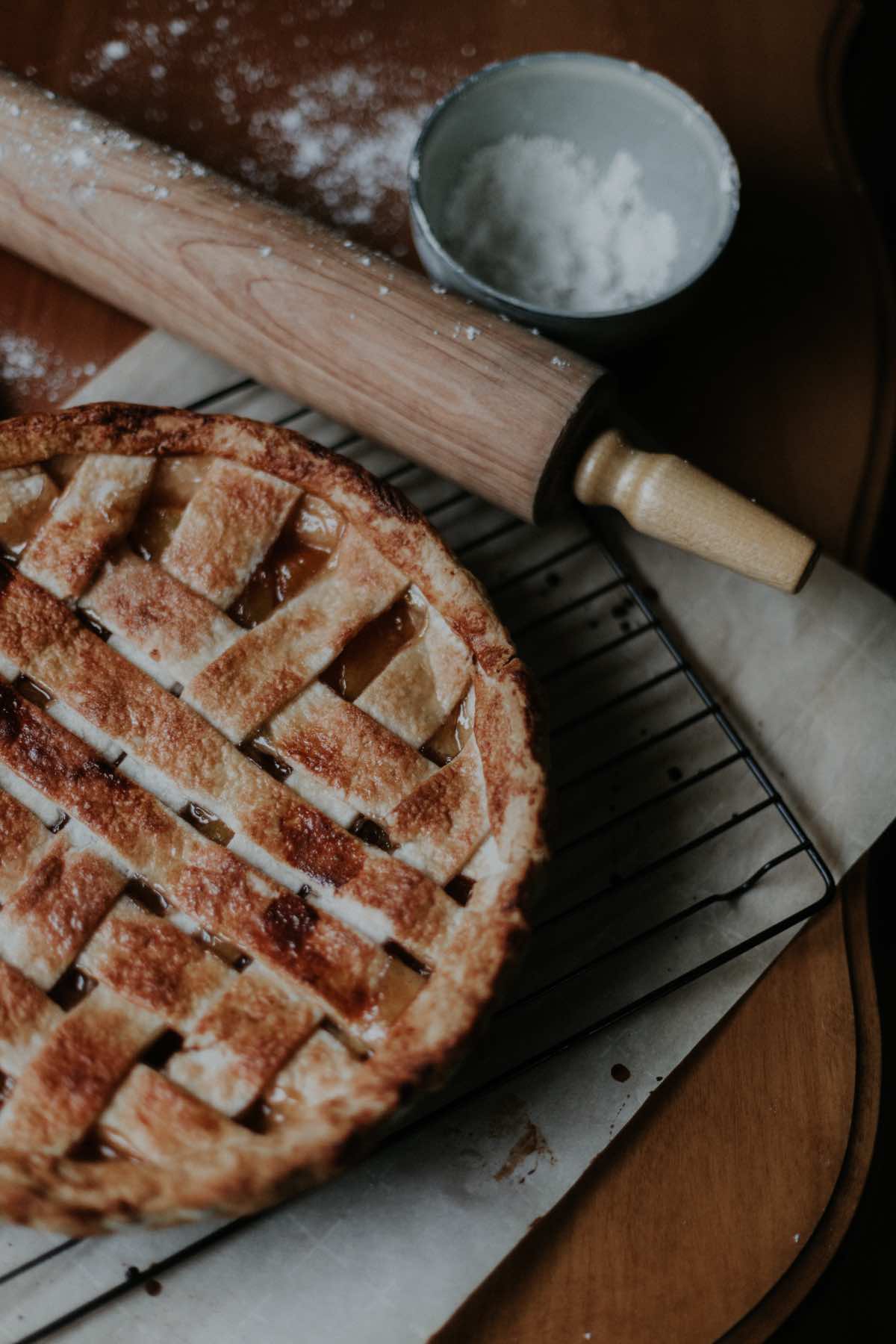 It romanticizes the simple cottage lifestyle, where money was short but life was full.
Cottagecore is about appreciating traditional skills, simple living, and the beauty of nature.
Now, I'll admit, even I don't currently live a life that looks very cottagecore. My home isn't surrounded by a rich cottage garden. I have no ducks quacking at my back door and there isn't a rolling hill view out of my kitchen window but that's the beauty of this aesthetic.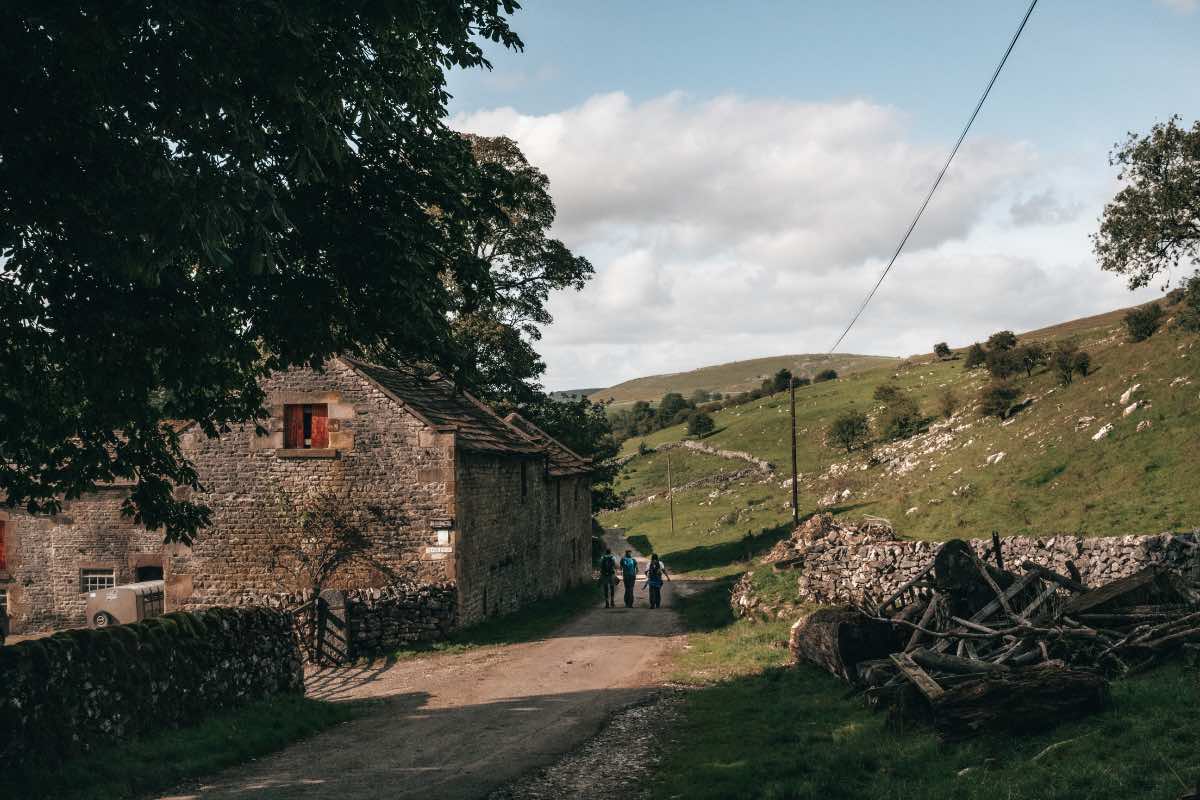 It's a dream, a goal, a mindset. It's fashionable gratitude without the journal.
Your life doesn't have to look like that dreamy aesthetic but you can still introduce romantic cottagecore elements that help you find beauty within the life you live.
Maybe that's why so many people have gravitated towards this aesthetic. It's joyful, something I think a lot of us feel like we don't have enough of right now and it transcends class, race, or circumstance.
Cottagecore And Intentional Living
The beautiful thing about this aesthetic is that it draws a strong focus on slow living in all aspects. Thrifting and homemade are at the core of this mindset. It inspires us to live more intentionally and to consider the sustainability of our choices.
This aesthetic shines a light on the unsustainability of modern commercialism and calls us to turn back to natural living.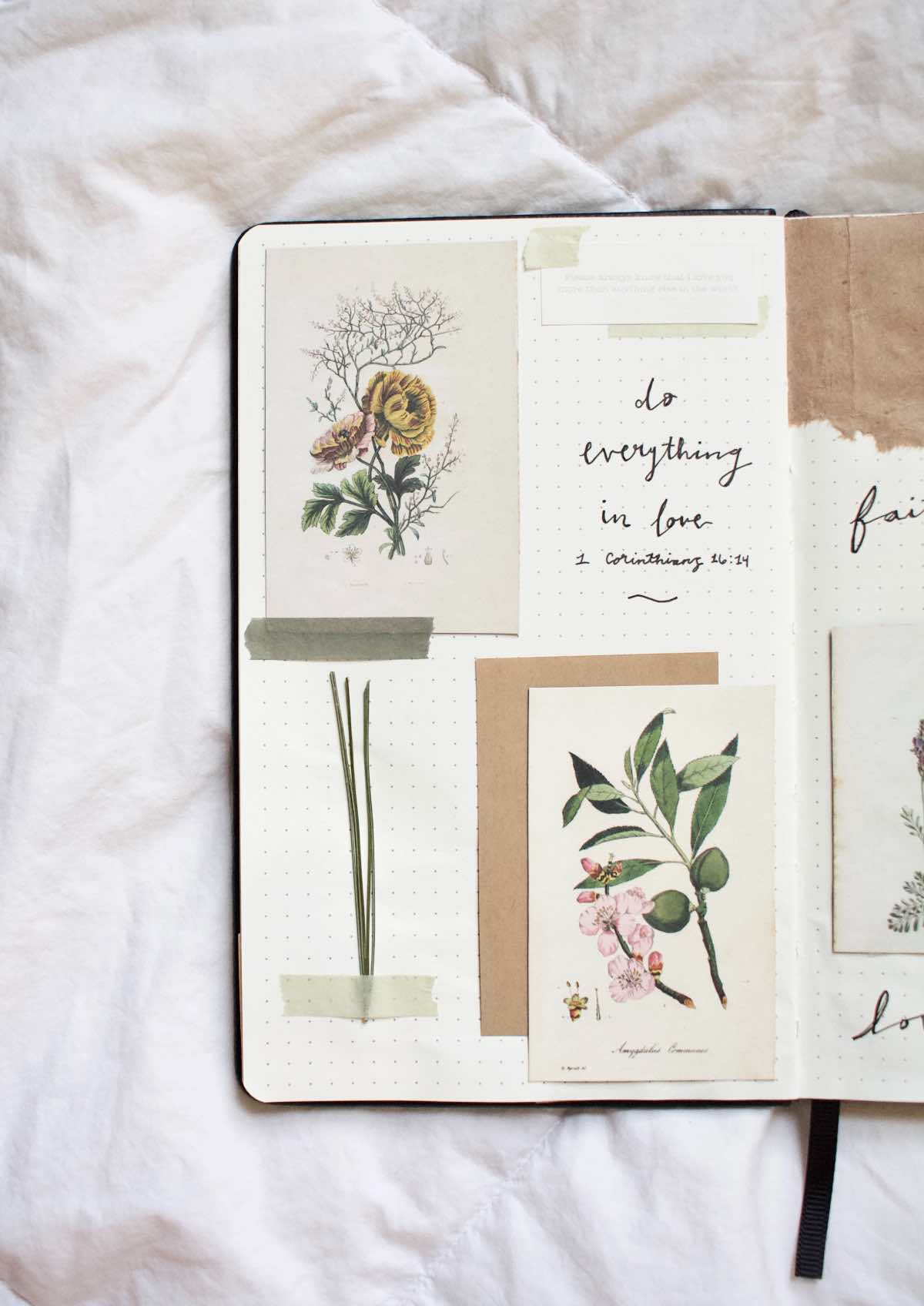 From repairing what we already own, upcycling the things we love but no longer serve a purpose, or choosing high-quality products from sustainable sources if we have to buy new. Cottagecore has eco-friendly, sustainable living at its very core.
If you search for cottagecore inspiration, you will find hundreds of people living closer to nature. Whether they are growing their own fruits and vegetables, raising chickens or ducks to avoid factory-produced eggs, or learning how to make their own sourdough starter.
Without the beauty of nature, Cottagecore would be nothing but a mere fantasy. It reminds us to respect and protect the wildlife that surrounds us and the natural spaces they call home. Without wild areas, we couldn't begin to revel in the simpleness of this mindset because it isn't really about the material but the experiences we live to the fullest in our everyday lives.
Cottagecore Clothing: How To Dress The Part
Dressing cottagecore is a lot easier than you might think. You just need to dress with a rural romantic aesthetic in mind. Think whimsy, soft florals and flowing silhouettes.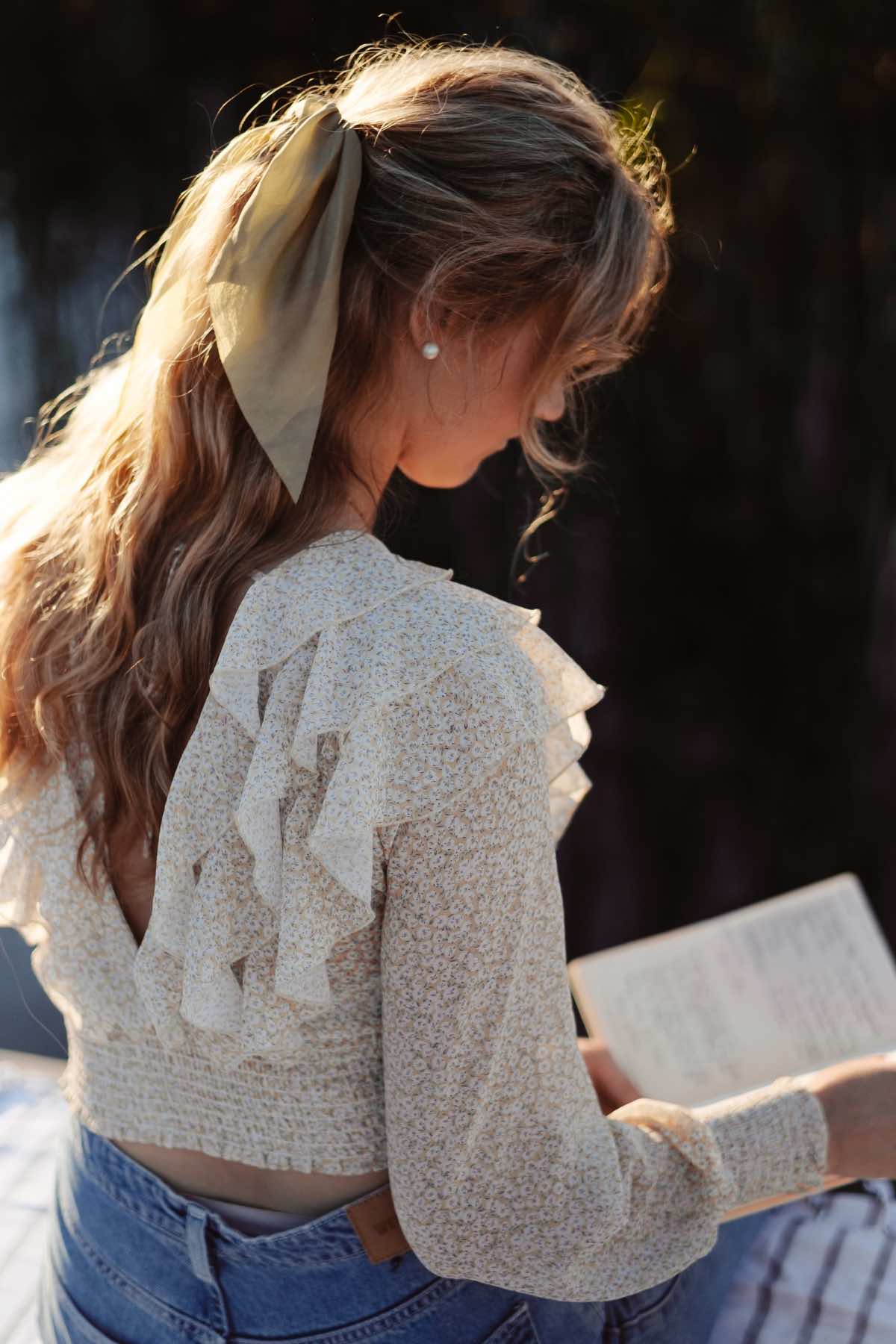 Much of the fashion flowing through this movement is vintage-inspired. You can see the love for handmade dresses in dainty floral fabrics or hand-sewn linen aprons.
Don't worry if you can't sew yourself, thrift stores and clothing swaps can be treasure troves for cottagecore-styled items.
The main arsenal of your Cottagecore wardrobe should be these four categories of clothing:
Peasant dresses
Loose overalls
Puff sleeves
Romantic artisanal accessories
Each item you wear should make you look like you belong in the European countryside with an edge of 18th-century delicacy.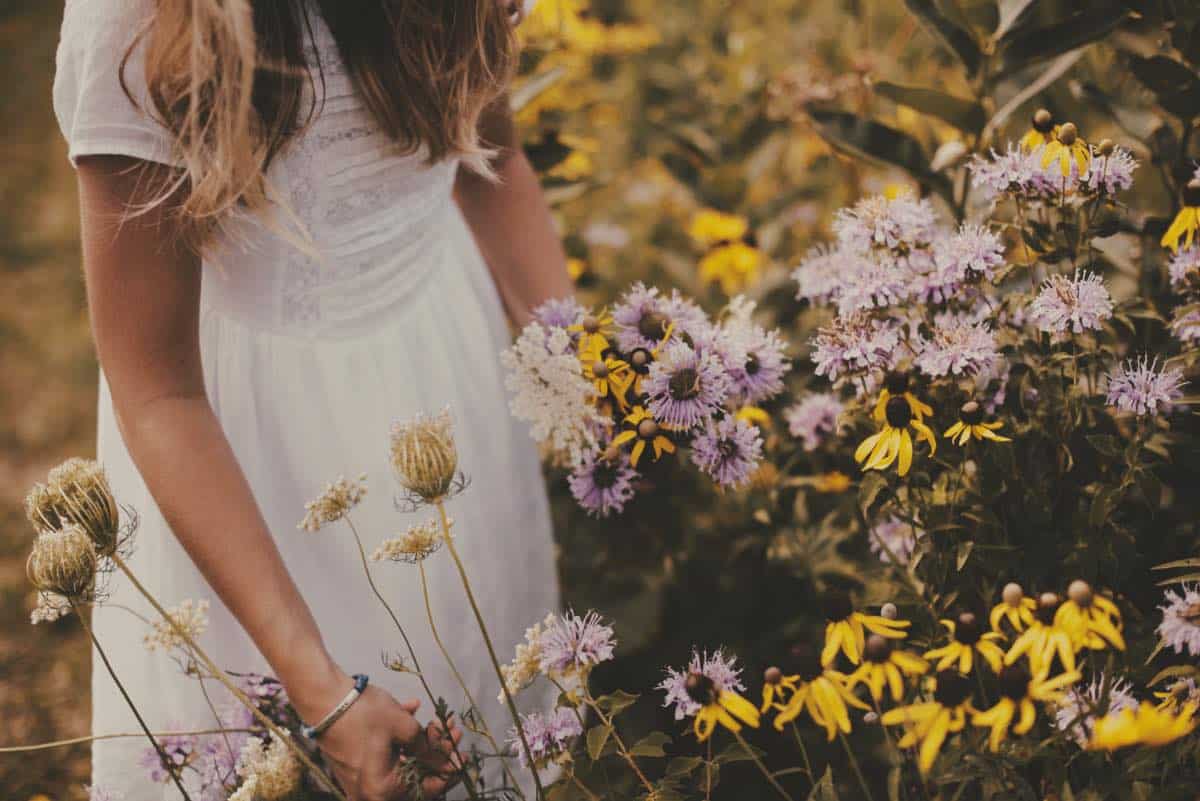 If florals have you reeling, stick to natural earth tones. You can choose block colors or gingham to replace the ultra-feminine florals that have flooded this aesthetic.
As for fabrics, natural is key. Organic cotton, linen, lace, and muslin give that stunning cottagecore vibe. Plus, these fabrics are gentle on our planet and are in line with the eco-friendly vibe of this dress style.
Cottagecore Fashion Brands We Love
1. Selkie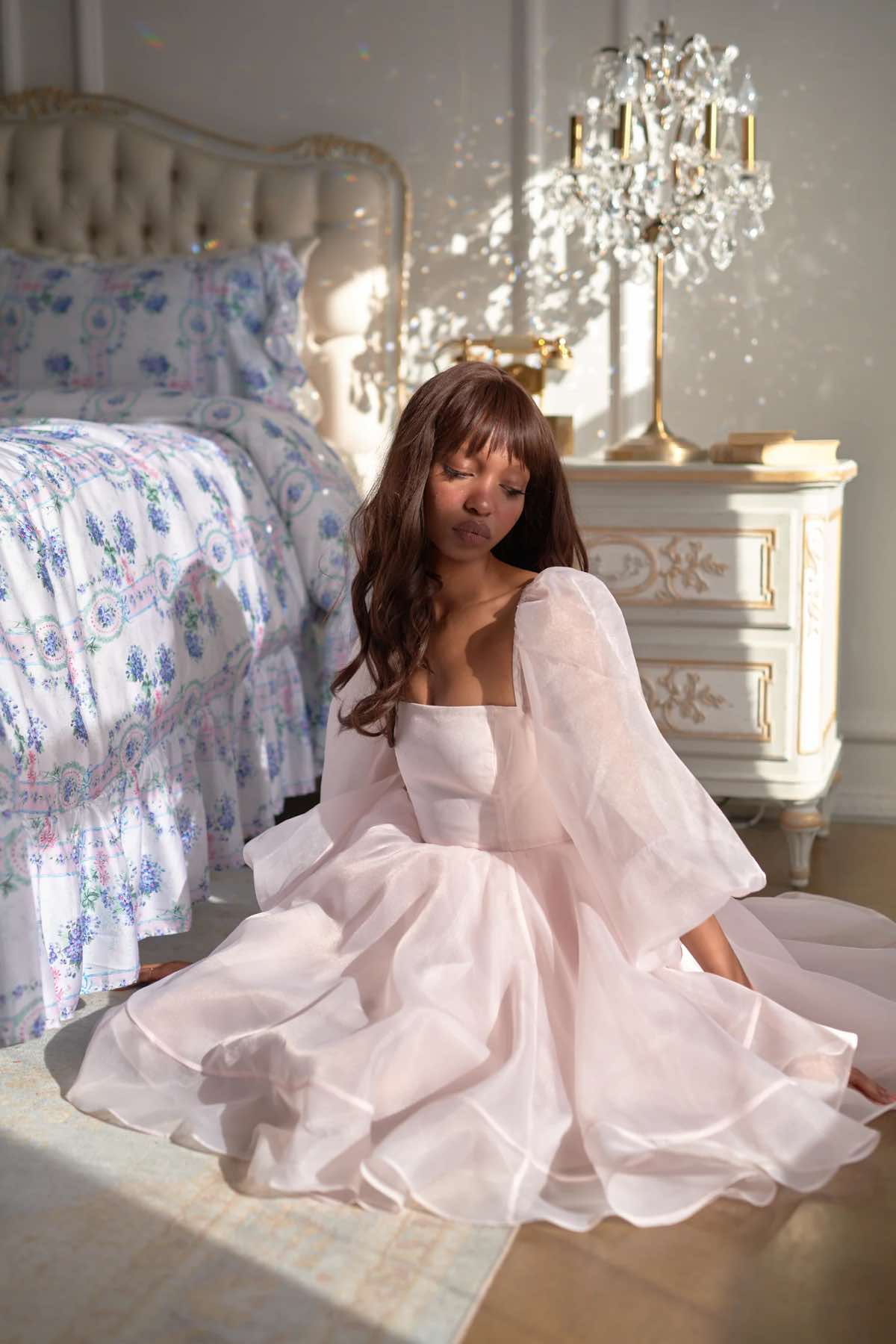 Selkie is a US-based brand that has become synonymous with the cottagecore movement. Their dresses are crafted to make a serious statement with a mix of dramatic ruffles, delicate fabrics, and feminine silhouettes.
Don't be frightened of the ultra-feminine vibe this brand exudes, it's perfect for creating that dreamy, romantic, 18th-century style you are looking for. The best thing about this brand – they cater for all sizes going up to a 6X.
Weaving sustainability into as many steps of their manufacturing process as possible, Selkie dresses are limited edition. Often, only 15-20 of each design is made. This dramatically reduces waste and ensures every dress finds a loving home.
2. Christy Dawn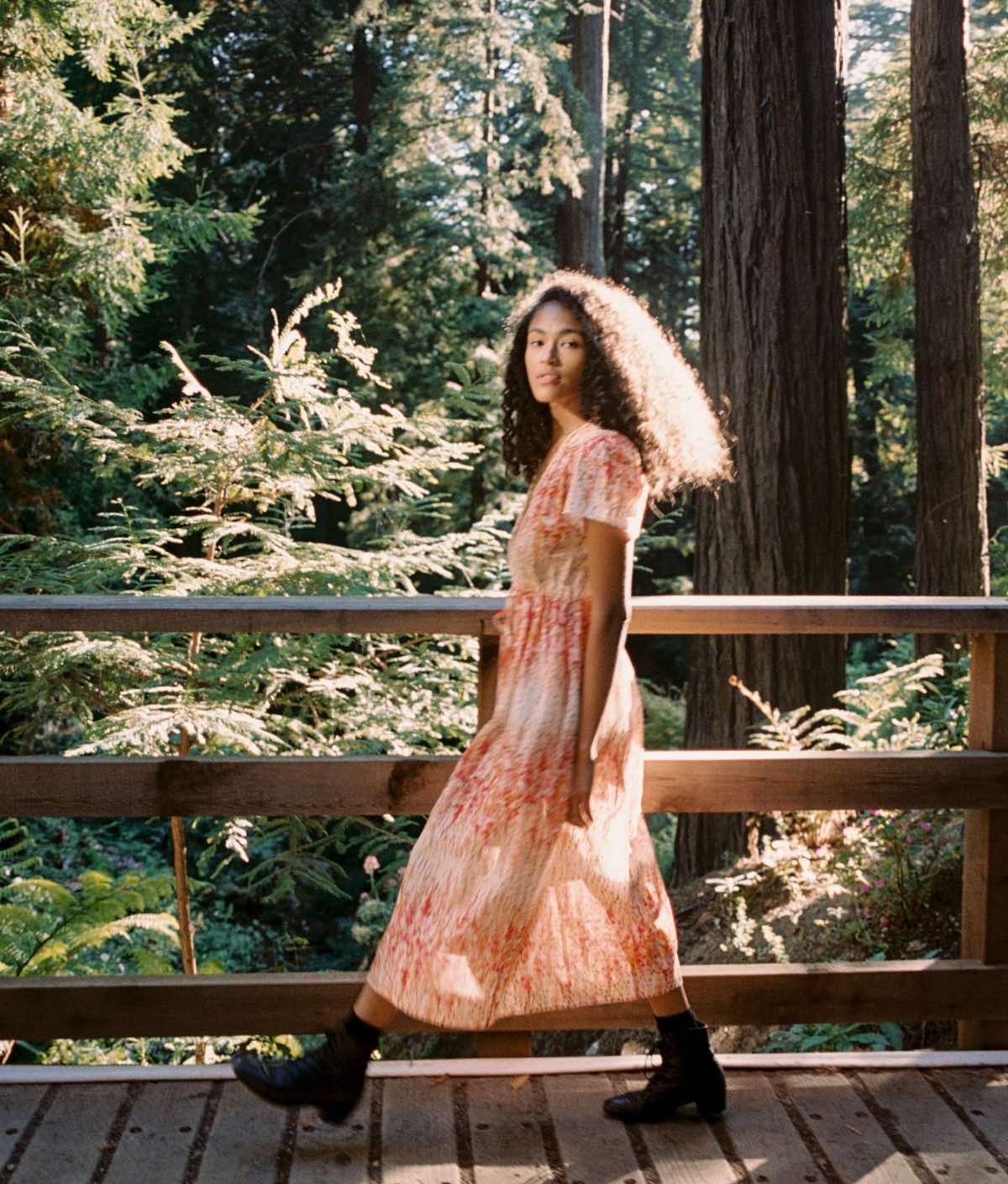 Inclusive and diverse, Christy Dawn has become a popular cottagecore brand, and for good reason. Puff sleeves, corset tops, and dainty florals are the foundation of every collection.
With a strong emphasis on high-quality materials, like organic and generative cotton, each season is an ode to simplicity and the beauty of nature and the life lived in it.
What is so special about Christy Dawn is the effort made to include everyone. Their size ranges include petite, extended sizes, and straight size ranges, all with the same beautiful designs. Like I said, cottagecore is an inclusive aesthetic and these stunning collections prove that.
3. not PERFECT LINEN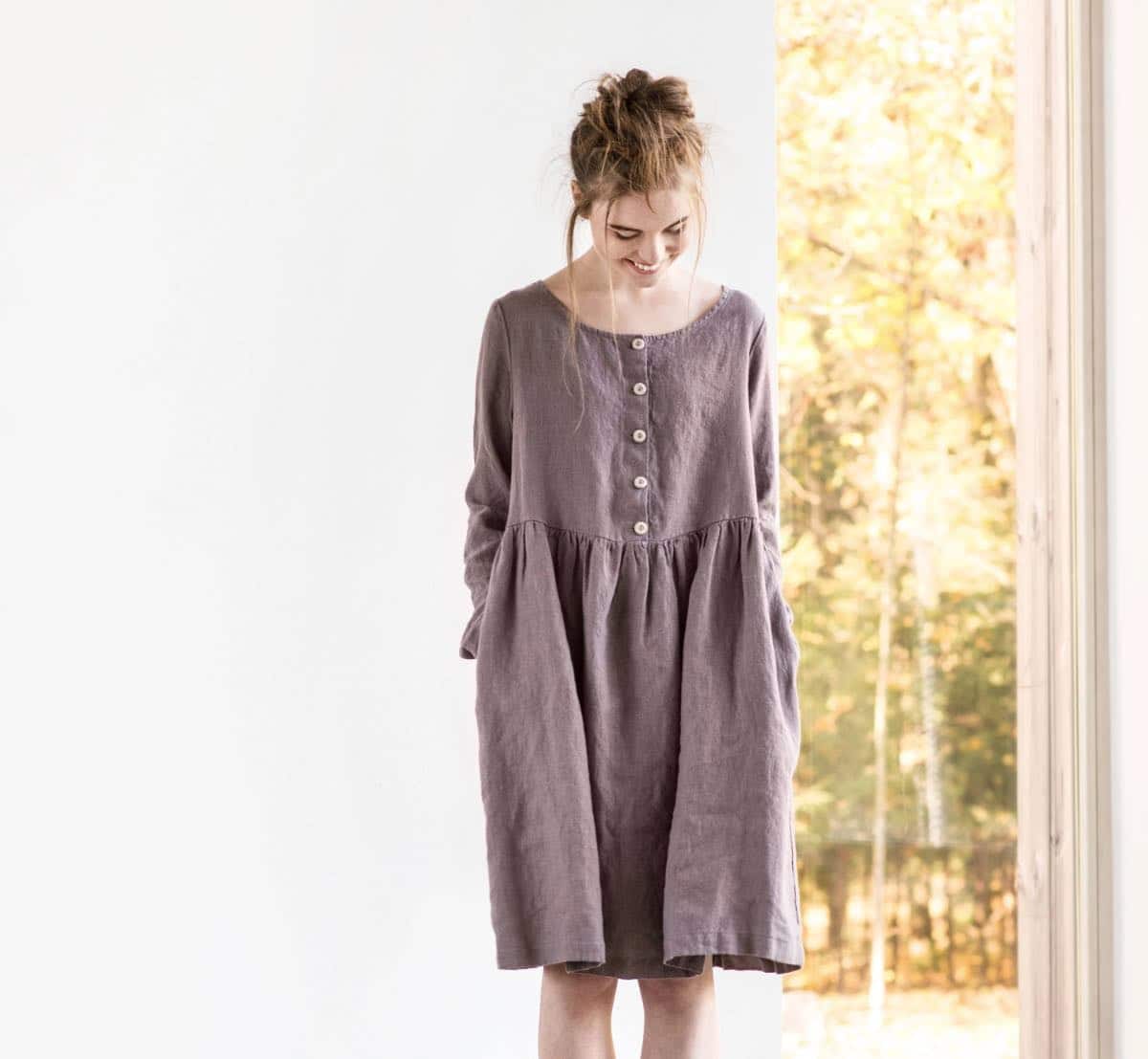 Chock full of rich and muted natural tones, not PERFECT LINEN crafts buttery soft clothing from sustainable linen, using eco-friendly manufacturing processes and doing everything they can to reduce waste.
No, there are no dramatic puff sleeves or skirts that would make Cinderella jealous. Instead, this entire brand emanates a more accessible cottage garden aesthetic. Not only are these clothes beautiful but they are practical too.
Even better, they're made to last because if you know anything about linen, it's that it always gets better with age.
4. Soul Forest Collection
The delicate intricacies of nature are put on show for the world to see with the Soul Forest Collection. Preserved in resin are magical mushrooms and moss, designed to elevate your cottagecore style.
The perfect option for someone not quite ready to look like they have stepped out of a Jane Eyre novel, these pieces are romantic and slightly mystical. Dainty flowers lie side by side with real mushrooms, set into earrings, necklaces, and rings.
Raw edges and natural elements bring the cottage garden to your outfit in the most splendidly discreet way.
5. Zillah Design
Inspired by the whimsical beauty of nature, Zillah Design offers a beautiful selection of resin-based jewelry. What I love most about this brand is that it isn't your typical cottagecore jewelry collection. Instead of the often-designed mushrooms and moss, instead, there are strawberries, blackberries, and even kiwis in vividly bold colors for a little extra drama.
Insanely budget-friendly, they're a great way to introduce smaller elements of cottagecore into your lifestyle without breaking the bank. Fantastic for newbies to the aesthetic.
How To Create A Cottagecore Home
With millions of inspirational posts on Instagram of dreamy cottagecore homes, it's impossible to miss the throws of pastels, florals, and rustic wood. If anything the Cottagecore home is just a modernized version of the rustic home decor that skyrocketed in 2011.
Instead of unfinished, white-washed wood, Cottagecore has replaced it with farmhouse woods, vintage plates, and floral ruffled curtains your granny would be proud of.
Indulging in the simplicity and beauty of the everyday, it's surprisingly easy to weave this aesthetic through your home. You don't even need a farmhouse to install this relaxed, romantic vibe throughout your home.
Just like the clothing, your cottagecore home should use muted earthy colors, dusty florals, and vintage decor accents. If anything, your home should feel very hygge. Think candles, blankets, anything that makes your space feel warm and romantic but above all else, functional.
One thing I love about the cottagecore home is that it isn't about clicking cart on Amazon and creating your dream space within a week. Championing slow living, it's about changing one element at a time. Like a slow wash of farmhouse is taking over your space. It should feel natural not forced.
It's important to remember that Cottagecore isn't just a design aesthetic, it should create a life you can actually live. So, leave room for hobbies. Build up your book collection. Hit those thrift stores for some well-read copies of your favorite books for an even more antique look.
Cottagecore Home Decor Ideas To Fall In Love With
1. Florals On Florals
I'm sorry to say it but cottagecore is nothing without florals. They don't have to be in your face but there is nothing quite as romantic, and on theme, as clashing florals.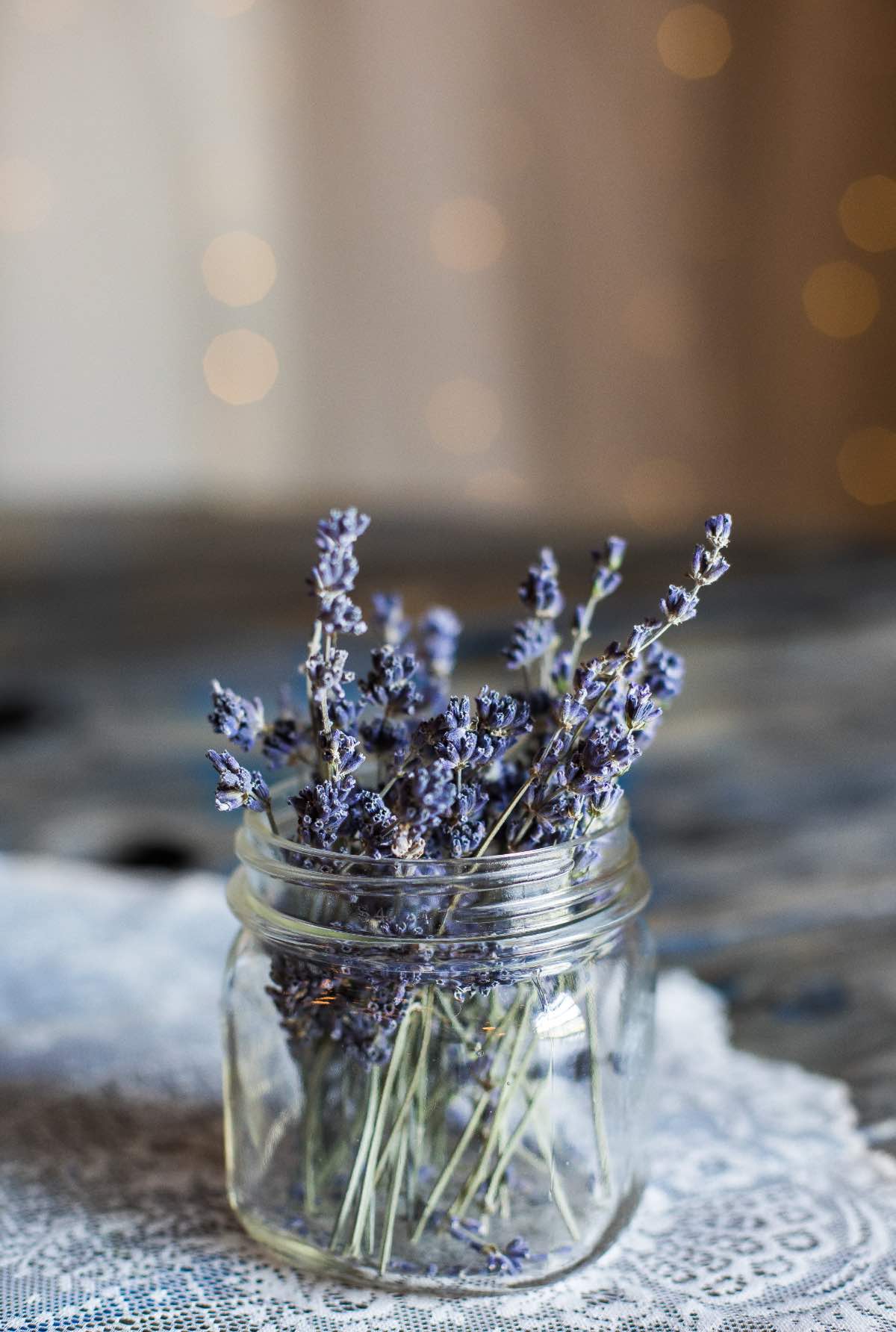 Keep your prints in muted and natural tones for a seamless blend of blooms.
That being said, you don't have to go mad and turn everything that stays still long enough into an ode to your floral obsession. You can pick a few elements, like your cushions and throw pillows, and recover them with farmhouse floral fabric.
Choose warmer colors, like pink, red, and brown, to warm up a space, or if you want a fresh feel, greens, blues, and pastel yellow will look stunning.
2. Expose Your Favourite Kitchenware
Cottages have notoriously awkward spaces. From low, slanted ceilings to walls that will never be straight, living in a real cottage is like playing a quirky game of jingo with the items you own. This also makes it difficult to install wall-to-ceiling cupboards.
Instead, open shelving is common in European country cottages but who says you can't bring that into your home too?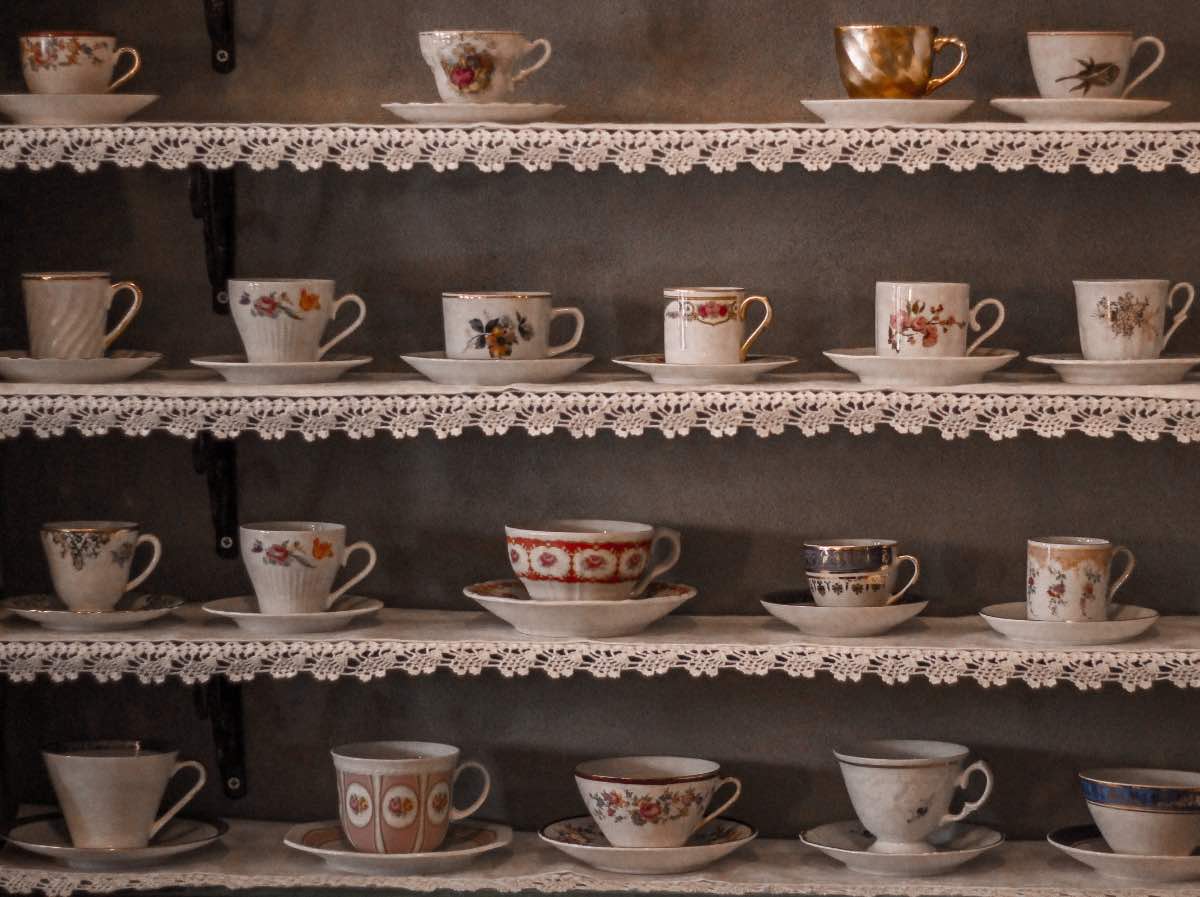 Now, I'm not saying you need to open up every cupboard for the world to see. Instead, take your favorite kitchenware pieces, like that beautiful china mug set or those plates that are too beautiful to languish in the back of the cupboard.
Mount those beautiful plates on the wall or install some natural wood shelves in your kitchen and show them off.
3. Mixed Woods
Gone are the days when every piece of wooden furniture in your home had to match, with cottagecore we can celebrate the warmth and beauty that mixed woods brings to our homes.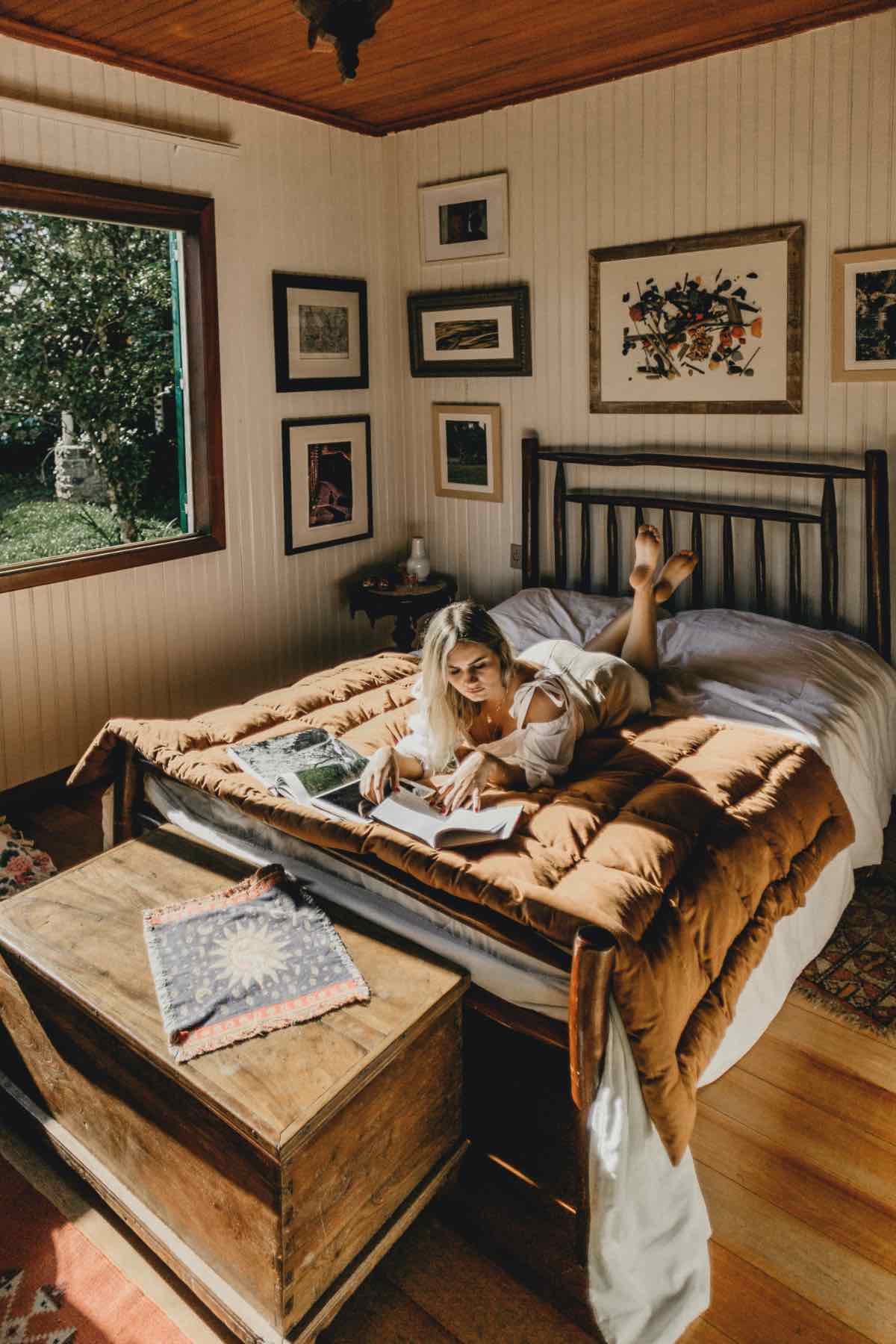 From antique wooden mirrors and coffee tables to your curtain railings and shelving, switching to natural materials can instantly transport your space.
Be brave with your wood, take the leap, and mix dark warm woods with cooler tones. You'll never know what will work until you give it a go and if you're a little unsure, Pinterest is a treasure trove of inspiration to help you find your cottagecore style.
Is Cottagecore Still Trending In 2023?
Cottagecore may have boomed in 2020 but it's still going strong today. The whimsical nature of this aesthetic has embedded itself in the hearts of many. It has a strong focus on the joy that can be found in the little things and has helped many of us reconnect with our lives and the nature that surrounds us.
It is so much more than a fashion statement and has become a lifestyle that has helped people reduce their anxiety and heal many people's waning love with the lives they lead.
Cottagecore is thriving in 2023 and its timeless themes are easy to weave into your everyday life.