10 Ways To Create The Perfect Cottagecore House
Are you trying to create a Cottagecore house that feels like a romantic sanctuary but you have no idea where to start? You are in the right place.
The Cottagecore aesthetic has taken home design by storm. This romantic and nature-inspired design doesn't have to overtake your entire home, you can focus on one single room. It can be as bold or as subtle as you like.
Championing the idea of simple, rural living, Cottagecore is also a theme full of fairytale romance and rich feminine energy.
It is the perfect way to create a relaxing escape full of cozy features with vintage-inspired decor.
What Is A Cottagecore House?
A cottagecore house embraces the essence of a romanticized rural life, offering an idyllic escape from the hustle and bustle of modern life. A reminder of simpler times, a Cottagecore house should inspire you to be present in the small moments of your life. From reading your favorite book to the simple act of enjoying a cup of coffee.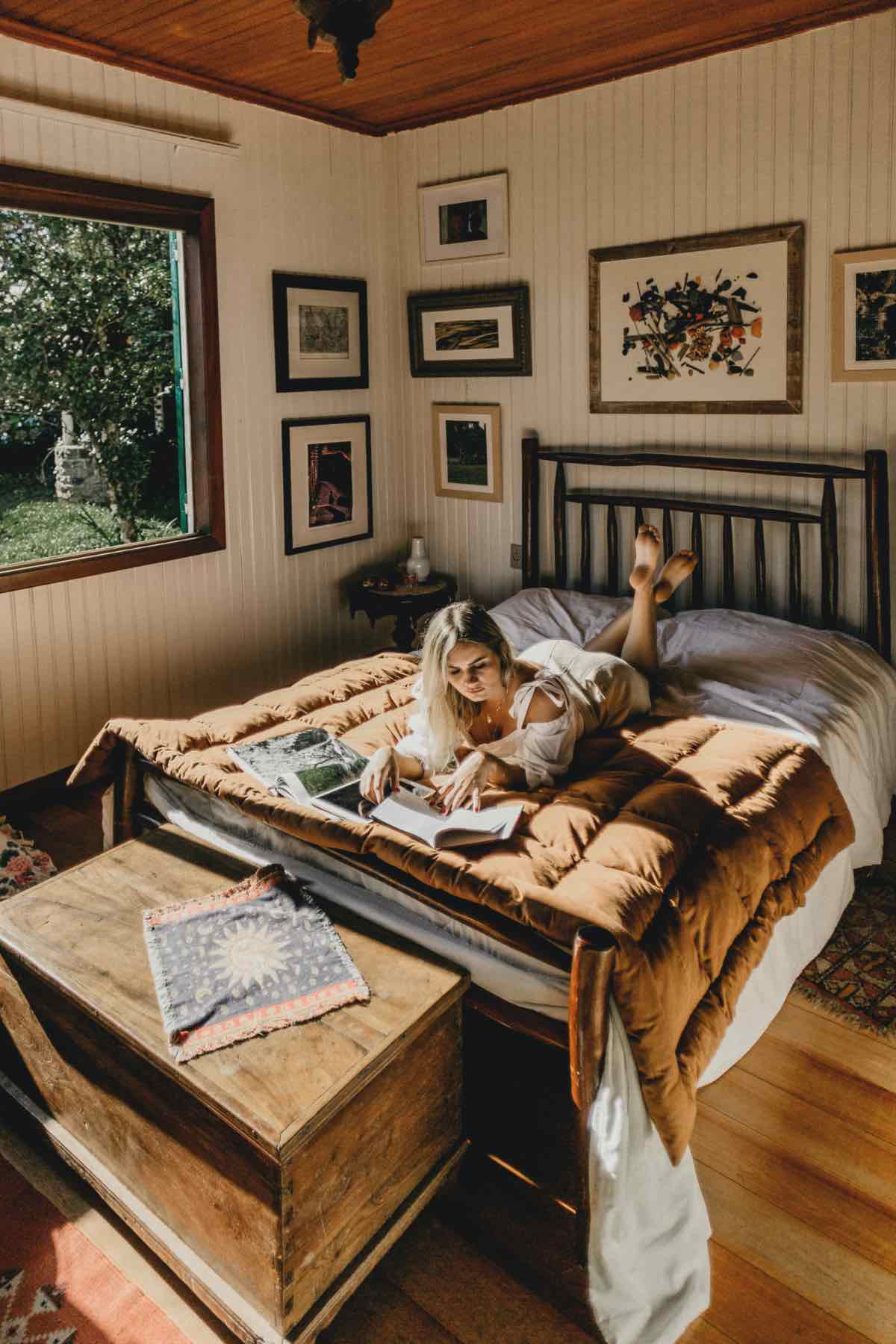 Characterized by its charming imperfections, a cottagecore house features vintage furniture, cozy clutter, natural woods, and sweet-smelling cottage flowers and foliage greens.
Soft, floral-printed fabrics should drape effortlessly over comfy armchairs, while open shelving invites you to scour your collection of antiques.
Although, not a new aesthetic, Cottagecore has boomed over the last few years. Perhaps in part, thanks to the pandemic, which left many of us wanting to escape the uncertainty and chaos that time surrounded us with. Cottagecore has become so attractive because it's a way of focusing on ourselves and what brings us joy.
Embracing a slower pace of life, your Cottagecore home should encourage activities like baking, gardening, and reading. It is a place where you can relish in the pleasures of simplicity and feel inspired by the beauty of the natural world.
How Do I Make My House Look Cottagecore?
How you style your Cottagecore house will vary depending on your tastes and whether you want to turn it into a homage to the Cottagecore lifestyle or just want to bring some of your favorite elements in.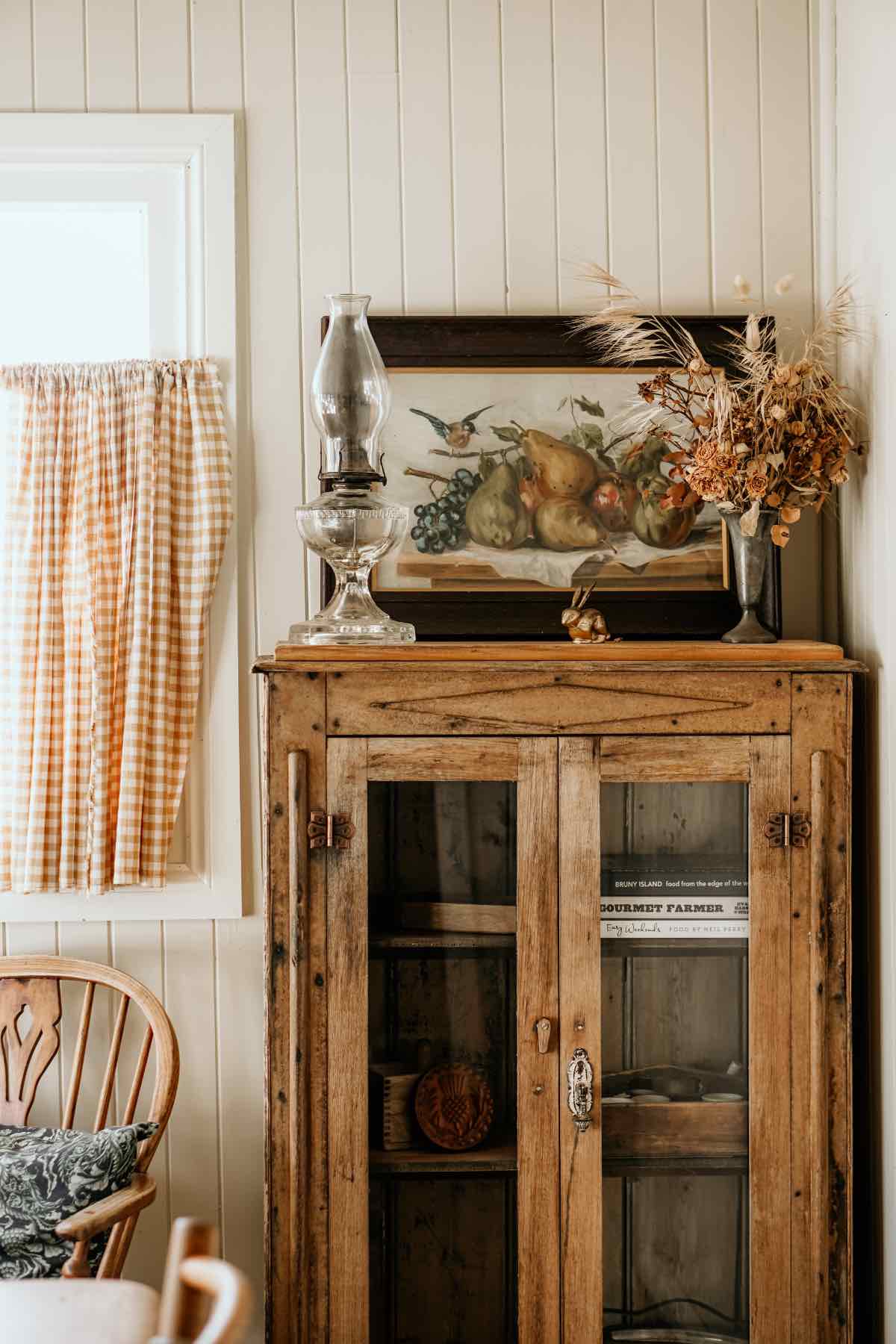 However, there are a few common themes that all Cottagecore homes should have.
Your color palette should be soft, dreamy, and romantic. Think creams, dusty pinks, soft earthy greens, and muted browns.
Bring natural elements into your home with plants, dried flower and herb bouquets, and nature-centered prints.
Talking about prints, using floral or nature-inspired fabrics is a simple and cheap way of injecting this aesthetic into an already-decorated home. Think curtains, cushion covers, or cozy throws. If you can make these yourself, even better.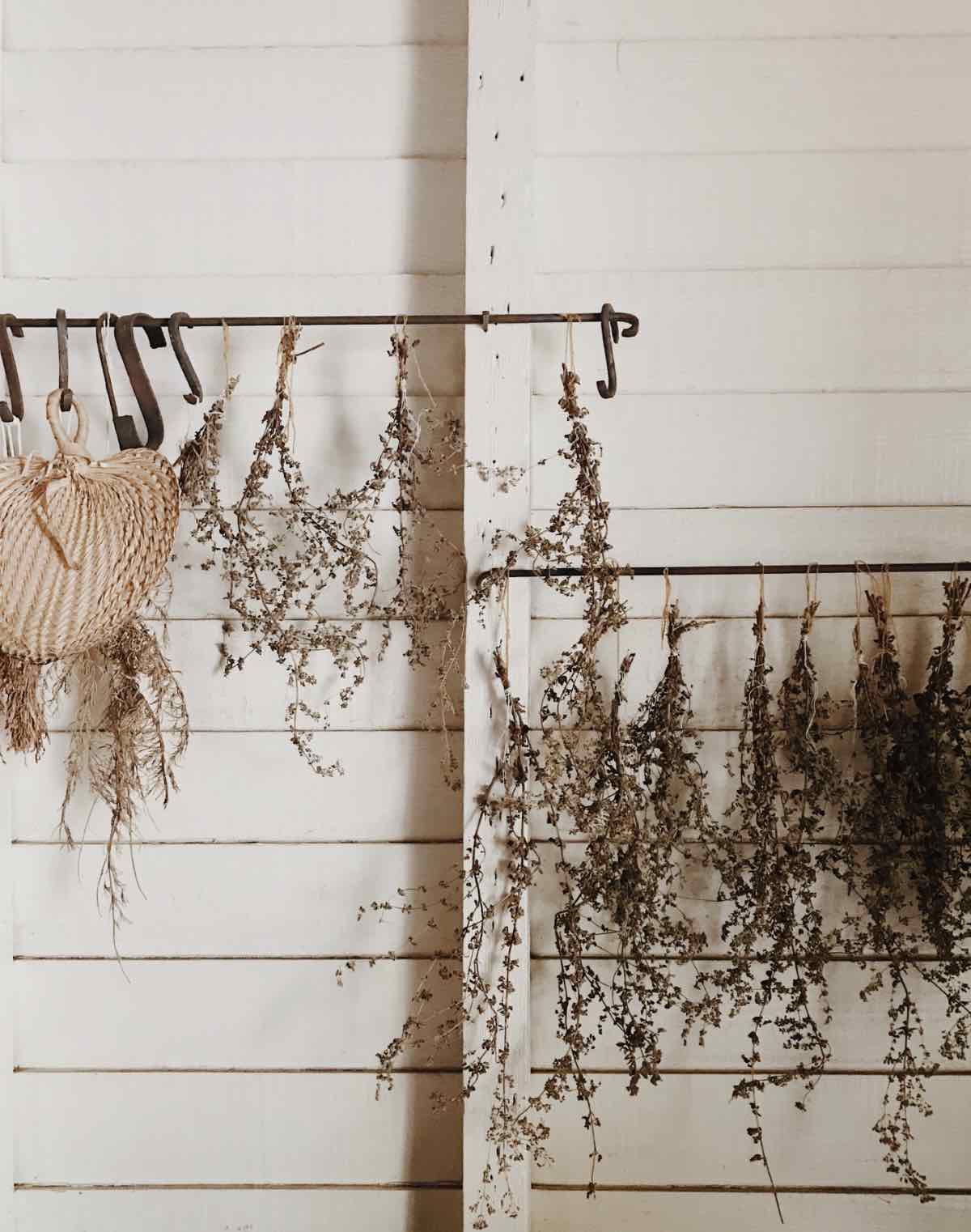 Scour your local flea markets and thrift shops for antiques that you can display. Delicate plates can be mounted on walls, display teapots on rustic open shelving, and pick up an antique wood lamp for more rustic charm.
The best thing about introducing Cottagecore themes into your home is they don't have to be perfect. The beauty of this aesthetic can be found in its imperfections.
Matching prints, colors, and fabrics aren't a necessity. In fact, it can lift your Cottagecore to new heights by introducing interest in every corner of your home.
What Is The Difference Between Cottage And Cottagecore?
They may seem very similar since both of these decor styles are centered around the European cottage lifestyle. However, there are significant differences.
Traditional cottage styling is muted and functionally rustic at its core. Cottage or farmhouse chic focuses on creating a practical space and, I know what you're thinking, isn't that Cottagecore too?
Well, yes but this is where the biggest difference comes into place.
Unlike traditional cottage chic, Cottagecore injects elements of vintage romance and fantasy.
You wouldn't see someone creating a farmhouse-chic home decking their space out in twinkling fairy lights, vintage furniture, and dreamy pastel shades. Creams, dark woods, and clean open spaces are more of their style.
Instead, Cottagecore is all about romanticizing rural living, even if it's not a realistic representation of what it's like to live in a real cottage.
A Cottagecore house is more whimsical, with elements that seem pulled straight out of a fairytale book. Clashing florals and nature-inspired prints are synonymous with the Cottagecore aesthetic while filling every nook and cranny with vintage pieces is a must-do.
The 10 Rules Of The Cottagecore House
If you are dipping your toes in creating a Cottagecore house, I bet you may feel overwhelmed. I get it, changing up your entire aesthetic can seem like a lot of work.
If you are feeling a little lost in the woods, here are 10 Cottagecore house rules to help guide you as you design your new space.
1. Homemade Is Always Best
There is nothing quite as Cottagecore as walking into a home that smells of freshly baked bread. It just screams country farmhouse.
If you want to infuse a Cottagecore atmosphere into your home, it is time to get baking but it doesn't have to be bread. Cakes, cookies, brownies, you can choose any baked good that tickles your fancy and makes your home smell delicious.
And don't worry about whether you are a master baker or not. It's not about creating a Croquembouche on your first go. The cottagecore house is about creating space to slow down and focus on the moment.
2. Bring Nature Indoors
A Cottagecore thrives off natural elements but plants are one of the most important design elements. Now, I'm not talking about turning your living room into a jungle. Adding a little greenery is enough to cozy up your space.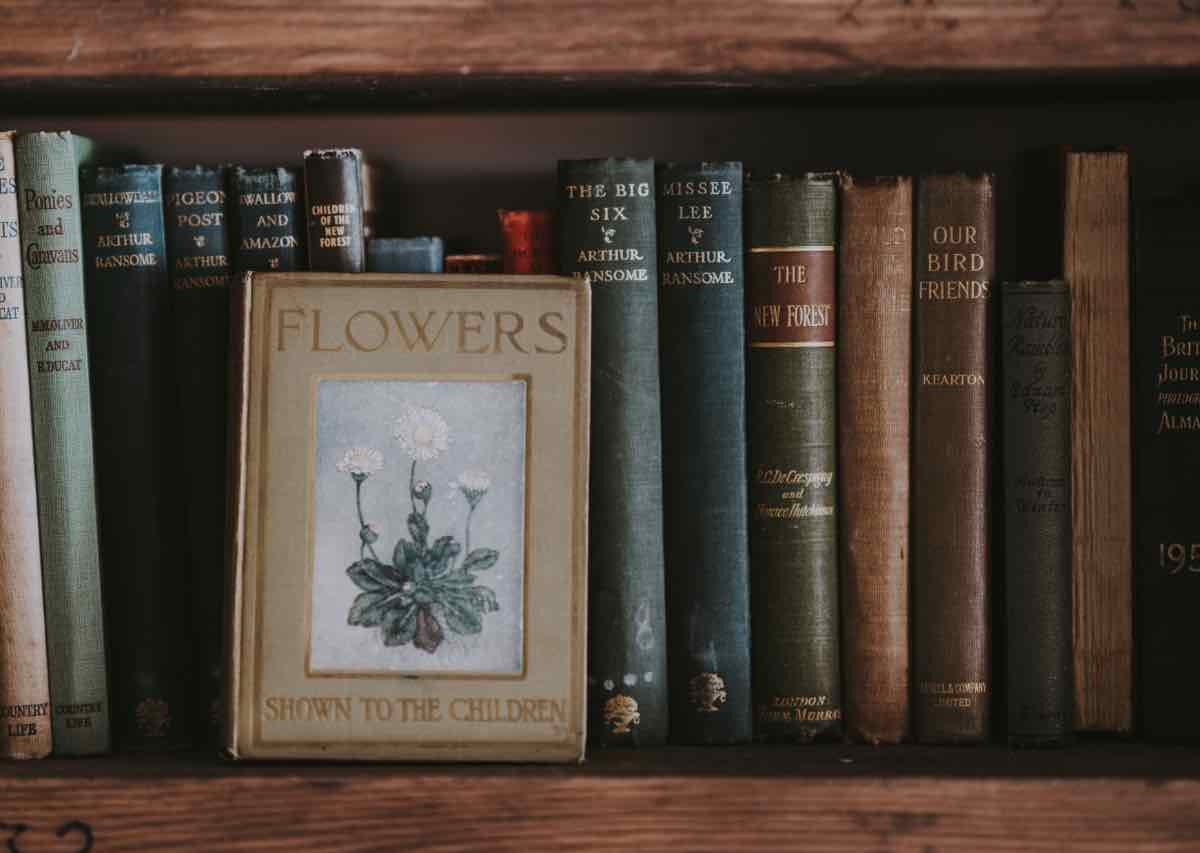 Many potted plants are easy to keep alive and there are lots of low-maintenance ones to choose from. Freshly cut flowers also give the illusion of having just ventured into your cottage garden to pick your sweet-smelling blooms.
English ivy and String of Nickles are gorgeous plants with rich green colors that can hang delicately from shelves or fill that empty space above your kitchen cupboards.
But, if you are looking for more inspiration, here are some flowers and potted plants to consider for the ultimate Cottagecore house:
Pothos
Ferns
Peace Lily
Monstera
Lavender
Sunflowers
Peonies
Hydrangea
Succulents
Fiddle Leaf Fig
3. Perfection Is The Thief Of Joy
A lot of modern home design is built around the idea of perfection. Think straight lines, white walls, and sparkling marble but your Cottagecore house should buck this trend.
There's no wrong when it comes to this aesthetic. Patterns can clash and straight lines are definitely out. Inspired by the imperfections of nature, your home should emulate the disorganized beauty of the wild outdoors.
4. Keep Colors Light And Airy
Cottagecore is light, fresh, and airy. Choose your colors depending on how well they brighten up your space. They should make your home feel inviting but cozy.
Be bold when incorporating prints that mimic nature, they don't have to match or even be of a similar color palette but seek out ones that feel romantic with an antique visual.
Be inspired by images of a traditional English cottage garden. Weave that freshness through your home with light and earthy greens, blues, pinks, yellows, and even browns.
5. Get DIY Confident
The ultimate DIY aesthetic, Cottagecore loves all things handmade. This is where this particular aesthetic starts to fuse with others, like Grandmacore.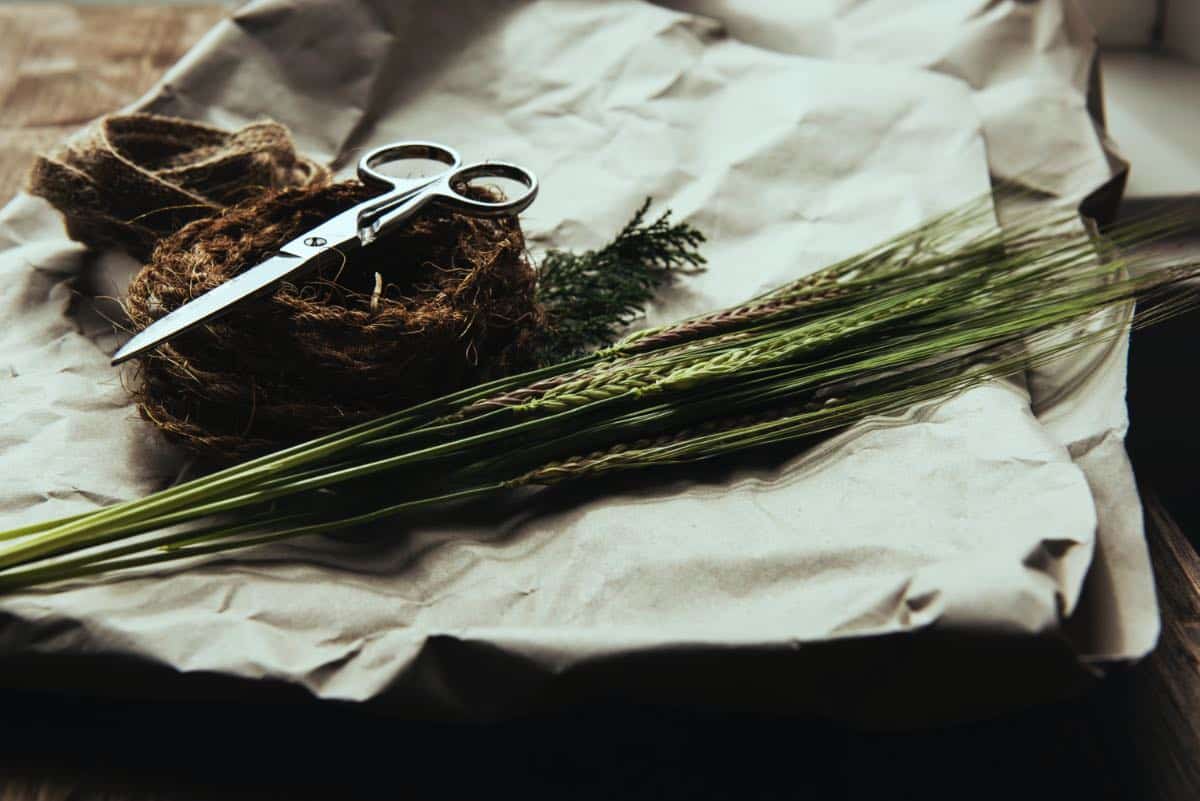 If you want a true Cottagecore house, you have to embrace new hobbies. Knitting, crocheting, painting, and even woodwork will not only give you ways to incorporate more visual DIY elements into your home – that basket of wool and knitting needles is a Cottagecore lover's dream – but, once you get the hang of your new hobby, you will have an abundance of new Cottagecore home decor items.
6. If In Doubt, Always Add Whimsy
Where Cottagecore really comes into its own, is with those small charming details of whimsy. Hang romantic string lights around your fireplace for an enchanting light source when the sun goes down.
Choose a floral teapot to showcase on your kitchen windowsill or a pastel-colored draft excluder shaped like a dachshund. Blend the traditional atmosphere of farmhouse chic with the whimsy of fairytales to create an inspiring Cottagecore house.
7. Make Space For Cozy Corners
From reading nooks to sewing corners, your home should proudly display your interests in carved-out corners.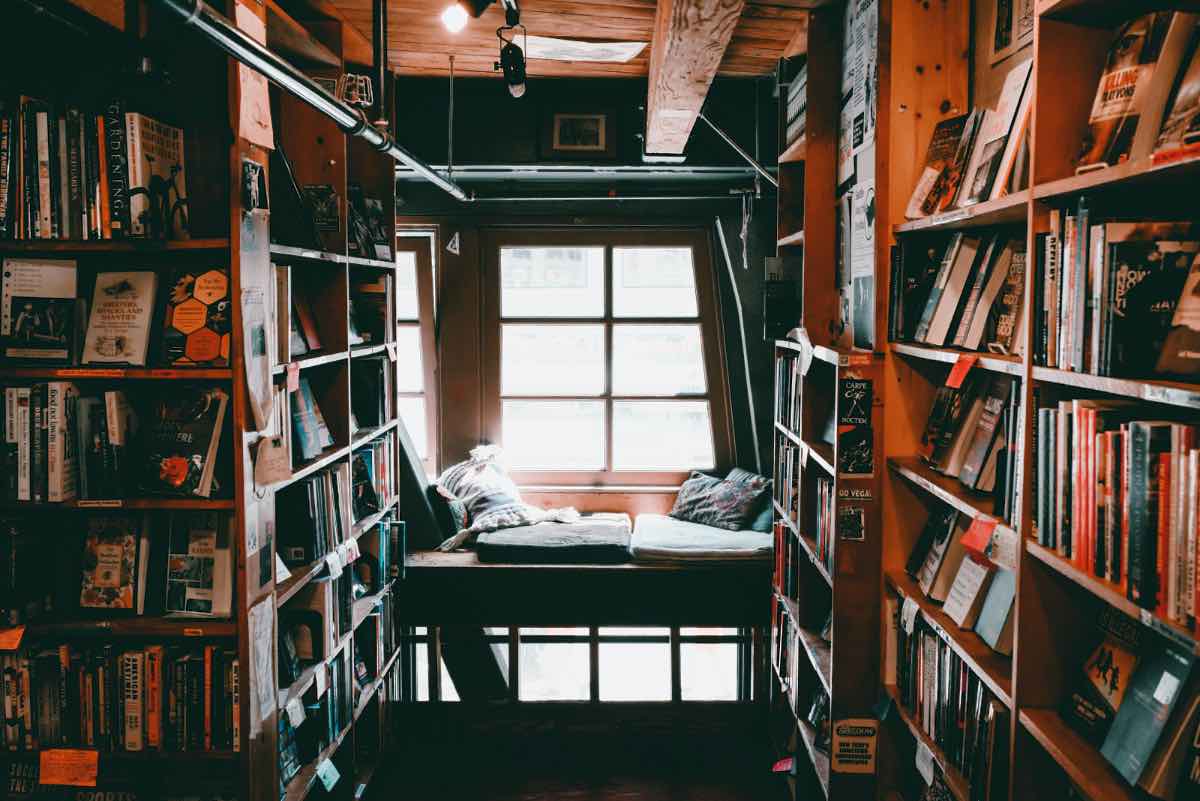 Reading nooks are one of the most popular ways to incorporate a cozy corner that also inspires passers-by to take a seat, pick up one of the many books that litter the walls and floor, and dive into a new world.
Choose an armchair that you can sink into, I personally prefer one I can curl my legs up on as well. An antique rug can create an unconscious boundary for your cozy corner. Blankets, candles, and fairy lights can turn a once-unused space into your favorite place to whittle away the evening.
8. It's Always Time For Tea
If you want a home that screams Cottagecore, you must invest in a beautiful tea set. I'm talking teapots, cups, saucers, sugar dishes, milk jugs, and perhaps even splash out on matching teaspoons.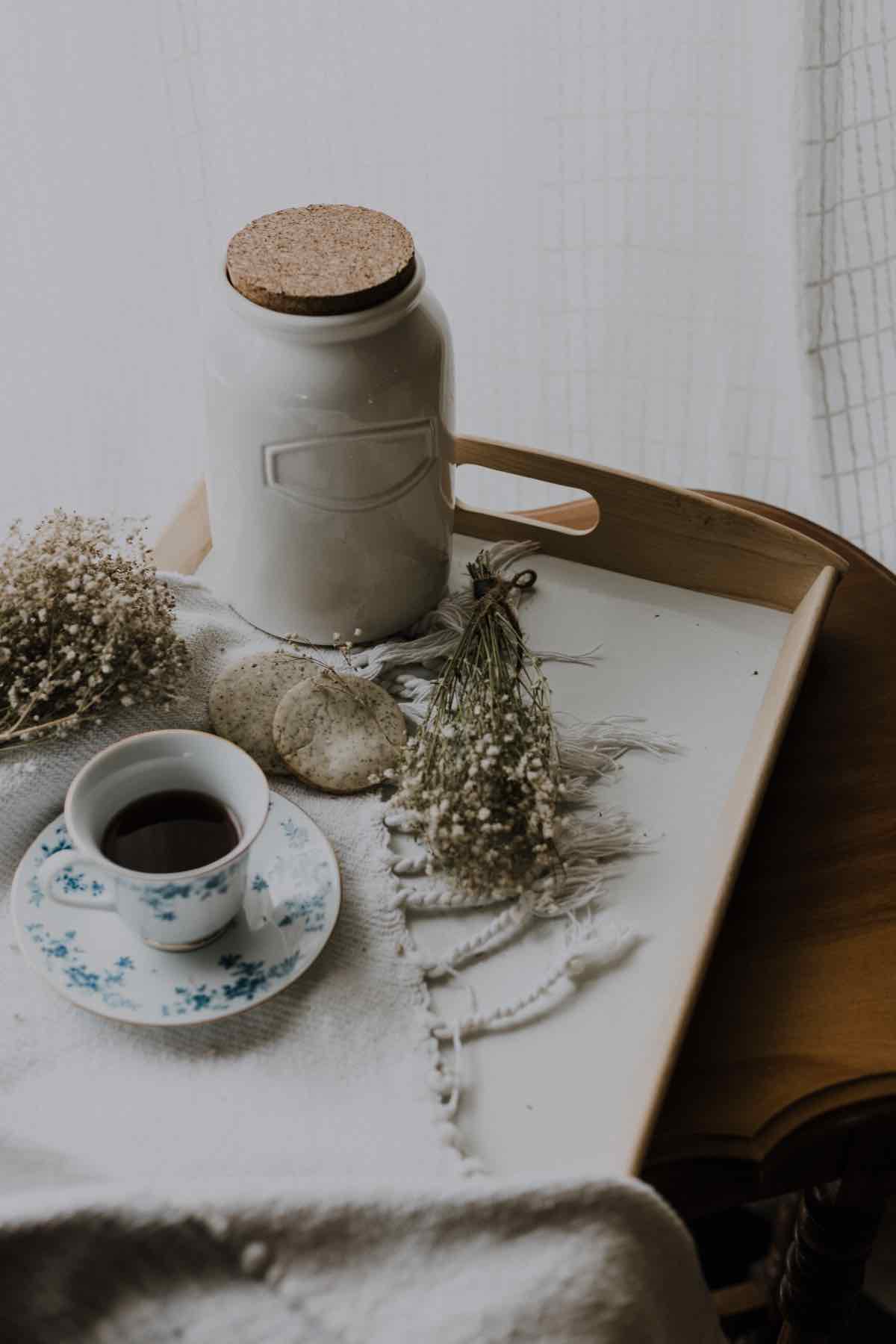 If you're not a tea fan, you can use your beautiful tea set as Cottagecore decor but I suggest taking your time to find a tea that tickles your taste buds.
Tea, when done right, can be as much of a daily ritual as journalling or cooking your dinner. Setting up for tea is relaxing and forces you to bathe in the simplicity of the moment. Go a step further and choose a loose-leaf blend. Use a stainless steel tea leaf strainer for a perfectly balanced cup of tea. Don't forget the hand-baked biscuits either.
9. Cozy Night Lights
Don't forget the nighttime ambiance you want your Cottagecore house to offer. As much as you want to create a fresh and airy home, nighttime should feel cozy, warm, and inviting.
Candles, fairy lights, and dimmed lamps can create that Hygge atmosphere that makes your Cottagecore home so special.
The biggest no-no is using your overhead lights. They are too bright and harsh and don't lend to that sense of coziness you are searching for.
Other lighting options are sconces – for an old-world feel – or if you really want to use your overhead lights, get a chandelier or a diffused pendant light fixture.
10. Warm Up With Natural Woods
Even though you're aiming for a light and airy home, Cottagecore needs warmth too, and that's where natural woods come into play.
Be brave when it comes to your wooden furniture. Mix finishes and colors to create an antique feel and purchase second-hand where possible. Wood tells stories and new wood is very obviously void of history.
You don't need a lot of it to create a warm space but thoughtfully placed pieces, like a sideboard or tables for your cozy lamps, are enough to tie your whole Cottagecore aesthetic together.
Your Cottagecore House: A Lifestyle To Inspire
Unlike many other home decor styles, Cottagecore is supposed to be lived. It's not just for show, you should not only enjoy the beauty of the whimsical home you have created but it should inspire you to live a richer, more romantic life.
Hobbies are one of the foundations of this aesthetic and that's why so much of the Cottagecore home is designed to make space for an abundance of relaxing, simple activities.
If you have yearned for a more simplistic, joy-centered lifestyle, then creating a dreamy Cottagecore house may very well be the first step to enjoying the quiet side of rural-inspired life.
Have you been drawn into the wholesome philosophy of Cottagecore? What is it about Cottagecore that inspires you and how do you inject elements of romantic vintage and fantasy into your home?
If you want to learn more about the whole cottagecore lifestyle, also check out our articles about cottagecore outfits, cottagecore aesthetics, and the a like farmcore lifestyle.