The Best Zero Waste Toothpaste for 2023
Our everyday oral healthcare products can have adverse effects on the planet, but zero waste toothpaste is here to save the day. Zero waste toothpaste is that which prioritizes natural ingredients and is a better choice for human health.
Moreover, brands selling zero waste toothpaste products are working to minimize the impact of our oral hygiene products on the planet. They are doing this by using recyclable packaging such as cardboard and jars and providing refill subscription services.
Continue reading to learn more about zero waste toothpaste and why making the switch matters for the health of your teeth and the planet.
What Is Zero Waste Toothpaste?
Zero waste toothpaste is just as it sounds, toothpaste that does not create a significant amount of waste. Also referred to as sustainable toothpaste, these products use fewer materials, no plastic, and natural ingredients.
These natural ingredients are generally better for human health and the planet. Zero waste toothpaste products limit waste which helps to lessen our impact on the environment.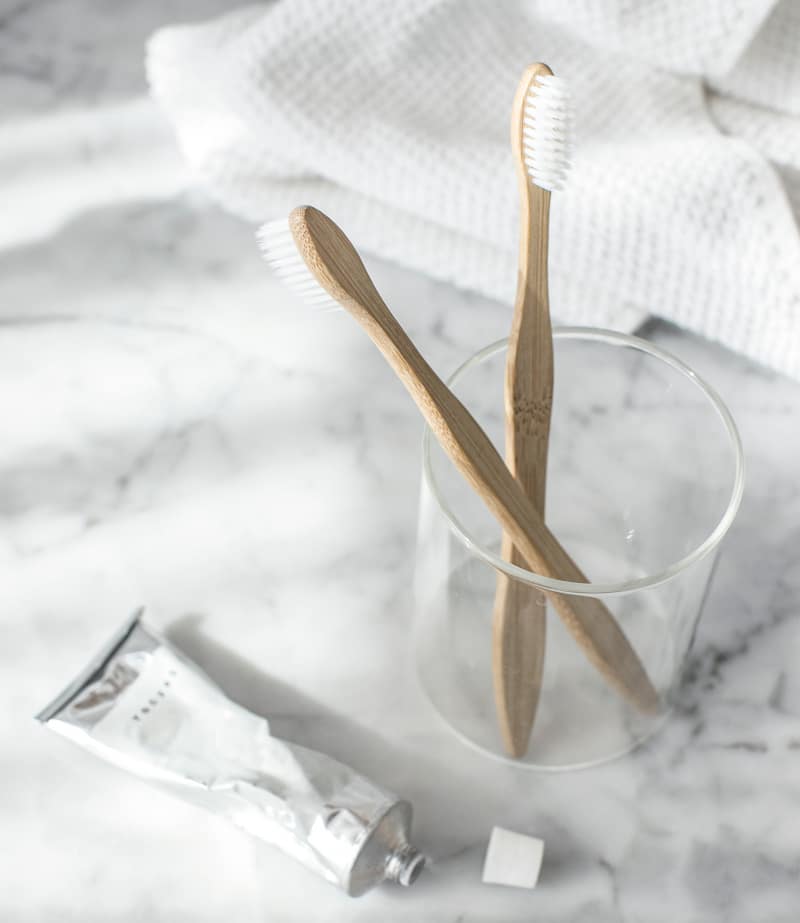 They may be packaged in biodegradable packaging, paper packaging, or stored in reusable glass jars. There are also zero waste toothpaste products that come in packaging that allows you to refill them.
For example, some brands sell toothpaste tablets in jars, and once you are out, you can return the jar to have it refilled. There are also many recipes online so you can make your own zero waste toothpaste.
Some ingredients commonly used in homemade toothpaste include baking soda, water, essential oils, and natural salt. Making your own toothpaste is a great way to know exactly what you are putting into your mouth while also minimizing your waste footprint.
Zero Waste Free Toothpaste With and Without Fluoride
As mentioned, the products we choose to care for our teeth can have a big impact on the planet. Luckily, there are lots of zero waste toothpaste options so you can minimize your footprint and be part of the solution. Below are some zero waste toothpaste options without fluoride.
Ben and Anna
Ben and Anna is one brand supplying fluoride-free zero waste toothpaste. They sell a range of different products to suit your specific dental needs. For example, they have toothpaste designed for sensitive teeth and toothpaste formulated to help you whiten your teeth. Their toothpaste comes in a glass jar which you can recycle or reuse at home.
All of their toothpaste products are also cruelty-free and made of natural ingredients like chamomile, activated charcoal, calcium, and sea buckthorn. They also contain no harmful ingredients like formaldehyde, microplastics, phthalates, SLS, or parabens. The best part is Ben and Anna products are relatively affordable, with prices beginning around £8.
Brushd
You can expect to find incredible plastic-free oral hygiene products from Brushd. For instance, toothpaste tablets are available with and without fluoride. Their toothpaste tablets come in glass jars which you can constantly refill.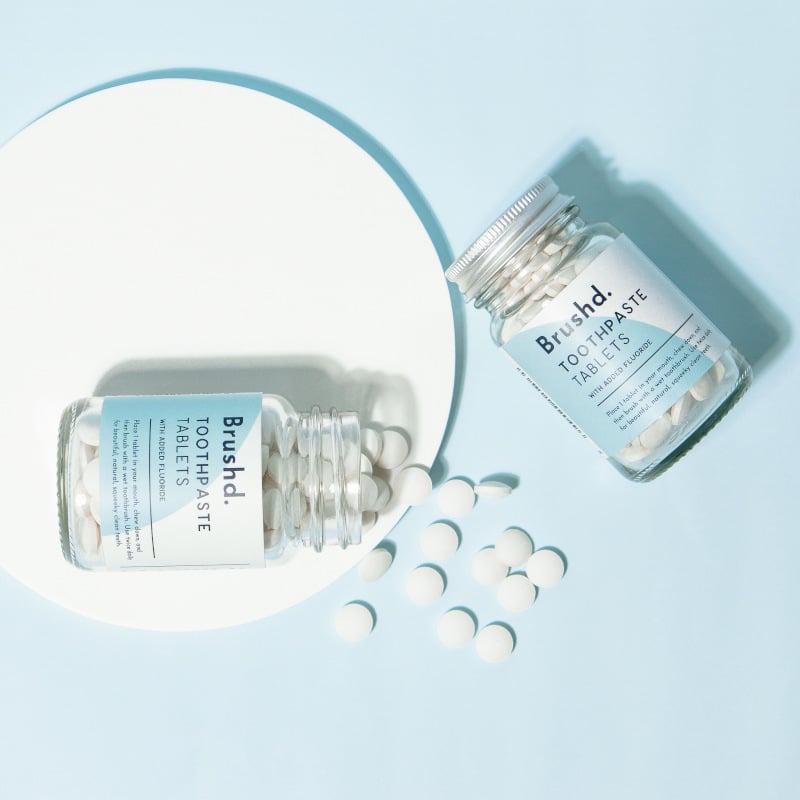 That's right; they sell refills on their website, so you do not have to keep repurchasing glass jars and visiting the recycling bank. In each jar and refill, you receive 125 toothpaste tablets.
The tablets are incredibly easy to use. All you need to do is chew the tablet and wet your brush to get to work caring for your pearly whites. With Brushd, you can also sign up for subscription deals to have your tablets or other dental products sent directly to you each month.
Georganics
Georganics is another popular brand selling zero-waste toothpaste. Made in the UK, they specialize in ethical oral hygiene products that boast organic, natural, and locally sourced ingredients.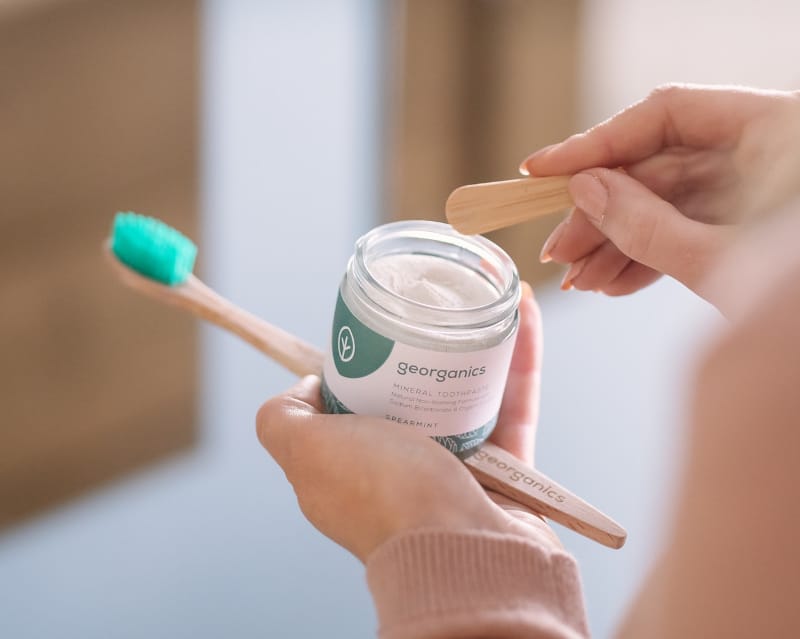 They sell a range of fluoride-free toothpaste products, from toothpowder, soap, and tablets. Their line is plastic-free, with products being packaged in glass jars. Georganics dental hygiene line is free from palm oil, synthetic fragrances, microbeads, mineral oil, SLS, and phthalates.
Georganics' mission is to make sustainable and natural oral care an option for all. Their products are invented with nature in mind and will always focus on minimizing the impact of dental hygiene products on the planet. On their website, you will also find toothbrushes, floss, and mouthwash.
No products found.
BOCA
BOCA's toothpaste is made from vegan and organic products. Their line includes fluoride-free and fluoride options. While their product is packaged in a tube, they are the first-ever brand to release a refillable toothpaste tube.
The idea is that every eight weeks, the brand automatically sends its customers a replacement tube that is entirely compostable with refill cartridges. Then, all they need to do is wash the empty tube and refill their tube with the replacement cartridge.
The empty refill cartridges can then be composted. This is an excellent option for those who prefer a traditional method or new innovative approaches like toothpaste tablets.
Scentcerae Tooth Nibs
This zero waste toothpaste option comes in the form of small nibs, as the name suggests. Scentcerae Tooth Nibs is a vegan and sustainable toothpaste created using a natural blend of ingredients. Packaged in recyclable glass jars, the tooth nibs contain natural soap nuts, sodium bicarbonate, white kaolin clay, bentonite clay, illite sea clay, and organic xylitol.
It is free from harmful ingredients like artificial flavours, dyes, and triclosan, as well as fluoride, titanium dioxide, SLS, and glycerine. The tooth nibs contain no abrasive fillers to ensure the tooth enamel is better protected. Every jar has around 80 nibs, and you can choose from four naturally-derived flavours.
These include mint chocolate chip, strawberry champagne, cinnamon roll, and matcha mint. Moreover, when you order for the first time, you will receive a convenient waterproof tin to refill your future orders. After your first order, you will begin to receive your nibs in compostable paper envelopes.
Truthpaste
Another fantastic fluoride-free, zero waste toothpaste option is Truthpaste. Their formula is also completely free from palm oil and other harmful chemicals like glycerin, triclosan, and SLS.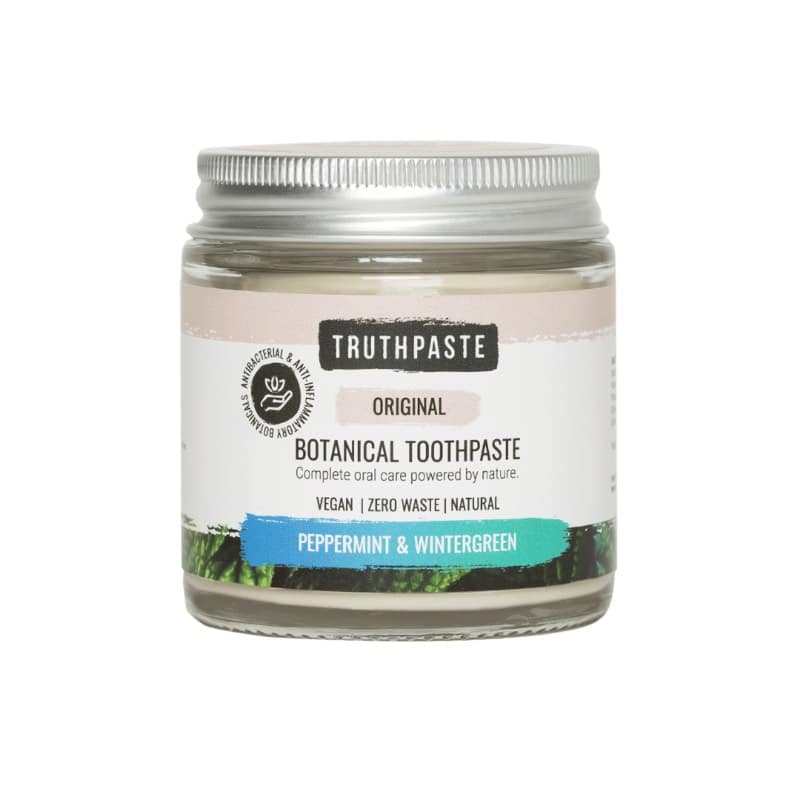 Truthpaste is also entirely cruelty-free and vegan. The toothpaste comes in a recyclable glass jar and contains zero bleaching agents, foaming agents, artificial ingredients, or colorants.
The brand has combined modern innovation and ancient wisdom to ensure its products have antibacterial and anti-inflammatory properties too. Their toothpaste, in particular, aims to keep your breath fresh while supporting gum health, removing bacteria, and ensuring a healthy oral PH balance.
No products found.
Zero Waste Toothpaste Without Fluoride
Perhaps you would prefer a sustainable toothpaste that contains fluoride. Not to worry, there are lots of great options available on the market.
Happier
Happier sells zero waste toothpaste created especially for those with sensitive teeth. Containing fluoride, the toothpaste is packaged in an aluminium tube that can be recycled with metal.
This toothpaste is vegan-friendly and cruelty-free. Additionally, it is free of nasties like parabens, colours, petrochemicals, SLS, triclosan, artificial sweeteners, and flavours. The brand also sells scraper tools to help you get every last bit out of the tube!
Naked Company Dental Crush Toothpaste Tablets
The Naked Company is yet another incredible brand selling plastic-free toothpaste options. Their fluoride formula reinforces enamel and comes in tablet form in recyclable packaging.
The toothpaste tablets are free from harmful stabilising and foaming agents such as DEA, SLS, propylene glycol, triclosan, and carrageenan. Moreover, their products are vegan and cruelty-free, with all ingredients being sourced from EU and UK suppliers.
Unpaste
Unpaste is another zero waste, sustainable toothpaste tablet option. All you have to do is chew the tablet and wet your toothbrush to begin using them. The tablets are plastic-free and contain zero preservatives, palm oil, gluten dyes, nanoparticles, SLS, paraffin, or foaming agents.
The formula is completely cruelty-free and vegan and made using ingredients such as baking soda, silica, and cellulose. The mild minty-flavored toothpaste tablets are available with and without fluoride. Each package contains around 125 tablets, and they are packaged in compostable corn starch printed with organic inks.
Toms of Maine Toothpastes
Toms of Maine provides one of the best natural plastic-free toothpaste on the market. They are a certified B-Corp offering natural toothpaste in recyclable tubes. All ingredients are naturally sourced and derived, and they sell both fluoride and fluoride-free options.
What's great about Toms of Maine is they are incredibly transparent. When you visit their website, you can click on any ingredient and get a full explanation of what it is and why it is added to their products.
All of their products are also cruelty-free and free from preservatives, artificial colors, and flavors. In addition to toothpaste, they sell lots of other dental hygiene must-haves.
Sale
Spotlight Oral Care
Spotlight Oral Care is another incredible brand selling zero waste toothpaste. Their product line is created by dentists and consists of toothpaste, mouthwashes, and tools for all different oral concerns. For instance, sensitivity, whitening, and plaque removal. They even sell toothpaste specifically formulated for expectant mothers.
Their products are cruelty-free, gluten-free, and vegan, with zero toxic additives. They are free from SLS, parabens, and triclosan. Instead of these harmful ingredients, the brand uses clinically proven ingredients. Their products all come in fully recyclable packaging and are planet and ocean safe.
Etee Fluoride Zero Waste Chewpaste
Lastly, our fluoride zero waste toothpaste options is Etee's chewpaste. The chewpaste comes in tablet form in recyclable glass jars. Their chewpaste contains scientifically proven cavity-fighting ingredients.
For example, kaolin clay and Canadian glacial clay. Their formulas are also cruelty-free, vegan, palm-oil free and non-toxic. Etee's ingredients are ethically sourced, too. Each of the jars offers around a 3-month supply.
How to Implement Zero Waste Across Your Oral Hygiene Routine
As mentioned previously, toothpaste is not the only oral hygiene product that is contributing massively to our plastic crisis. Luckily, there are other zero-waste swaps you can make within your dental care routine. For instance, swapping your generic plastic toothbrush for a bamboo toothbrush.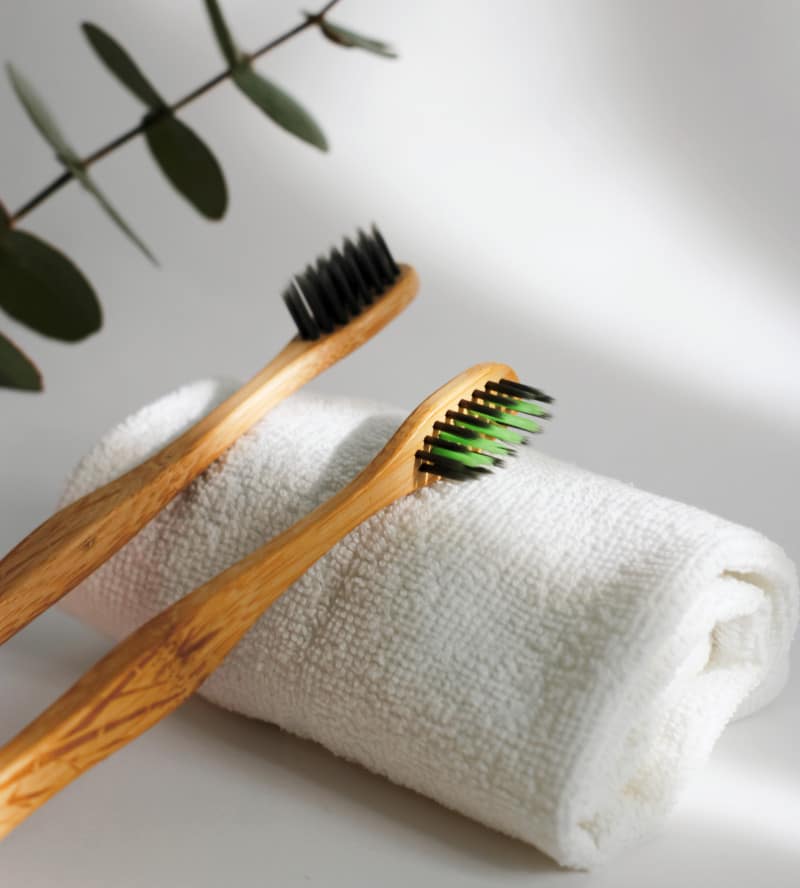 Moreover, use zero-waste dental floss or reusable dental floss that you clean. Additionally, you can use the likes of bamboo interdental floss, which are plastic-free. There are also bamboo floss products that are coated in activated charcoal, which will have further benefits for your teeth and gums.
You can also find mouthwash tablets and other sustainable mouthwash products in environmentally-friendly packaging. If you use a tongue cleaner, you can also find bamboo versions of these. Implementing all these things into your oral hygiene routine is sure to help you ensure you are using better ingredients and minimising plastic and waste.
Zero Waste Toothpaste – The Bottom Line
A significant amount of toothpaste tubes and toothbrushes are discarded every year and burnt in a landfill. This only adds to the plastic crisis we are currently facing and accelerates climate change. For this reason, swapping out traditional oral hygiene products for sustainable ones can make a significant difference.
Whether you want fluoride or not, there are tonnes of zero waste toothpaste products on the market that are kinder to the planet, people, and animals. They are also made of natural ingredients and are free from harmful chemicals.
A majority are vegan and cruelty-free, too, which is a huge bonus. The best part is you can make these swaps within your entire oral care routine thanks to the many fantastic products available today!
If you want to learn more about this topic, check out our how to go zero waste article with a lot of useful tips on how to live a more zero-waste lifestyle.